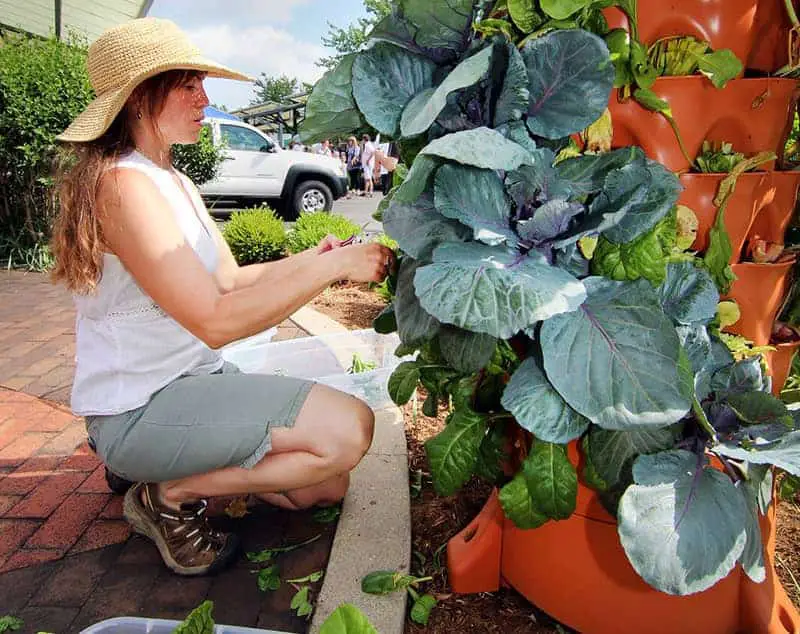 ​Hi there gardener, looking to buy a vertical garden and wondering if the Garden Tower 2 is the right choice?
Well you don't need to wonder any more, we have put together an in-depth Garden Tower review, backed up by a ton of research. In this article you will learn exactly whether or not you should buy a garden tower ​​based on your individual needs and circumstances. 
So keep reading ​my Garden 2 Tower review below to find out if it is the right choice for you.  ​
​What is a Garden Tower?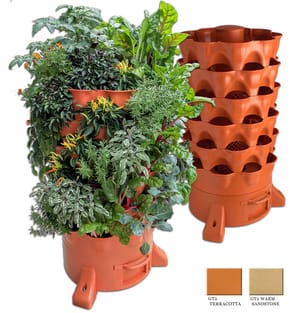 The Garden Tower is a gardening system that ​accommodates up to 50 plants. Whatever herbs or vegetables you love to grow, you can do it in this Tower. ​It is very effective at composting kitchen scraps to create nutrients for your plants. Better yet, you don't have to weed. It allows you to grow a lot of plants in a minimal space. Besides the composting and huge planting capacity,​ a Garden Tower also turns 360 Degrees. This feature enables you to expose the plants to sunlight.
Thanks to these thoughtful advancements, the Garden Tower project was funded in 33 minutes on Kickstarter. It was also named the World's Most Advanced Container Garden. Below are some of its key features and how they make vertical gardening easier.
​Benefits of Garden Tower 2
Improved Technology
With the new, improved technology of the original Garden Tower Project, it makes growing vegetables much simpler. It is a six cubic feet tower with the ability to hold more than forty-five different plants. Your plants need a good position to get enough sunlight. Therefore the Garden Tower 2 has various levels that revolve. This rotating feature ensures that all the plants have access to sunlight throughout the day. Since most vertical gardens are static and hard to adjust, you have all reasons to appreciate this technology.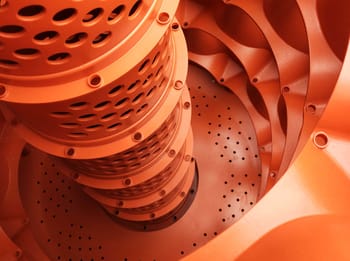 Compost Column
In the middle, there is a compost tube, which helps hold the worms and kitchen waste. The plant roots get more nutrients, water, and air on this core. There is a reservoir at the bottom section of the Tower. This reservoir helps in collecting excess compost, which can be used again on the plants.
Ability to Convert Kitchen Waste to Organic Fertilizer
This tower garden has nightcrawler worms that are good at converting kitchen scraps into organic manure. All you need to do is add the kitchen waste frequently to ensure a continuous supply of nutrients.
However, you should avoid adding meat products, or foods with a lot of fat to your garden tower. Excellent vermicompost is best made from vegetables. Like in other worm composting bins, the worms move naturally towards new kitchen waste, making it easy to maintain.
Ergonomic Design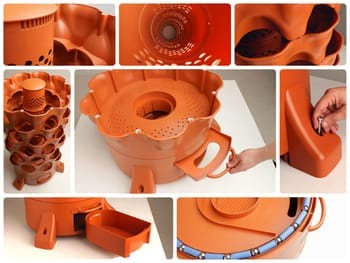 ​Garden Tower 2 has a 4 square feet structure designed to grow more plants vertically and reduce the effects of compacting the soil since you won't step on it. This garden is also designed in a way that when you water the plants, the nutrients are transferred to the various root zones to ensure each plant gets nutrients. The Garden Tower is made from food-grade plastic to secure the plants from the harmful ultraviolet rays. It also comes with plant labels to help identify the different types of plants that you are growing. The names are erasable, which allows you to reuse them when switching the plants.
 Availability of the Caster Wheel
There is a caster wheel to enable you to move the garden easily. The wheels also have a locking mechanism to prevent the container from rolling in a sloppy area. Additionally, the rotating wheels are made from pure steel with a powder coat to prevent rusting. There is a guarantee of wheel repair or replacement whenever they get damaged.
 Heavy Anchor Feet and an Ultraviolet Resistant Material
The Garden Tower has a reinforced, stable, and broad base to provide support. This base enables it to hold up to 200 pounds of soil and plants. You can place it anywhere, on the floor, and even on the rooftop. The UV resistant plastic ensures that this tower garden can last 7 to 12 years.
Why we like it
One of the reasons the Garden Tower 2 stands out is the 50 plant capacity. You can plant enough groceries, several flowers, and other types of herbs regardless of whether you're in a rural area or an urban setting.
The rotating feature is also very convenient, especially when you have a tight space or expose certain plants to sunlight.
The Garden Tower 2 is made of high-quality UV resistant materials to ensure it lasts a long time. This plastic is food grade, ensuring that it doesn't leach harmful chemicals to your plants.
The worm composting ensures that you grow organic food throughout the year.
It's easy to maintain since after composting, the casts end up at the bottom where you can choose to reuse them.
​Garden Tower 2 holds up to 14 gallons of water, ensuring that your plants have enough water whenever they need it.
It's effortless to set up and maintain. There are also numerous video tutorials that can help you get the most out of it.
What we don't like
With soil, ​Garden Tower 2 weighs 200 pounds. That's too heavy, especially when you have to move it around often.
I also believe that the strainer tray and the compost tray could use a latch. This locking mechanism that you open by twisting. This is because the shelves are close to each other. You may open the wrong one accidentally, spilling the compost when it's not ready.
It's also quite expensive.
​Garden Tower User Impressions
Several users love the fact that they can grow several types of plants in their apartments. Organically grown plants tend to taste better, and the fact that you can have a regular supply of them without having to visit the grocery store is fascinating.
Those with Arthritis and other physical limitations love that they don't have to weed the plants.
Users also love the compost core. For starters, worm composters are odorless. This means that they can create organic manure in residential areas without being frowned upon by neighbors.
There's also a lot of support from the company, especially through the Facebook group, where users share useful tips.
Most of the users also loved the rotating feature, but they did admit that it may be less practical when you have huge plants.
​Garden Tower 2 FAQs
What Grows Well in a Garden Tower?
The success of the food harvested depends on the maintenance, availability of water, sunlight, soil, and seeds quality in the Garden Tower. This gardening system can grow a variety of vegetables and some small plants. Herbs such as Cabbage, Amaranth, Beans, Cucumbers, and Peppers can do well in the Tower. But melon and squash should be grown on the lower holes of the container. Flowers also do well in the tower gardens. But root plants such as potatoes and carrots can't thrive in these structures.
How Does a Garden Tower Work?
It has six stackable levels, a base, and a compost column. These stackable levels/trays are filled with soil where you will plant your crops. The composting column in the middle is where you add organic kitchen scraps. After adding the kitchen scraps, you add worms that compost these materials into organic fertilizer.
The Garden Tower is also perforated to ensure that roots can reach the compost and to ensure the worms can freely move into the soil and back to the compost. Nutrients can either reach the plants when the roots access the column or through water. When you water them, the nutrients are transferred to every root level. At the bottom, there's a tray that collects the worm tea, which can also be used as fertilizer.
Are ​Garden Towers Worth It?
Despite being quite costly, we believe ​the Garden Tower 2 is worth the price. They enable you to grow a lot of plants in minimal space. They even allow you to compost and grow organic food in an urban setting. They are also easy to maintain since you don't have to till or weed. You can also use high-quality soil even if you live in semi-arid areas where the soils are unfavorable.
Final Thoughts
If you're finding it hard to grow your crops in a limited area, a Garden Tower 2 is what you need. These structures allow you to grow more plants in smaller spaces and even control the crops' quality using the latest gardening practices.​Garden Tower 2 allows you to grow 50 crops in a four square-feet space. It also allows you to recycle your kitchen waste into organic fertilizer. And that's not all. It's made from high-quality food-grade plastic to ensure that it lasts longer.
​​I hope you have enjoyed my Garden Tower review. Be sure to share it with any friends who are thinking about getting one.