LeafFilter Gutter Protection Review
Cleaning gutters can be overwhelming, especially going up and down the ladder. You can use precious time on other essential things than removing dead insects, dirt, or leaves. How would you feel knowing you won't have to worry about cleaning your gutters ever again? These are some of the mechanical chores that you perform without thinking of alternative ways to ensure you never do that again.
With today's technology, there are automatic dishwashers, washing machines, and vacuum cleaners. The same way developers have invented a system that is designed to filter the rainwater and keep out debris and leaves from the gutter.
LeafFilter is created precisely for that; it ensures your gutters remain clean forever. I have tried some of these gutter guards, but I fell in love with this professionally installed gutter guard.
Product Presentation
LeafFilter is one of the best gutter guards in the market. It is a micro-mesh design constructed using surgical grade stainless steel. Its patented fully enclosed design outperforms all other gutter guards. It keeps off all debris, pine needles and leaves from which can clog the gutter or downspouts. It works without disturbing your roof or damaging it. The vinyl frames help to enhance its durability.
You can install it yourself, unlike other brands who employ a third-party contractor. Their professional installers reinforce, realign, and clean your gutters before installing the micro-mesh guard, which is essential for your guard to work correctly. This mesh filter withstands a high volume of water as open gutters.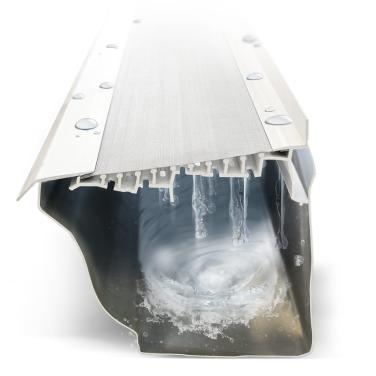 The guard isn't mounted beneath the roof shingles, but instead, they are anchored to the gutters to preserve the roof warranties. It eliminates the need for gutter cleaners. This gutter guard also comes with a transferable lifetime warranty.
Features and Benefits
Efficiency
LeafFilter is designed with small openings that filter even the trickiest and most minor types of debris. It prevents everything from entering the gutters, whether pine needles, pollen, moss, seed pods, dirt, pests, insects and leaves. It is highly resistant to corrosion and rust. It eliminates the dirty and tedious chore of cleaning gutters forever, which gives you free time to do other things you enjoy. It doesn't warp or deteriorate after some years, unlike most gutter guards available in the market.
Installation
This gutter guard provides professional installation services because they have trained experts who know everything about gutters and this product. Apart from installing filters, these professionals inspect your gutters to find the weak spots to ensure the system you are about to purchase will highly perform at full potential.In the case your old gutters are inefficient or have faults, the technicians will install new gutters for your home. And if the old gutter system is in good condition, they will reinforce, and clean it to make sure everything is perfect before they start the installation of the leaf filter. Your gutters are realigned and sealed using silicon to ensure water doesn't cause any damage.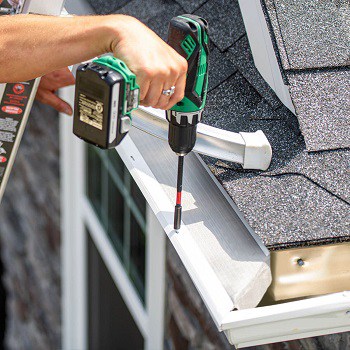 The professionals add hidden hangers that enhance the reinforcement and are secured to the fascia board and ensure they don't pull away from your house. Depending on the length and complexity of your gutter system, complete installation takes anywhere between several hours to a whole day.
How to Order
The price varies from different homes, depending on the amount of work in your home. You can get a free price estimate by visiting their official website, fill out a form and give them a call and talk to a representative. One of the experts will come to measure your gutters and also inspect the other things needed and the amount it costs. You can then take a whole year to decide whether you will buy it or not, and still, the price won't change in that year.
Should you make up your mind on purchasing LeafFilter, an installation technician will come to install protectors for you in your home. After the product has been installed, you should visit the manufacturer's website and get your product registered to get the lifetime warranty.
Warranty
Leaf Filter provides a lifetime warranty to all its buyers. If your system underperforms, they give you free repairs, or you can ask for a refund. It makes sure there is no water damage occurring in your home due to clogged gutters. As promised, the protective filters keep out all types of debris and keep your gutters clean for years to come.
If you decide to sell your house at any point, the product's warranty will be transferred to the incoming homeowner. But to benefit from this transferable lifetime warranty, you have to fill out the online form and specify the installation date and contact.
How does LeafFilter Work?
This gutter protector is made with 275-micron steel mesh, which allows it to block even the tiniest debris form that could get into your gutters. It is quite dense to keep everything off, but it will allow rainwater through the filters, even if it is raining heavily. The surface tension pulls water past the screen even during harsh weather conditions.
Its 11 angle pitch design allows vast volumes of water as if it's an open gutter. The gutter guard is constructed from a uPVC, a sturdy material that will last forever without deteriorating or warping, even if it is exposed to harsh weather conditions. So, even if you are experiencing a desert-like cold or heat, LeafFilter stays stronger and keeps your gutters protected. The added structural hangers after installation of LeafFilter are invisible, but they perform an excellent task to keep your gutters firmly attached to a fascia board.
Pros
You get cost estimates for free.
It is made from durable and sturdy material.
It eliminates gutter cleaning, and you don't have to climb the ladder regularly to clean your gutters.
It works with all types of existing gutters, so you won't have to change your installed gutters.
Its installation takes less than a day.
The estimates are suitable for a year, but the price remains the same.
It is installed directly on the existing gutters.
It keeps out all debris from the gutter to prevent clogging.
It prevents the accumulation of leaves, which attracts moisture leading to corrosion and rust. Uncovered gutters rust easily, which exposes you to the risks of drinking dirty water or water containing impurities.
It comes with a transferable lifetime warranty, and you can transfer it to another homeowner if you sell the house.
Cons
A LeafFilter professional must come to install it.
Installation teams don't adhere to the pre-established schedules, and they can be too late or arrive ahead of time.
It doesn't guarantee 100% satisfaction after the installation.
It is costly.
General User Impressions
Cleaning service – LeafFilter has advertised that their professional team doesn't leave a mess behind after installing the system. But as per the customers' experience, their opinions are divided. Some of the expert installation teams didn't do their job right. They left a bitter taste in customers who spent thousands of dollars enjoying the quality of this product and its adjacent services. Other technicians did their job right.
Technicians – most of the customers are pleased with their technicians. Some of them were so happy even to request the same technicians to perform any future services. In fact, in most customer reviews, the technicians were called by their names and congratulated for a great job.
Product quality – as promised, LeafFilter delivers quality products. Most of the customers' negative complaints were about installation services, but there was nothing to do concerning quality. Even those in wood-thriving places, and have faced so many problems of leaves falling, were very glad that the product was performing as promised.
Purchasing experience – most people were very much pleased with the way LeafFilter professionals interacted with them to assist them and also those who visited their homes to inspect and give an estimate of the gutter guard. Unfortunately, some customers gave negative expressions for the installation time, due to the technicians arriving too late or ahead of schedule contrary to the pre-established time. This isn't right because some of the customers have to leave work to wait for the team at home.
Frequently Asked Questions (FAQs)
1. Does LeafFilter Work?
Yes, it's a perfect solution for anyone experiencing problems of gutters getting clogged regularly due to debris piling in the systems. These are great systems as they prevent all types of waste or leaves from entering the gutters.
2. Can I install the LeafFilter?
You can install metal or plastic gutter guards yourself, but it is a little challenging to install. The professional installers from LeafFilter have to install this product to prevent the installation errors causing it to work ineffectively.
3. How does LeafFilter Work?
It works through surface tension. While water is flowing down the roof and passes over the protector, it is pulled by surface tension into gutters through a micromesh screen. It helps to protect the home from foundation damage.
Final Thoughts
You may be worried about the high price for the LeafFilter system, but its performance and quick analysis show you that this product will often eliminate the tedious chores of cleaning gutters. This is the gutter guard that has outperformed all other types of guards. It works with all kinds of gutters, whether already existing or newly installed. It protects your gutters from clogging and leaves piles which destroy the drains quickly.