Best Professional Gas Hedge Trimmers
Finding the best gas hedge trimmer for your property is a serious decision. Chances are, you are willing to invest a little more for the extra power and portability that a gas powered hedge trimmer offers, but you want to make sure you get the right tool for your specific needs. This review will help you make a solid choice for your property, budget, and experience level.
Our team has done hours of research so you don't have to. Below you kind find our top picks for the best gas hedge trimmers on the market right now.
Our Top Picks at a Glance:
Best Professional Gas Hedge Trimmer Reviews
1. Husqvarna 122HD60 21.7cc Gas Hedge Trimmer
This Husqvarna gas powered hedge trimmer has everything that you need. We have found that other types of gas hedge trimmers are difficult to use and get started. Husqvarna has taken care of these issues thanks to the Smart Start Engine and the air purge system. These two tools help make starting the machine a breeze.
Once you turn off the machine, you may notice that the stop switch moves back to the start position to make starting it back up later easier. Other trimmers make you do all the work, so we found this a nice feature that makes this trimmer easier to use too.
Some of the power is missing from this gas hedge trimmer compared to the Craftsman and other options on our list. 
This may be due to the anti-vibration dampeners. These are meant to keep the sound down when you use this hedge trimmer but seem to take away some of the power. For a small yard, this is not a big negative to worry about.
Overall, this is our best gas hedge trimmer on the market right now.
Pros:
Easy to start
Rear handle adjusts to help make handling easier
Absorbs the vibration
Quiet to use
Cons
Not as powerful
Higher price
---
2. Poulan Pro PR2322 Gas Hedge Trimmer
Although not our best gas hedge trimmer, the Poulan Pro gas powered hedge trimmer is one of the most powerful options on our list. The 23cc crank engine can help handle even the most difficult weeds in your yard, making it easy to get the work done. The stainless steel blades will cut up big weeds as well, so this is perfect for a yard that needs some work.
We really enjoyed how lightweight this hedge trimmer was as well. It is just over 11 pounds, which makes it easier to get the yard work done without wrestling the machine or getting tired from all the extra weight.
Along with the power, this gas hedge trimmer comes with a lot of the other standard features that you need. The handle rotates to make holding the trimmer easier, the steel blades will not dull out, so you will not need to replace them often, and the lightweight design can help provide maximum control.
Pros:
Powerful 23cc crank engine
Durable stainless steel blades
Wide blades that can cut through any weeds
Light and easy to carry around
Affordable
Cons
Harder to start
Can get noisy
---
3. Husqvarna 966532302 Gas Hedge Trimmer
This is one of our favorite gas-powered hedge trimmers on the market. Husqvarna is a great name on the market, and they put everything into this hedge trimmer. The engine is designed to limit how much noise is released and the anti-vibration technology helps make it easier to hold the machine.
When cutting through the different weeds and grass in the yard, the dual-action blade will help get the work done. They can cut in either direction, allowing you to finish the work quickly and more efficiently. The blade is even strong enough to cut through some small twigs and shrubs.
One concern we saw was the weight of the hedge trimmer. It is under 11 pounds. This makes it easier to carry around and use, but there may be some issues with cutting through larger branches and difficult weeds like some of the other trimmers on the list.
weeds like some of the other trimmers on the list.
Pros:
Lightweight and easy to carry
Low noise pollution
Anti-vibration
Dual-acting blades to make work efficient
Cons:
Can only handle weeds and small twigs
Smaller blade
---
4. Craftsman CMXGHAMD25HT Gas Hedge Trimmer
This is the hedge trimmer of choice if you have some problematic bushes or landscaping that needs to be trimmed. It has 135 degrees of movement and large blades that make getting into those hard-to-reach places a little easier. With a 22-inch blade and all this movement, no weeds or grass will get by you again!
We also liked the other features of this gas hedge trimmer. It is effortless to start, thanks to the Craftsman Easy Start technology. Use the electric start drill bit and get the hedge trimmer to work without having the manual pull like other options, avoiding the stress and hassle of traditional trimmers.
This Craftsman hedge trimmer is lightweight, has a 25cc engine to cut through any weeds, and you can adjust the size and position to get the work done quickly and efficiently. It can also work with other attachments, so you can use this hedge trimmer as other lawn products to save money.
Pros:
Easy to start
Can get under bushes and around tight areas
Easy to adjust
Attachments help you turn it into other products
Cons
Limited warranty on the machine
Need to purchase additional parts to use
---
5. Echo 20 in. 21.2 cc Gas Powered Hedge Trimmer
In our opinion, the Echo hedge trimmer is the professional option, while the others are good home options. If you need a dependable hedge trimmer to handle those big yards and the challenging weeks and branches, this is the one you should get.
The Echo gas powered hedge trimmer has all the professional features that you need. It is lightweight while being durable and provides superior cutting performance. First, the blades are 20 inches, giving plenty of room to cut through everything. In fact, there are twice as many cutting edges like any other blade on our list to make it even better!
We were really impressed by how easy this hedge trimmer was to use. The blade cuts through everything, and it is designed to be really easy to maintain and take care of. The price is a little higher, so unless you have some heavy-duty work to get done, it may not be the right option for some yards.
Pros
Extra cutting edges.
Easy maintenance
20 inch blade
Lightweight
Cons
Higher in price
Hard to move around
---
Pros and Cons of Using a Gas Hedge Trimmer
Although most pros go with gas-powered gear for outdoor landscaping, it is not always the right choice for a homeowner. However, if you have a large property with plenty of tough trim jobs to keep up with, they may still be your best bet. A gas hedge trimmer can often be the most suitable hedge trimmer for your needs.

Before you go with gas, here are some considerations:
PROS
Go the Distance: Gas powered engines will just keep on going at full power as long as you need them to. Just be sure you are topped off with properly mixed fuel in a well-labeled container before you start any trim project.
Powerful: Although Lithium Battery technology is rapidly closing the gap, gas machines are still a bit more powerful, especially for tough jobs with thick branches. For large property owners, gas powered gear may still be worth dealing with the considerable downsides of gas, covered in more detail below.
Fixable: The motors on electric corded and battery powered machines take a bit more expertise to work on, and replacement parts for these motors are usually harder to get a hold of. If you like to do mechanical work on small engines, you may prefer the best gas powered hedge trimmer for the long haul.
Longevity: Because you can work on gas engines when they fail, you can keep them going strong for years and years. For a long-term investment in top-notch gear, gas hedge trimmers are the way to go.
CONS
Noisy: By far, the loudest engines in quality outdoor power tools are those fueled with gas. This may not be an issue if you live in a rural area. However, many HOAs in residential areas place limitations on the use of loud gas-powered machinery so be sure this does not apply in your case before buying. In addition, consider getting some quality noise protection headgear for safety.
Smelly: The fumes from a small 2-stroke gas engine are surprisingly strong when it is just a few inches from your face. When trimming, sometimes you need to reach and, by necessity, have your face right next to the exhaust. If you are sensitive to fumes, gas might not be your best bet.
Maintenance: We cover maintenance in more detail below, but be sure to factor in the fact that you will need to winterize your gas powered hedge trimmer annually as well as perform regular checks to keep the engine running smoothly.
Weight: These engines tend to be on the heavier side compared to corded electric hedge trimmers, and about the same as many battery powered machines. Unless you are in great shape, the weight of a tool you will be using with extended arms is a significant factor to consider.
Starting: Gas power means you will have to pull a cord to get the engine started. For beginners, this can be a real pain. There is a degree of "feel" that comes with experience with gas machinery that is a learning curve. By contrast, most battery powered and corded motors start by simply pushing a button while the safety levers are engaged.
Price: Of the three power classes, gas hedge trimmers are usually the most expensive. In part, this has to do with the target markets—professional landscapers and experienced homeowners. It also reflects a machine that is built to last longer than battery and corded alternatives.
How to Maintain Gas Powered Hedge Trimmers
A complete guide of how to care for the best gas powered hedge trimmer is outside the scope of this article. However, you should have a basic sense of the maintenance you will need to do to keep your tools in great shape for years to come.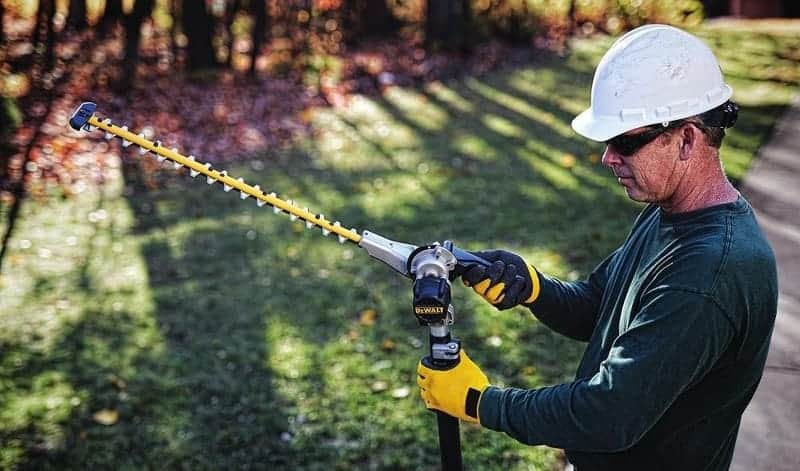 At the Start of the Season….
Before you get started on your first trim job, give your gear a solid once over. Make sure to check and tighten any casing screws, wipe it down clean to knock the dust from storage off, and clean or replace spark plugs to ensure good firing. Check the air filter to see if it is ready to be replaced.

No matter what kind of machine you choose, the start of the season is a chance to sharpen your blades or buy replacement blades for your hedge trimmers. The sharper your blades, the less torque you put on the engine. Working with sharp blades not only makes your project go faster, but it also helps preserve your engine over the long run.

It is recommended that you start with fresh, precisely mixed fuel in the spring since the oil additive used for 2-strokes engine is not indefinitely stable. Be sure to mark your fuel container so that you can avoid putting the wrong gas in your machine—potentially ruining the engine.
Before or After Each Use….
You want to be sure that the air intake stays clear throughout the season so that the engine runs efficiently. In addition, you may need to adjust the carburetor periodically to maintain an ideal idle, usually done with a special screw near inside the engine casing.

It is also important to follow the manufacturers instructions for the right products and frequency to lubricate your blades. This critical step reduces friction, makes the engine work less, and can help maintain your blade edges.
Winterizing….
It is recommended to use a specially formulated stabilizer before putting your gear away for the winter. Follow the instructions on your particular model as well as the product instructions for the stabilizer that you are using.

Also, always completely wipe down your gear before storing to reduce any sticky residue that can trap dust and debris. Finally, some manufacturers recommend additional engine lubrication before storage, so be sure to carefully read the user manual for your hedge trimmers for any additional routine maintenance.
How to Choose the Best Professional Hedge Trimmer
When looking for the best professional hedge trimmer for your needs, you will need to take into account the following facts:
Power Source
It wasn't long ago that gas was the only power source that made sense for landscaping professionals. Until recently, it provided unrivaled power, mobility, and long-lasting operation that was critical for professional landscaping work.

To be clear, gas hedge trimmers still, make up the bulk of a pro's arsenal. However, battery-powered equipment has started to break into this market.
Lithium Ion technology has produced long-lasting and quick charging batteries that can produce power that is competitive with engines of the same weight. Also, modern batteries don't have the dreaded "fade" that used to cause batteries to lose their ability to hold a charge after repetitive use.

Another shift that has driven innovation in battery powered pro-grade outdoor tools is consumer demand for quieter and cleaner technology, particularly in dense, residential areas. Major advantages of choosing battery powered tools include quieter operation and the absence of fumes.
From a maintenance perspective, it's a mixed bag. Engines do require winterization, special additives, and yearly cleaning to stay in top condition. However, for the DIY person, home repairs on these machines are easier. If small engine repair is your bag, then a gas-powered machine may be the better choice for you.

Our review includes both gas and battery-powered hedge trimmers so that you can get pro-gear that meets your needs. It is rare to find corded equipment that is considered pro-grade since access to power on the job site is a crap shoot.
Gas Hedge Trimmer Specs to Look for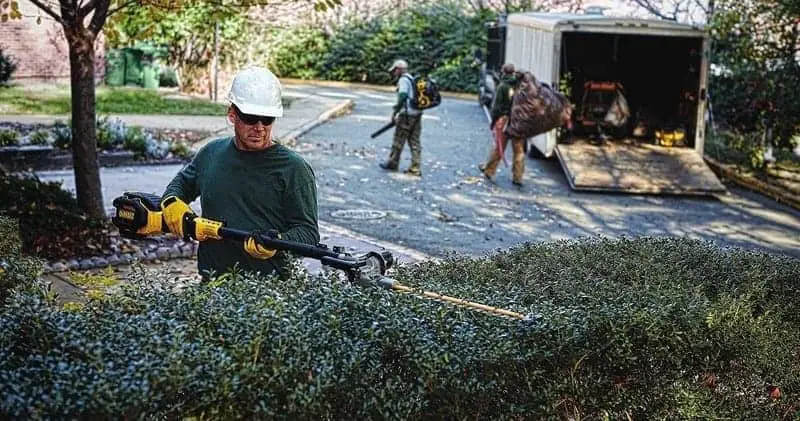 Before buying the best gas hedge trimmer on our list, take a moment to think through your specific needs. Are you looking to do regular maintenance on lightweight shrubs like boxwoods or forsythia? Or, do you need a gas powered hedge trimmer that can slice through dense thickets of blackberries? The right tool for one is not necessarily the right tool for the other.
When making your choice, keep an eye on these important specs:
Tooth Gap: This is the space between each tooth on the double sided blade, and it determines the max diameter of the branch you can safely cut. ¾" is the standard, although some pro-grade gear allows for even larger branches. Much more than an inch, and you are looking at a job more suited for a pole saw than a hedge trimmer.
Cut Length: This stat refers to the blade length, usually between 22-26". Shorter blades mean more swipes but give a novice more control for precision work. Longer blade length adds weight and can make the trimmer unwieldy until you get some experience under your belt.
Weight: Obviously the lighter the machine, the longer you can go without a break. If you have a high volume of work, this needs to be a major consideration. Look for a range of 9-15 pounds as the standard. With commercial grade gear built for pros that are used to handling heavy gear for hours on end, the weights tend to be heavier than residential gear.
Reach: If you have tall bushes to trim, then a pole extension is a must. Ditch the ladder and trim like a pro with a sturdy extension system that will take hours off the job time.
FAQ Section
Are gas hedge trimmers better than electric?
A gas hedge trimmer will have more power than an electric one. This makes it easier to cut through thick branches. The gas hedge trimmers also do not come with outlets or power cords, so they are easier to maneuver around your yard.
What kind of oil do I need to use with a gas hedge trimmer?
The oil you should use for your gas hedge trimmer is either SAE20 engine oil or a 3 in 1 oil. This will help to lubricate the blades. Any grade engine oil can do an excellent job for your hedge trimmer.
How do I start a gas hedge trimmer?
To start a gas hedge trimmer:
Start with the choke.
Move the choke to a closed position so the bulb will move enough gas over into the engine to help it start.
Press the bulb five times. You should notice that the resistance gathers as the fuel goes into the engine.
Stop here and start the motor. Use the starter cord to get the engine going. Short and fast strokes are the best. If the motor does not start after five pulls, wait a minute, reset, and try it again.
How do I store a gas hedge trimmer?
It is best to store the gas hedge trimmer in a dry and clean place. Make sure that it will always stay protected from the rain and any moisture. Consider adding a fuel stabilizer if you are putting the trimmer away for the season.
What is the gas mixture for a Stihl hedge trimmer?
Your Stihl hedge trimmer will need a mixture of gas and oil like other gas hedge trimmers. The ratio is 50-to-1. This does come out to being less efficient than other hedge trimmers, but it does give more power to help cut through grass and weeds faster.
What type of gas should I use for a Husqvarna hedge trimmer?   
Your Husqvarna hedge trimmer can use the same gas that you put into other hedge trimmers. The mixture should be 40:1 gas to oil mixture. Do not use specialty gas like E15 or E85 in your hedge trimmer, as the engine is not designed for that. Regular gas will be fine for this kind of hedge trimmer.
What type of grease should I use with a gas hedge trimmer?
It is recommended to use the brand of grease that goes with the hedge trimmer you use. If you use a Stihl hedge trimmer, then use Stihl brand grease to help. Another good option that works on most hedge trimmers is WD-40.
How to increase the gas flow into the engine of a hedge trimmer
Push down on the bulb of the hedge trimmer after releasing the choke. Only push on the bulb a few times to help the gas flow inside.
A gas powered hedge trimmer will help keep the edges of your lawn looking amazing while increasing the curb appeal of the whole home. Choose the right one and see what a difference it can make.
Gas Hedge Trimmers: Trim like a Professional from Home
If you are looking for the best gas hedge trimmers, it means you are looking to find a machine that is going to last for years, give you uninterrupted power, and deliver even on tough jobs. We hope this guide has given you some tips that you can use to make sure your next outdoor power tool purchase is right for your property, skill level and budget.

If you have any tips or tricks that have made your trimming work easier, please feel to share them in the comments section below.