10 Best Hedge Trimmers for Thick Branches
Are you looking for a hedge trimmer that will cut through those annoying thick branches? You don't want to get caught out with a model that is not up to the job.

Luckily we've done hours and hours of research to find the very best hedge trimmer for thick branches. We've combed through countless reviews so you don't have to.
You can rest assured that the models below will power through any branch that stands in your way. 
A Quick Look at Our Top Picks:
The 10 Best Hedge Trimmers for Thick Branches
1. Greenworks Pro 80V Cordless Hedge Trimmer (Top Pick)
Easy to Use: Battery Powered so no annoying cord
Powers Through Thick Branches: 80V battery & 3,600 SPM puts it on par with powerful gas models.
Holds up to Tough Use: Heavy grade construction & long run time. 
Trim at any angle: 180 Rotating Handle
Risk Free Purchase: 4 Year Limited Warranty 
Greenworks® is a relatively new name in lawn and garden care. Since 2007 they have focused on battery-powered equipment that has enough power to give gas-power a run for its money. If you are looking for a lot of power, quiet and minimal maintenance and the convenience of battery power, this is our best hedge trimmer for thick branches.

Lithium-Ion batteries have come a long way. This hedge trimmer features a 30-minute quick charge which buys you a full hour of run time. Every additional piece of equipment with the 80V batteries that you buy, you have the benefit of being able to charge while you are working—one of the reasons this company is quickly building a loyal customer base.
The main downside is the weight – coming in at just under 12 pounds including the battery. This is much heavier than less powerful hedge trimmers. This might be a problem for those who are elderly, frail or for extended use. However it should be fine for most people who are only using it for an hour or two at home. 
This is our top pick for a hedge trimmer that will cut through thick branches for a simple reason – it its super powerful, super durable and will definitely get the job done.
It's more pricey than weaker models and a bit heavier but those are trade offs you have to make in exchange for power. 
If you need something heavy duty that will tackle dense projects then buy this. You won't regret it. 
Pros
Real Power – 3,600 SPM motor packs a punch comparable to gas engines for home use.
Fast Charging – In just 30 minutes you will buy an extra hour of run time.
Ergonomic Design – Balanced weight and rotatable handle add up to a comfortable hold and great maneuverability.
Fadeless Battery Technology – Using the latest in Lithium Ion battery technology means you won't have to replace the battery to keep a charge over the life of the product.
Versatile Product Line – Swap batteries between the other 80V products in Greenworks wide line of products to keep going longer.
Cons
Heavy – 12 pounds of weight is enough to be a deal breaker for some homeowners.
Cost – Higher than other battery-powered hedge trimmers, although also top of the line power and quality.
---
2. Poulan Pro PR2322 Gas Hedge Trimmer (Gas Option)
Powerful Cutting Performance: 23cc 2 cycle full crank engine
Cuts Branches up to 1 inch in diameter
Rotating Handle and Comfortable Grip
Gas powered for those who prefer it 
This Poulan Pro is a gas hedge trimmer, meaning you have to buy gas and refill it which I personally find to be a massive hassle versus a battery powered hedge trimmer. 
It is powerful and is a great hedge trimmer for thick branches but has no real advantage over the Greenworks Pro hedge trimmer except it is a little cheaper. Having said that, you do have the ongoing cost of having to buy gas and gas machines tend to require extra servicing. 
Personally I still think that the Greenworks is the better pick unless you are especially attached to having a gas powered machine. 
Pros
Powerful – Powerful 23cc 2 cycle full crank engine for maximum cutting performance
Comfortable Grip – Balanced weight and rotatable handle add up to a comfortable hold and great maneuverability.
Rotating Handle  for maximum reach to cut at any angle
Price – Comes in a little cheaper than our top pick however remember that you will have ongoing gas costs.  
Cons
Heavy – It comes in pretty heavy at 11.1 pounds. 
Gas – Honestly I'm not sure why you would buy a gas hedge trimmer nowadays. Battery hedge trimmers perform just as well & you have to be constantly buying gas and refilling it. Not to mention the noise & fumes. 
---
3. Black and Decker HH2455 Hedge Trimmer (Corded Option)
Long Reach: 24-inch long dual blades
Fast Cutting Speed: 2800 cutting strokes per minute
Cut at Any Angle: can rotate up to 180 degrees with five permissive stops
Weight: It isn't heavy despite its length
The Black & Decker HH2455 hedge trimmer comes with sharp dual steel blades that are up to 24 inches long for a longer reach. Also, unlike most hedge trimmers, the BLACK + DECKER Hedge Trimmer can cut through branches up to ¾ inches with 40% less vibration, all for your trimming comfort. Speaking of comfort, its handle has a soft rubber grip that makes it smooth but firm to the hand. And it uses an electric motor of 3.3Amp. 
This hedge trimmer has a lock-on switch that you can activate by pressing and holding down its start button. This lock-on switch will keep the trimmer running even after you've released the start button. On the other hand, it has a lock-off switch whose function is to keep the trimmer from accidentally starting. 
This is a great hedge trimmer for thick branches if you are Ok with the fact you will limited by the length of the power cord.
Pros
Easy and comfortable to use
Can trim very thick branches
Trims hedges very fast. 
Lightweight
Comes with a 2-year warranty deal
Can last up to 5years.
Cons
You have to oil its blades regularly if you're trimming very thick branches. 
Its ability to cut branches that are ¾ inches shows that it can also chop off human digits in the blink of an eye. So please, be careful with it. 
---
4. Husqvarna 122HD60 Hedge Trimmer
This dual-action hedge trimmer comes fully assembled and only needs fuel to get you going. It is gas-powered, unlike some models that run off batteries. The best part about this hedge trimmer is the adjustable handle, allowing you to hold it with both of your hands.
Most hedge trimmers only allow you to reposition your grip, which leaves the trigger at an odd angle. Trying to access the trigger makes you have to bend over constantly and strain your lower back. So, this adjustable handle puts this trimmer above the ones that only have a one-place handle.
The hedge trimmer is easy to start and has a pretty advanced carburetor air purge system.
Pros
Anti-vibration– the dampeners absorb shock, which reduces stress to your hands and arms
Air purge system– removes excess air and allows the fuel system to start easier
Easy to maneuver– adjustable handle lets you grip and move easy
Automatic start position– returns to its original position when it's turned off
Cons
Very heavy– at 16 pounds, this trimmer is much heavier than other options
Fuel operated- gas will need to be refilled often for maximum efficiency, unlike battery-powered hedge trimmers
---
5. BLACK+DECKER 60V MAX CORDLESS HEDGE TRIMMER
At 8.4 pounds, this hedge trimmer is lightweight and easy to carry around. It's also cordless, which makes your yard work much easier.
The saw at the end of the hedge trimmer is worthless, though, so don't let that be a selling point for you.
The saw is at the end of the blade, so holding any branches while cutting is impossible. The battery life is also pretty solid, and the battery power means no exhaust fumes. This hedge trimmer is powerful and cuts through bushes and other brush easily.
The battery is 60 volts, so it is slightly better powered than other 40-volt options. You should be able to finish all your yard work without needing a recharge.
Pros
Long battery life- allows you to finish all the work without waiting for a recharge
Lightweight– most hedge trimmers are a few pounds heavier than this one
Powerful battery- the 60 volts battery is powerful and can cut through basically anything
Cons
Useless saw- not a huge deal if you don't plan to use it
Batteries are hard to replace- a battery replacement can be expensive
---
6. Husqvarna 966532302 122HD45 Gas Hedge Trimmer
This hedge trimmer scores high on the maneuverability scale because the dual-action blade can cut through either direction.
The engine is also low noise and creates less pollution than other hedge trimmers.
Unfortunately, one of the downsides is that this hedge trimmer is gas-powered. You will have to refill the fuel tank often, which can be a hassle.
It is 10.36 pounds which is a medium weight; some options do weigh a bit less. However, 10.36 pounds is still a good size for most users. This hedge trimmer advertises that it can cut shrubs and twigs up to 4/5 inches thick, but users say the actual thickness is slightly less.
Pros
Good price- good value for money
Anti-vibration– reduces stress on the arms and hands, so it is very comfortable to use
Powerful– It has a two-cycle 7cc engine giving it a good amount of power for your yard work needs
Cons
Gas-powered- cordless hedge trimmers are usually easier to use and have a longer life
Weak pull starter- some people complain that the pull starter is weak and seems like it could break easy
---
7. Makita XHU04PT Hedge Trimmer
This hedge trimmer by Makita is 12.2 pounds which is not extremely lightweight but still less than many other hedge trimmers. The weight could begin to feel heavy though, if you are using it for several hours at one time.
It is 39 inches long, which makes the blade slightly shorter than other hedge trimmers. The short blade gives it a more compact design, making it better suited for more petite users or those who may be using a trimmer for long periods.
The 6-speed dial is one of the ways that this trimmer stands out. You can change the speed depending on the thickness of what you are cutting. The batteries also have overload and overcharge protection.
Pros
Two batteries- two 18v batteries make the battery lost longer between recharges
Rotating handle– the design is very ergonomic and allows you to maneuver with it easily
Powerful- the trimmer can cut through everything up to 1 inch thick
Cons
Heavy- at 12.2 pounds, the weight will get to you after a few hours of use
The blade speed is slow– even at high speed, it seems to lag and is not as fast as other hedge trimmers
---
8. Makita Duh523Z Hedge Trimmer
Although this hedge trimmer offers an awesome lightweight lithium-ion battery, it is not included in the price.
The battery that is compatible with the hedge trimmer is extremely efficient and has a quick charging time.
The grip is rubberized, which gives you a softer grip compared to other hedge trimmers. The blade is also fully replaceable without having to disassemble the entire housing. This user-friendly quality makes it a better buy than models where the whole hedge trimmer has to be taken apart to replace each part. 
This hedge trimmer is only 7.26 pounds, one of the lightest weight options on the market. It is also cordless, which makes moving around easier.
Pros
Long battery life- the stellar battery life lets you complete your work without needing to recharge the trimmer
Lightweight- makes it perfect for using it all day without feeling like its heavy
Cuts thick brush- the blade it can cut through all shrub and bushes
Cons
Short blade– the blade is shorter than other trimmers and decreases the ways you can use the trimmer
Has to be used with both hands– the safety features do not allow you to use the trimmer one-handed
---
9. DEWALT DCHT820B Hedge Trimmer
This hedge trimmer by Dewalt is best known for its compact and lightweight design. It is only 8.8 pounds and is designed with maximum maneuverability. It can be used to trim large hedges and can cut up to ¾ inches thick.
The design makes it comfortable to carry, and users say it feels well-balanced.
The blades are extremely sharp even after years of use. This makes it ideal for cutting through thick and tall hedges but not be the best option for new users. There is no power cord which makes transporting it and using it in large yards very easy.
The battery has a pretty solid life and should trim several bushes and numerous trees without needing a recharge.
Pros
Lightweight- makes it easy to use over long periods without feeling fatigued
20C Max battery– very powerful battery with a long life
The battery can be changed– any 20V max battery can be used regardless of the amp-hour
Cons
Annoying safety trigger- the placement of the trigger can get in the way and bothers many
The motor is loud– the motor is noisier than other models and can be annoying to neighbors and family
---
10. CRAFTSMAN Electric Hedge Trimmer
This hedge trimmer by Craftsman is one of the most affordable options on the market. However, the low price does mean it is missing some key features.
It is only 3 pounds and very lightweight. This means less fatigue as you work. The saw at the end of the blade is one of the most significant complaints regarding this model and makes hedge trimming more complicated than it needs to be.
The motor is 4.0 amp, and the dual-action blade can cut up to ¾ inches, which is pretty standard for most hedge trimmers. Overall, this hedge trimmer primarily offers a lightweight option with nothing fancy.
Pros
Lightweight- perfect for long projects and working all-day
Battery operated- no need for fuel or refilling the gas tank
Easy to handle- the trimmer is easy to move around and use overhead because it is compact
Cons
Press and hold button– the start and safety buttons are a press and hold mechanism which can be tiring for the fingers
Plug falls out easily- the plug tends to disconnect when pulled or swayed very easily
What to Consider Before you Buy a Hedge Trimmer
Power Source
Thinking through what power source you want to utilize is a great place to start before investing in new outdoor power tools. When it comes to hedge trimmers, you have three choices: Gas, corded or batteries. When you are looking for a hedge trimmer for thick branches, the power source is actually an important consideration.
Gas Hedge Trimmers
Gas powered engines have historically dominated outdoor power tools for a reason: Until recently, no power source other than a long extension cord (impractical and unsafe for many jobs) could deliver the same kind of power. Times have changed, more on that below.

The main advantage of gas hedge trimmers these days is that it remains the only engine that can run indefinitely (you brought the gas can, right?) away from any power source. The major drawbacks are fumes, noise, and the significant maintenance required (keeping up with annual winterizing, making sure you are using the right additives, spark plug cleaning, etc.).
Battery Hedge Trimmers
The truth is that even professionals working in dense residential areas have become sensitive to client demands for lower noise and cleaner operation. With battery technology finally catching up to gas in terms of power, many pros are making the switch.

Lithium Ion technology may soon eclipse gas-powered hedge trimmers for homeowners looking to maintain 1-20 acre plots of land. With less maintenance required, the "plug-and-play" nature of battery equipment is a major advantage.
Of course, you will want pay close attention to charge and runtime ratios with battery-powered hedge trimmers, especially if you have a large property with lots of regular work. Another option is to buy your outdoor gear in one of the several battery powered tool lines out there. This way you will have plenty of interchangeable batteries to be on the charger while you work.
Corded (Electric) Hedge Trimmers
Your final choice in power is a corded hedge trimmer. They offer the advantage of continuous operation, important for those that don't like gas fumes but want to be able to finish a large job in one session. However, these hedge trimmers will only work within range of an outlet, so make sure to gather up your extra heavy-duty extension cords.

Another major advantage of corded hedge trimmers is that they have, bar none, the best weight/power ratio. They do not need to carry either the weight of a gas engine plus fuel or a heavy battery. The difference is significant. Plus, they are dirt cheap compared to similarly powered gas and battery machines.

If all of your trim work is close to the house, and you want the lightest machine that is also tough, then a corded model might be your best bet.
Hedge Trimmer Tooth Gap
Tooth gap refers to the space between each cutting blade in a hedge trimmer, and it will determine the max size of the branch that you can cut with any given machine in a single pass. ¾" is the standard. This may not be enough if you are cutting large branches.

To go much larger than that, you really should think about another tool such as a chainsaw for large jobs, or a manual saw style trimmer for keeping up with a few tree limbs here and there. Another option would be to go for a motorized pole saw.

Trying to cut larger branches than the recommended cut capacity for your hedge trimmer (usually equivalent to the tooth gap) is not recommended and may even invalidate your warranty.
Hedge Trimmer Weight
The weight of your hedge trimmer is an important consideration, particularly if you plan to use it on a large job. It might seem insignificant, but even 3 ounces will make a difference when you are moving it around in the air for an hour.

In addition, the heavier the hedge trimmer, the harder it will be to control. This becomes a critical issue if you plan to do highly manicured trim jobs such as those that are possible with boxwoods or juniper. If you are looking to make very clean lines, paying more for a lightweight set of trimmers is definitely worth it.
Hedge Trimmer Cut Length
It is important to consider the cut length to make sure you get the right gear for the job. This vital stat refers to the length of the cutting blade, usually somewhere from 22-26".

The length of the blade is a tradeoff. Longer means slightly more weight, but it also means fewer swipes to get the job done. The shorter blades are a little easier to maneuver and may be the better choice if you are a beginner to manicuring your bushes. Pros who spend hours a day behind landscaping equipment usually opt for longer blades because it makes large jobs go significantly faster.
Hedge Trimmer Reach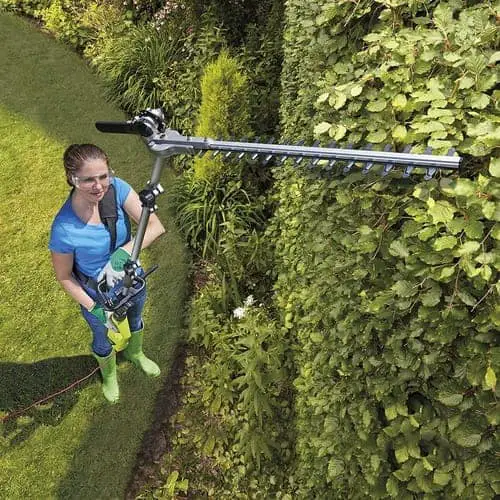 Think through the hedge trimming you will be doing in terms of height.
Nothing slows a job down more than having to drag a ladder around with you, so this is a critical decision-making assessment to make before buying.

A trimmer with an extension pole will make a big difference on anything taller than your shoulder height.
Make sure to check out our best long reach hedge trimmers if you have taller bushes to deal with.
FAQ
Can A Hedge Trimmer Trim Branches?
Most trimmers cannot cut through tree branches, even the heavy-duty ones. Wider grooves are required to cut through tree branches and a higher horsepower that most trimmers do not have. Other trimming tools will need to be used to trim branches efficiently. These include pruning shears or loppers.
How Thick a Branch Can a Hedge Trimmer Cut?
This depends on the trimmer you purchase. Heavy-duty ones and high-quality trimmers can cut through thicker branches with better ease. Most hedge trimmers can cut up to ½ inches comfortably. Remember that constantly cutting thicker branches will dull your blades faster.
Tough Jobs Require Tough Tools
Nothing makes a tough job harder than poor quality tools that just don't have the power to muscle through. While you can get away with cheaper trimmers for small jobs on tender foliage, you may need to invest in the best hedge trimmer for thick branches if you have significant overgrown areas to contend with.

Do you have some tips for tackling the big jobs that you would like to share with our readers? Please leave a comment below!