Welcome to our guide on the best pole hedge trimmers on the market.
Not being able to reach all parts of the hedge can be super frustrating, I get it. Right now, you are probably using an extension ladder which is at best a nuisance and at worst an accident waiting to happen.
A long-reach hedge trimmer is a much safer, easier and quicker solution. Luckily, we've researched and reviewed all of the top models currently available so you don't have to. Let's get to it!
Our Top Picks:
How to Choose the Best Long Reach Hedge Trimmer
Choose the Right Power Source: Gas, Battery, Electric
There are major advantages to each different power source when it comes to long handle hedge trimmers. Before buying, think through which power source will be best for you in terms of finding the best pole hedge trimmer for your property, budget, and skill level.

To help you make the best choice, here is what you need to know before buying:
Gas
Let's start with the benefits of gas hedge trimmers:
Uninterrupted operation: You don't have to stop to charge batteries or be near a power source. Just top up the tank with properly mixed fuel and go.
Plenty of power: Although corded and battery-powered machines are catching up, gas still has the edge when it comes to delivering the power to push through dense jobs like clearing brush, trimming under trees, and dealing with neglected areas of your property.
Repairs: Generally speaking, gas motors are easier to repair with basic mechanical skills and readily available parts. Unlike battery and electric machines which are usually cheaper to replace when they burn out, gas-powered gear is built with the idea that repairs are more economical than replacing the entire machine, saving you money in the long haul.
Downsides to gas include:
Higher initial cost
Heavy
Noisy
Exhaust fumes
Startup can be a pain
More time spent on maintaining the engine
Battery
There was a time when battery powered outdoor power tools just didn't have enough power to be taken very seriously, but Lithium Ion technology has been a game changer in the residential power tool industry.

Batteries have several serious advantages worth thinking through:
Power: While still weaker than gas and corded, battery-powered hedge trimmers these days are catching up fast to the competition. In addition, as battery technology continues to improve, they are holding their power longer, and charging faster, than ever before. Some models will run for up to 1.5 hours without interruption or dips in power output.
Safe: With no cords to cut and no flammable fuel inches from your face, battery operated hedge trimmers are very safe to operate, which is good news for beginners.
No fumes: Enjoy the smell of the outdoors when you work, rather than choking on exhaust.
Low noise: Your neighbors will appreciate the quieter operation of battery powered gear.
Less vibration: It may seem trivial, but the vibration of a machine becomes a major factor when you are holding it for an extended period.
Some downsides to consider when it comes to batteries include:
Limited operation between charges
High power models are usually relatively heavy
Tough jobs wear the batteries down quickly
Corded Electric
The major advantages to corded extended reach hedge trimmers include:
Lightweight: Because they need neither a battery nor a gas-powered engine, these are by far the lightest weight trimmers across the board.
Steady power: With an unlimited power source, these clippers can just go and go until the job is done.
No fumes: Avoid the unpleasant smell of gas exhaust.
Low Noise: Much quieter than gas engines, but comparable to battery powered
Price: Corded machines are usually the cheapest on the market so you can get a lot of bang for the buck in terms of cutting power.
Of course, there are a few disadvantages to keep in mind as well:
Distance to a power source becomes a critical constraint
Cutting the cord is a major safety concern
Usually the motor eventually fails and replacement is the only option
Other Factors to Consider Before Buying Pole Hedge Trimmers:
One you have decided which power source to go with, spend a little time thinking through your needs when it comes to the following factors:
Cut Capacity
The thickness of the branches your pole hedge trimmer can handle in a single pass is referred to as the cut capacity. Usually, between ½'-1" for residential grade gear, this is a vital spec to be aware of when choosing the right hedge clippers.
Blade Length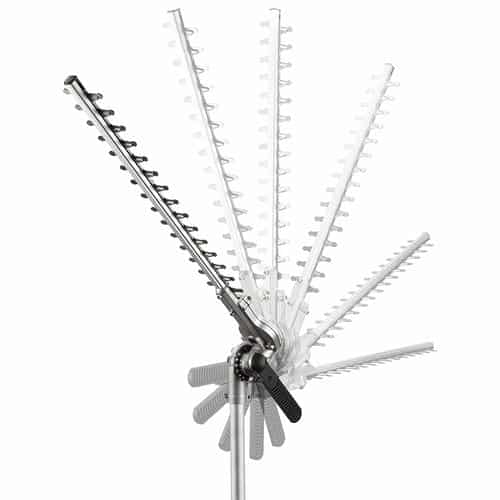 Most brush clipper blades are between 20-26", although you occasionally see them smaller or larger. What you need to consider when it comes to blade length is that longer blades are more for finishing work where the added number of limbs being cut won't overwork the engine. They also make big maintenance jobs, especially those with a lot of flat area, go much faster than shorter blades.

The advantage of shorter blades are that they are lighter, easier to maneuver, and are usually better for jobs where you need to power through a lot of thicker limbs such as clearcutting through brambles or getting around to hedges that have been neglected for a few years.
Reach
You are here because you are looking for the best hedge trimmer for large hedges, so you already know you need something with reach. The question is, how much? More isn't always better.

The longer you extend your pole, the more unwieldy and unstable your blades will be.
Also, the longer the max extension, the more weight you will have to carry for jobs big and small. Try to find a pole hedge trimmer that has a range that will be ideal for your property. We have included the reach as a vital stat so you can quickly compare the products included in this review.
Weight
It may go without saying, but it's worth emphasizing. If you buy a tool that is too heavy for you to handle, you have wasted your money. Some gear just assumes a very in-shape muscle-bound user that can hold 14 pounds with an extended arm for a few hours. If this isn't you, then pay close attention to the weight of the machine before you buy.

It also makes sense to think about weight distribution. When the pole is between the motor and the blade, it is easier to balance the weight and maneuver your long reach hedge trimmers. On the other hand, when the motor is at the tip of the pole, and in many cases, it is because this build is simpler, the balance becomes trickier. If you expect to have any trouble with control, definitely go with the motor back option.
The Best Long Reach Pole Hedge Trimmers
1. Black+Decker 20v MAX Cordless Pole Hedge Trimmer
Convenient: Battery Powered so can use anywhere.
Long Reach: 6ft Pole means you can reach up to 10 ft.
Trim hard to reach spots: Head pivots up to 90 degrees.
Value for Money: This hedge trimmer is very cheap for what you get 
This Black and Decker model is our clear winner for the best pole hedge trimmer, by a country mile.
It has an extremely long reach, coming in at over 6 feet, meaning you can potentially trim hedges that stand over 10 ft in height. The power is enough to tackle home jobs and it is very durable, meaning it will last you for years and years to come.
But by far the best part about this trimmer is the insane value for money that you get. Coming it at such a low price for such great performance and durability, getting this is clearly a no brainer. 
Pros:
Value for Money – Expect a long lasting, high performing machine at a price that won't break the bank.
Reach – Over 6 feet of additional reach means no hedge or branch is too high
Precision – A pivoting head means you can trim at any angle
Quiet – Compared to gas motors, this battery powered machine won't disturb the neighbors.
Warranty – This product comes with a two-year warranty so if it breaks you can always get it replaced or repaired at no charge.
Cons:
Weight – Coming in at 10 pounds, this may be a little unwieldy for the elderly. But should be fine for most people. 
---
2. Greenworks 20-Inch 40V Cordless Pole Hedge Trimmer
Long Reach: 6.5ft pole – that's slightly longer than the B&D.
Lightweight: Easy to maneuver.
Short Run Time & Long Charge Time: Only lasts 50 mins & takes 120 mins to recharge.
Greenworks is a relatively new kid on the block, but they have staked out a stellar reputation since they were founded in 2007. They have specialized in making battery powered, and electric outdoor power tools and their efforts have led them to a loyal customer base and a diverse product line of quality gear
Taking advantage of Lithium-Ion battery technology, along with developments that make batteries lighter and more powerful, Greenworks makes landscaping gear that is nearly as powerful as their gas-powered cousins.
They are also known for thoughtful and ergonomic designs. This extended reach hedge trimmer included a pivoting head with 3 presets that lock into place, and wide, easy grip handles, giving you comfortable access to different angles without sacrificing stability. Flat tops, rounded, or beveled edge hedges are all within reach with this tool.
With a cutting capacity of 5/8", this is probably not the tool for heavy and overgrown brush, but it is a great choice for a controlled precision cut on dense shrubbery. It will move quickly and efficiently through boxwoods, holly, laurels and other popular hedges.
Pros:
Interchangeable – Greenworks offers a full line of gear with interchangeable G-MAX batteries.
Warranty – Four years for the machine, two years for the battery.
Lightweight – Super easy to maneuver when working overhead.
Maintenance – Replacement parts are readily available for DIY repairs over the life of your product.
Reach – The telescoping pole adds 6.5' to the length of this pole.
Cons:
Charge time – Takes 120 minutes to charge – this is a long time.
Run Time – only runs for 50 mins so you may find yourself re-charging this a lot.
---
3. Sun Joe SJH902E Pole Hedge Trimmer
Low Price: This product is very cheaply priced but is not as high quality as the others.
Corded
Very Long Reach: You actually get a very long reach with this model. It has a 7ft pole for a total reach of 13ft – that's even longer than our top picks.
Small Cut Capacity: Will only really work for leaves or finishing options.
Finding the right gear on a budget is always a challenge. If you don't do your research, you can end up with cheap gear that is a complete waste of your money. This won't be the case with this selection by Sun Joe. This is a quality hedge trimmer that packs a reliable 4 Amp motor, steel blades, and tons of reach.

The head adjusts to give you extra control for precision cutting. In fact, these hedge trimmers are designed for lighter weight jobs such as regular maintenance on shrubs. They have a slightly smaller tooth gap than standard to reflect that.

The biggest drawback of the design is that the motor is at the tip, rather than the handle. Even though the machine is a modest 7.5 pounds, this has the effect of making it feel much heavier, particularly when fully extended.

This design can make it difficult, particularly for beginners, to maneuver the machine safely. We recommend this adjustable handle (yes, it's compatible) to give you more leverage and control on this hedge trimmer.
Pros:
Price – This is a great bargain buy.
Dependable Power – The 4 Amp motor makes fast work of precision trimming.
Reach – The extension pole adds nearly 8" for a total of 13' of total extension.
Customer Service – This brand is known to really go the extra mile when it comes to keeping customers happy.
Cons:
Cut Capacity – At just over 2/3" this is a relatively small tooth gap designed for finishing work rather than thick branches.
Balance – The motor travels at the front of the extension pole, making it somewhat heavier than ideal for maneuverability when fully extended.
---
4. GARCARE 4.8A Multi-Angle Corded Pole Hedge Trimmer
Corded Option: This option is great for those who want a power cord.
Don't need to worry about run-time due to power cord
Limited Use: You are limited in where you can use it by the proximity of power outlets.
Shorter Reach than the two options above.
Although not everyone is comfortable using corded hedge trimmers, there are some major advantages to reap. Corded machines are extremely lightweight, powerful, and relatively inexpensive compared to gas and battery models. In addition, they require much less maintenance and are quieter than gas operated machines.

However, the downside is that you are limited in range by the number of bulky extension cords you can string together between your house and your hedges.

If you decide to give corded a try, this is an excellent choice if you are looking for electric hedge trimmers for tall bushes and trimming under trees. First, you have the option of taking advantage of 7.4'-9' range if you use the extension pole, or use the trimmers without the pole for an extremely lightweight tool designed to move quickly through even tough jobs.

The design is well thought out with a few perks to take note of: Soft padded grips add to safety and absorb extra vibrations for comfortable use. You can adjust the angle of the head and handle, for a very customizable experience that will give you a great deal of control for precision trimming.

At full extension, this machine can be a bit unwieldy, so beginners should take it slow.
Pros
Maneuverable – Adjust the head and handle for very efficient precision work.
High power – 4.8A is plenty for most residential needs.
Reach – Up to 9 extra feet of reach for even very tall bushes or the underside of trees.
Price – Very affordable price point for quality gear.
Light – Even with the extension pole attached, this trimmer comes in at 12 pounds.
Versatile – Use with or without the extension pole for a 2-in-1 tool.
Details – All the extras including a shoulder strap, hand guards, thick, soft handles, cord lock.
Cons
Safety – This machine can be hard to handle for beginners when fully extended.
Balance – The design keeps the motor on the tip of the extension pole, making it challenging to balance at full extension. Consider adding an adjustable handle to gain more control.
---
Final Thoughts
Finding the best pole hedge trimmer can add real flexibility and versatility to any tool-shed. If you have high hedges or branches that need cutting, then a long reach hedge trimmer really is a must.