Have you ever tried to remove leaves and debris using a brush? It's hard work. A jet washer can do it, but that uses an immense amount of water and can lead to other problems. The answer is to get a leaf blower, and there is a model out there for everyone.
You can get a small electric blower or a huge gas-powered model. Here we will look at which model is best for your needs and look at the ten best leaf blowers out there. Hopefully, by the end, you'll know exactly what you need. Let's get started!
Browse By Need:
10 Best Leaf Blower Reviews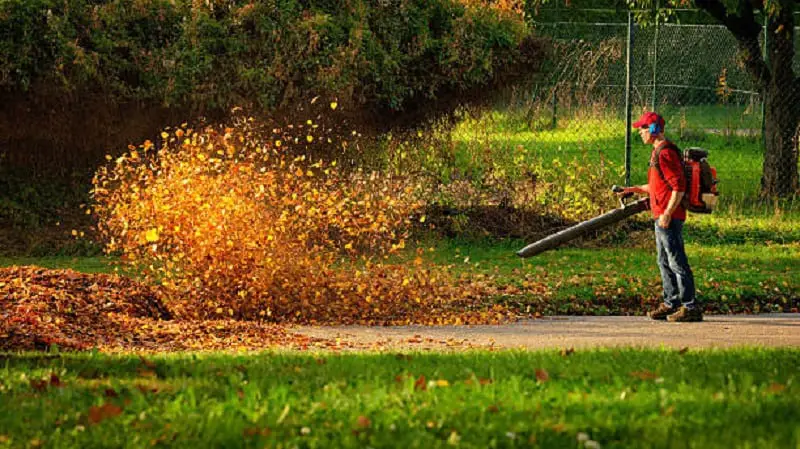 Key Features
600 CFM
Two-speed functionality
Widemouth muzzle
One Handed operation
Extension cord retainer
For overall versatility, this leaf blower can't be beaten. Despite weighing just 6lbs, it has an incredible 600 CFM, which is incredible for an electric model. The wide nozzle can cover a vast area, and it is easy to use with one hand.

Despite its immense power, it's not too loud and won't disturb the neighbors too much. The build quality is excellent; this is a product that you can rely on. Your arm can tire after a while of using it, but with the excellent performance it has, you probably won't be using it for too long.
Why we like it
Not too loud
Only weighs 6lbs
Value for money
Reliable operation
What we don't like
Our Verdict
This product excels in all of the key areas, and it'll make light work of any jobs that you have. If you don't want a corded model, you'll have to look at a different model, but if you don't mind that, you get brilliant value for money here.
Key Features
692 CFM
Padded harness
Low vibrations
Large carry handle
Cruise control function
While some electric models can have an impressive level of power, the most powerful models will always be gas-powered backpack blowers. At 692 CFM this is brilliant and has an industrial level of quality and performance.

It has all that without the negatives of vibrations, deafening sound, and heavyweight. With this on your back, it is very easy to control, and that is helped by the adjustability and cruise control function. With the padded harness and handle, you will also have minimal strain.
Why we like it
Minimal arm strain
Adjustable tube length
Easy to control
Starts easily
What we don't like
Our Verdict
If power and portability are at the top of your agenda, then this will be perfect. The gas-powered model gives you the performance and freedom needed to clear a large area with a minimal amount of fuss. It's more expensive than other options on this list, but with that functionality, it's a price worth paying.
Key Features
180 CFM
Lightweight and portable
Built-in cord retention
High efficiency
180 MPH wind speed
Not got much money to spend but still need a great product? If that sounds like you, then BLACK + DECKER have you covered. The 180 CFM isn't the highest that you'll see here, but it's still able to blow leaves away with its 180 MPH wind speed easily.

The built-in cord retention gives it good usability for a corded model. It's very quiet compared to other models, and even at a low price, it still has good build quality. With its short nozzle, however, it can be a little difficult to use for taller people.
Why we like it
Powerful for its size
Good build quality
Fairly quiet
Incredible value
What we don't like
Our Verdict
If you only need to clear leaves from a garden or driveway, this would be perfect. It doesn't have a huge amount of power but has terrific usability and has good performance for its size. It's a cheap model, but it doesn't look or perform that way.
Key Features
Variable speed limit
91 CFM
12 minutes of operation
Compact design
Weighs 3.9 pounds
Makita is a well-trusted name in the world of tools, and you can see why with products such as this. While only being small, this blower can pack a punch and able to give you brilliant performance, making it perfect for smaller tasks.

The variable speed limit makes it very easy to control; the switches help that. This product is very well-balanced. You can get 12 minutes of operation at full power, and it is a little small, but for most household tasks, it will be brilliant.
Why we like it
High build quality
Well-balanced
Easy to store
Perfect for small tasks
What we don't like
Our Verdict
Durability and reliability are key for any leaf blower, and you get both here. Its compact design makes it very useful, especially for those who may need to store it away for extended periods. It has that Makita build quality that you can rely on.
Key Features
Vacuum capability
Featherweight at 2lbs
Variable speed
Long-life battery
Compact and portable
If you're looking for a 2-in-1 solution, then this is going to be perfect. As well as being highly efficient, the tool can also work as a vacuum, which is great for clearing up any outdoor mess. With all that functionality, it's still very light at just 2lbs.

The variable speed control makes it very easy to use along with that low weight. It can complete a wide variety of jobs, but it does lack a bit of power due to its size. That size though, makes it an ideal for any older issues or for those with conditions such as arthritis.Why we like it
Great for older users
Effective for its size
Perfect for small jobs
Impressive battery
What we don't like
Our Verdict
The incredibly low weight seen here is going to appeal to a wide range of users. It gives it exceptional usability, and the vacuum function is brilliant. It comes with all the accessories you need, which helps to make this a brilliant option.
Key Features
475 CFM
2-stroke engine
Cruise control
Load-reducing harness
Variable speed control
Backpack models, on the whole, are going to be more expensive than handheld models but balance that with more functionality. If you want a high-quality backpack model at an affordable price, then this would be a great option.

It's very comfortable to wear as it's lightweight when compared to other backpack models. The power is excellent due to the high-quality 2-stroke engine. The variable speed control is handy, but it's not quite as easy to control as other models.Why we like it
High level of power
Value for money
Lightweight for a backpack
Very comfortable
What we don't like
Our Verdict
This model is perfect for those who need a powerful backpack model but have a limited budget. It performs very well, and it doesn't feel cheap when you are using it. The power is brilliant, and it can get through a lot of work.
Key Features
Brushless motor
400 CFM
Highly durable
Variable trigger and speed lock
Ergonomic design
When you're using a leaf blower, you can be a little paranoid about the amount of noise that it is making. The brushless motor on this product allows it to have a high level of efficiency while keeping any noise it makes to a minimum.

The 400 CFM it produces is impressive, as is the overall build quality. There are plenty of features that make it easy to use, with two of them being a variable trigger and also a speed lock. It looks great, feels great, and performs admirably.
Why we like it
Easy to hold
Excellent build quality
Versatile design
Great for small jobs
What we don't like
Our Verdict
Cordless blowers allow you to have a vast range of versatility as they are compact, and you can use them anywhere. This is one of the best examples of that, and it will be able to get through a lot of work with its quality.
Key Features
160 MPH airspeed
Only 4.6lbs
2-speed control
Large handle
2-year warranty
Toro has been able to make a leaf blower that has been designed to be able to sweep large areas in a short amount of time. This is due to the shape of its nozzle and handles that make it very easy to carry. The 160 MPH airspeed will make sure any leaves are swept away.

It comes at a great price with good build quality. It is very easy to use, which is helped by that large handle but also the fact it is well balanced and has two speed settings. All that is backed by a two-year warranty to give you peace of mind.
Why we like it
Easy to use
Simple set up
Good build quality
Well priced
What we don't like
Our Verdict
If you're looking for a portable product that is going to clear your drive in a matter of seconds, then this is a great choice. It makes light work of many tasks with a brilliant level of usability that allows you to clear leaves with minimal arm ache.
Key Features
155 MPH air speed
3.9lbs
Thin nozzle
6-amp motor
Two-year warranty
Sun Joe has been able to make an electric blower that doesn't have an exceptional level of power but is still going to be perfect for a lot of users. It weighs just 3.9lbs and has a thin nozzle that is able to produce air speeds of up to 155 MPH.

It's incredibly cheap, but you shouldn't be put off by that as it still has a good level of quality. Its size makes it very easy to store and also very easy to use. It's highly rated and has a two-year warranty that will give you peace of mind you're getting a quality product.
Why we like it
Versatile design
Easy to store
Low price
Simple to sweep
What we don't like
Our Verdict
Don't want to spend much? Will you only rarely use it? If that sounds like you, then this will be ideal. It represents epic value for money, and you will be very happy with the versatility that it has to offer.
Leaf Blower Buying Guide
CFM & MPH
CFM stands for Cubic Feet per Minute and relates to the volume of air that will come out of the blower. The higher the CFM, the more air comes out, and therefore you always want a higher figure. This needs to be balanced with the MPH.

If a blower has a huge nozzle, then a lot of air volume could come out and but not very quickly. This is why the two should be balanced against each other. While you need a high amount of air, you also want it to come out quickly.

To balance that, some smaller models have thin nozzles. This is due to them having a low power level and CFM, and making up for it with high airspeed. These can be effective as, although you don't have a wide blowing area, the air-stream is more concentrated and effective.
Weight
It's a good idea to look at the weight before you buy it as some models can cause arm fatigue after a while. It's good to double-check that it'll be comfortable. The reason more powerful models are on a backpack is that they are much more substantial.
Comfort
You must be comfortable while using your leaf blower. While the weight is important in this, you also have to consider the handle placement, the overall balance and also the controls. If it's a backpack model, then you should have straps and padding to make it easy to carry.
Speed Control
Speed control is a handy feature. This is going to be especially important if you have a powerful model. You don't always want it to have maximum power, and therefore, it will make your life easier.
Frequently Asked Questions (FAQs)
What Type of Blower Should I Get?
This will depend on the specific needs that you have. If you're covering a large area with stubborn and wet debris, then you'll need a powerful model. If you're only blowing dry leaves off your driveway, then your needs aren't going to be as high.
What's More Important, CFM or MPH?
These two figures need to be taken in balance together. A wide-nozzle blower needs a CFM, and a thin-nozzle version needs a high MPH. Most of the products here have a good balance between the two, but generally, CFM is the more important figure. This is because to have a very high CFM; the air needs to come out very quickly anyway.
Are Leaf Blowers Noisy?
In short, yes. You should be considerate of your neighbors when you're using one. That being said, some are a lot quieter than others. Gas-powered backpack blowers are going to be very noisy, and therefore, you should be prepared for that.
Final Thoughts
We have looked at a wide range of great leaf blowers here, but for all-around performance, you can't go wrong with the WORX WG520. It has great power while also being very easy to use with superb functionality.

If you need something a little smaller or a lot bigger, then there are other great options available. They will clear any space easily and turn a huge chore into something a lot more fun. Simply choose the model you want and start to make your life a lot easier.