Best Corded Electric Hedge Trimmers
Corded hedge trimmers are an extremely popular choice for homeowners that live in residential areas where the distance from a power source is not a problem. Corded electric hedge trimmers are fast, powerful, lightweight and very easy to maintain. In addition, among the power choices (electric, gas, and battery), they are the least expensive investment in most cases.
You may have some concerns about safety. After all, is it a good idea to have sharp moving blades near a hot wire? The truth is that even the best electric hedge trimmers do come with some risk during use and respecting safety is a top concern with any power tool.
Our Top Picks at a Glance:
Reviews of The 5 Best Corded Hedge Trimmers

1. BLACK+DECKER HH2455 3.3-Amp HedgeHog (Top Pick)
There are a few stand out features that make this corded hedge trimmer our top choice. First, this is a great machine for first time buyers. It offers simplicity, balance, functionality and enough power for the needs of the typical maintenance needs of the majority of homeowners.
This corded hedge trimmer has several features to take note of, particularly given the very reasonable price tag. The inline design offers exceptional balance and combined with the fact that this 6.5-pound machine is extremely lightweight, this hedge trimmer gets high marks for maneuverability.

In addition, the ability to rotate the handle a full 180° makes it a solid choice for the kind of precision work that you need to get a professional finish on tight and dense shrubs such as boxwoods and evergreens. It is also designed to have low vibration making it more comfortable to operate.

Overall, this is a well-balanced tool that comes in at a reasonable price. It has the features that make it accessible for those new to hedge trimming, while having enough of the extras to satisfy a more experienced landscaper.
Pros
Budget Friendly – Probably the best value for money corded hedge trimmer on the market.
Light – Even beginners will be able to manage these extremely light trimmers that weigh 6.5 Lbs.
Precise – A fully rotating handle lets you adjust to the perfect grip and angle for fast and efficient precision trim work.
Beginner Friendly – These trimmers have been designed with new users in mind.
Warranty – Two-year limited manufacturer's warranty.
Cons
Power – At 3.3 Amps, this is not a good choice for heavy duty jobs, but it offers plenty of power for the typical hedge maintenance needs of those with small to medium sized properties.
---
2. Sun Joe HJ22HTE Electric Hedge Trimmer (Lightweight)
If your priority is to find a lightweight corded electric hedge trimmer, then we recommend this selection by Sun Joe. Weighing in right at 5 Lbs., this is about as light as it gets. If you are the type that keeps up with trimming your shrubs and hedges, then having a light machine to zip through the job makes a lot of sense.


There are a few nice add-on features that are nice to see in such a budget-friendly basic model. One is the handguard, which comes in handy if you have to work on prickly hedges such as holly, or are working to clear thorny shrubs like blackberry and wild rose.

Although the 3.5 Amp motor will deliver consistent power, this is not the most powerful machine on the market. In fact, if you need a hedge trimmer for tough jobs with thick branches or a lot of dead wood, this is probably not a great choice for your needs.

On the other hand, sometimes the right tool for the job isn't always the biggest and most powerful tool on the market. For such a great price (right around $30) and such a lightweight design, this might be a good choice for small property owners that only have a few bushes to keep up with.
Pros
Lightweight – It doesn't get much lighter than 5 Lbs. when it comes to electric hedge trimmers.
Budget-friendly – This is a very inexpensive purchase for those looking for a bargain.
Ergonomic Design – SunJoe has the design right with a wrap around front handle and comfortable angle on the rear handle.
Safety – Just the right amount of safety features with integrated safety switch built into the rear handle.
Quiet Operation – Surprisingly quiet, this is a nice machine for tight residential areas.
Cons
Cut Capacity – With just a little less than 2/3" tooth gap, the maximum diameter of branches you can cut with this machine is a little less than the standard ¾."
---
3. Greenworks 2200102 Corded Hedge Trimmer (Budget Option)
For homeowners that have a great deal of tough trimming on thick branches or deadwood from neglected hedges, this is not going to be an ideal hedge trimmer. It is designed more for maintenance trimming on small properties. However, for those types of jobs, it is a winner, with an excellent price point to boot.
There are not a lot of fancy extras going on here. However, it does come with a handguard which is handy. Greenworks corded hedge trimmers also come with a helpful cord lock to keep your machine from getting unplugged during use.

Although not as light as other's in its class, this machine still comes in at under 8 pounds and most folks will find it manageable. Nice, wide wrap around handles give this model great balance, and it is relatively easy to maneuver as a result.
Pros
Inexpensive – Coming in under $40 for an excellent value in a reliable machine.
Just the Basics – Easy to use, in-line design, and great for beginners.
Power – Steel blades and a 4 Amp motor deliver power comparable to small gas engine machines with less noise, fumes and
Maneuverability – Relatively lightweight construction and ergonomic design make these trimmers a good choice for precision trimming.
Cons
Cut Capacity – This corded hedge trimmer is ideal for maintenance trim work, and it is a poor choice if you have a heavy-duty job on overgrown bushes.
---
4. GARCARE Corded 2 in 1 Pole and Portable Hedge Trimmer
If you have tall hedges, then it is worth considering an extended reach electric hedge trimmer. This particular model offers a 2-in-1 deal since you can use it with or without the extension pole, a nice feature. With 4.8 Amps of consistent power and laser cut blades, this model offers plenty of cutting power for bushes, shrubs and small tree limbs under ¾".
If you have tall hedges, then it is worth considering an extended reach trimmer. This particular model offers a 2-in-1 deal since you can use it with or without the extension pole, a nice feature. With 4.8 Amps of consistent power and laser cut blades, this model offers plenty of cutting power for bushes, shrubs and small tree limbs under ¾".

There are several features which help this corded electric hedge trimmer stand out as the best electric hedge trimmer for tall hedges. It has very well-placed handles that are coated with soft rubber which helps to absorb some of the vibrations so that you can operate this machine for longer without getting sore. In addition, hand guards and a shoulder strap add to the safety of this model.

Most homeowners will find that the full 9' extension is plenty for their needs. You can also adjust the angle of the head (6 positions) as well as the handle (5 positions). This makes this set an excellent choice if you are looking to get a precise and professional finish on your hedges.

The main downside of this hedge trimmer is that the pole attaches to the rear of the machine, meaning the weight of the motor goes to the end of the pole, adding some instability that might make it difficult for beginners to manage.
Pros
Highly Adjustable for Precision – 11 total position changes make getting the perfect angle a snap.
Plenty of Power – These are strong enough for even tough jobs like clearing dense blackberry thickets.
Long Reach – Topping out at a full 9'.
Budget-friendly – A solid deal for quality, low maintenance gear.
Special Features – Including an adjustable shoulder strap, thick rubberized handles, cord lock and hand guard.
Cons
Slightly Unwieldy – With the motor at the end of the pole, beginners may struggle to get used to this trimmer when fully extended.
---
5. Scotts Outdoor HT10020S Corded Electric Hedge Trimmer
If you are looking for a great electric hedge trimmer that can be used for cutting grass and branches, the Scotts Outdoor hedge trimmer is a great option. The hedge trimmer comes with a 3.2 Amp motor that provides great power that allows for trimming of overgrown branches and hedges in your home. Besides, it is environmentally friendly as it does not rely on gas or oil to operate.
The corded electric hedge trimmer provides3400 SPM cutting speed, which enables the tool to withstand even the toughest branches and scrubs. It also comes with a smartly designed full-length trigger that offers auxiliary support for comfortable control and operation. The full-length trigger makes it easy to turn the hedge trimmer on or off in just a single press.

Moreover, the tool has a 20-inch hardened steel blade with a dual-action that comes with 5/8" cut capacity. This makes it a suitable hedge trimmer for clean grass and branches cutting. It also includes a protective blade cover that allows for safe storage.

Unlike standard corded hedge trimmers, the Scotts trimmer comes with a built-in hook that retains the cord for easy operation and maneuverability. It also has a 3-year manufacturer warranty.
Pros
Powerful 3.2 -Amp motor: The motor provides great performance for clean and precise cuts.
Full-length trigger: This feature allows you easily turn the electric hedge on and off easily for better control and operation.
Protective blade cover: It includes a protective blade cover for safe storage.
20" electric trimmer with dual-action: This provides a great cut length for easier cutting of branches and trimming grass.
Clipper built-in cord retention hook: The clipper allows for easy operation and maneuverability.
Great maneuverability: It is lightweight and also comes with a D shaped handle that allows for easy operation and maneuverability.
Environmentally-friendly: It is electrically powered, which means that it does not produce any harmful fumes that would pollute the environment.
Cons
Poorly designed retention hook: The cord retention hook should be slightly improved to serve its purpose perfectly.
---
See our top cordless hedge trimmers.
Find the Best Corded Hedge Trimmers
For those that are new to hedge trimming, we have included some information so that you can decide if electric is the right choice for you, along with some important safety tips for using these powerful machines.

If you already know what you are looking for, check out our reviews of the top corded hedge trimmers above.
Choosing the right corded hedge trimmer may not be a walk in the park as there are many important features that you need to have in your mind. Here we will discuss some of the features to help you find the right product and also save time.
Blade
One of the most important features to consider is the size and the design of the blade. Choosing a hedge trimmer with a long blade is recommended as it allows you to complete your work in time and also reach high branches.

However, such a blade ends up adding more weight to the hedge trimmer leading to unnecessary fatigue. It is also good to mention that long blades are also not ideal for cutting small hedges. You probably want a small hedge trimmer if that is what you are looking to do.

Most modern corded electric hedge trimmers are designed with a double-sided blade, which helps enhance the versatility of the tool. A dual-action blade offers a perfect solution to trimming services and cutting complex shapes.
Comfort
When choosing the ideal electric hedge trimmer, you also need to focus on the ergonomics. Some of the important factors you can consider here is the balance, handle and the amount of vibration. Most top-rated hedge trimmers come with reduced vibration for greater comfort and ease of operation.

It is advisable to choose a hedge trimmer with D grip handles or those that also include a multi-power switch. This gives you more control and also allows you to turn it on or off easily.
Weight
Using a hedge trimmer means having to carry it around for the entire period and still being able to maneuver it at any angle to cut branches in different positions. Consequently, it is advisable to buy a lightweight tool that offers great performance.

Choosing heavy hedge trimmers causes you to experience unnecessary fatigue. This makes it hard for you to trim large areas in your home.

Other key features to look out for include, rotating head, batteries and warranty. Most top-rated trimmers work well with batteries from other household tools provided that they are from the same brand.
Pros and Cons of Corded Hedge Trimmers
Before you purchase corded trimmers, make sure they are the best tool for your needs. There are some major upshots to using a corded machine, but a few downsides to be aware of as well.
PROS
Inexpensive: Among the power options, electric clippers are usually the cheapest, especially for the amount of power you get for the dollar.
Lightweight: Corded trimmers don't need a battery or a heavy cast metal engine. They are the lightest option among the different choices. This explains their popularity for residential use.
Low Maintenance: Gas engines require regular maintenance to continue to run at their best, but corded trimmers are very easy to maintain. Be sure to keep them clean and lubricated.
Continuous Use: You won't have to stop to refuel or charge a battery. You can keep going until the job is done.
CONS
Tethered to the Cord. Make sure you have the extension cords you need to get from a power source to your shrubs. If you have a larger property, you may want to look into gas or battery powered trimmers.
Safety: A live power cord and sharp moving blades carry a certain degree of danger that needs to be respected when you are using electric power tools.
Repairs: Although you can have more power tools serviced, it is usually costlier than replacement. Unlike gas engines, parts are hard to find, and few possess the mechanical skills to do simple repairs on electronic gear.
Safety Tips for Using Corded Electric Hedge Trimmers
Since you will be working with a live power cord and sharp blades, it is critical to make safety a priority when working with corded hedge clippers. Here are some tips to make sure you are operating your trimmers safely: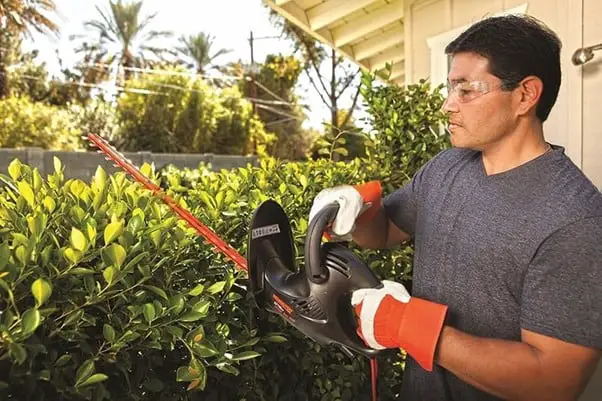 Clear the area. Before you even plug your hedge trimmer in, make sure there are no Christmas lights or accent lighting hung in the area. Children and pets should be kept far from the work site as well.
Wear tight-fitting clothes. This way there will be no chance loose sleeves or pants can get caught up in the hedge trimmer blades.
Use bright orange, heavy-duty extension cords. Orange is the color that pops most against the green background of your shrubbery.
Keep both feet firmly planted on the ground. This prevents your feet from getting wrapped up in the cord, potentially causing you to trip and fall.
Ditch the ladder. Using a ladder with corded trimmers is very unsafe. Check out our reviews of the best extended reach hedge trimmers for jobs that are too tall to reach from the ground.
Use the cord hook. Most electric trimmers come with special instructions on how to tuck the cord out of the way for safe use. Be sure to read your user manual to make sure you properly stow the cord when trimming.
Trim bottom to top. It may seem counter-intuitive, but as you cut away the excess branches will fall down, and if you start from the top, you will lose vital visibility as you move down. Also, your blades will have to cut the same branches multiple time, reducing your efficiency.
Avoid "forcing" thick stems. Not only will this create added wear and tear on the motor, but it is also potentially dangerous to get a thick branch stuck in the blades. Instead, use a sawing motion with less pressure and a little patience to work through thicker stems.
Always unplug before adjusting. As an added safety measure, always unplug your machine before you adjust the angle of the blade, extension pole, or anything else.
Keep blades sharp and lubricated. Not only does this make your work go much faster, it keeps things safer because you will experience fewer jams to mess around with.
Safety Gear
Before you get started on your first project, make sure you have the following safety gear ready to go:
Happy Trimming!
We hope this article has helped you decide on the best corded electric hedge trimmer for your specific needs and experience level. Each tool is optimized for certain jobs, and sorting through the options can be a chore.

If you found this review helpful, or want to share some of your own tips or stories with our readers, please feel free to leave a comment below!