Browse Weed Eaters by Need:
10 Best Weed Eater Reviews
Key Features
Cordless design. No more gas hassle.
It can work as a string trimmer and as an edger. It has the edging wheel too.
40 Volts battery for continuous mowing.
Weight – 4kg (9.2lbs)
Cutting swath of 13 inches
This weed eater is currently the best seller on Amazon, and they deserve it. It is ideal for both small lawns and larger gardens.
Why we like it
A wide cutting swath.
40 volts battery for long running time.
2-in-1 trimmer and edger, with an edging wheel.
It is cordless.
What we don't like
You need a workaround to use the automatic line advancement. It doesn't always work.
Our Verdict
This is by far the best weed eater in the market. It has a high capacity battery and a large cutting swath. It is also cordless, eliminating the gas hassle.
Key Features
28cc 2-cycle engine.
17 inch cutting swath
Automatic spool feed that is also easy to install new lines.
Translucent fuel tank that allows you to monitor fuel levels.
Primer bulb to eliminate air in the fuel chamber.
2-years warranty for non-commercial use of the weed eater.
Husqvarna are well known for their powerful machines. If you're looking for power and can afford to pay more than $100, this one's for you, it is powered by a 2-cycle (2-stroke) engine. It is not only ideal for mowing and edging; it has enough power to work as a cultivator. This weed eater is also laced with protective gear such as gloves, ear mugs, and protective eyeglasses.
Why we like it
Lightweight design to operate with your hands.
It's easy to start. The primer bulb allows you to expel excess air.
It's a three in one tool; trimmer, edger, and a cultivator
What we don't like
It's a bit short for taller people.
The engine dies when left idle for a few minutes.
Our Verdict
This one of the powerful weed eaters and a little bit expensive for domestic users. It is ideal when you have large areas to mow, or when your area has thick grass. The 2-stroke engine is quite powerful and easy to start.
Key Features
Automatic feed spool
20 Volts battery
PowerDrive Transmission for enhanced cutting.
12 inches cutting swath
It can be converted to an edge in seconds.
This weed eater has been named as the best budget for the features it offers at an affordable cost. It is ideal for people with a small yard.

When mowing small areas, you don't need too much power or advanced features. A simple weed eater like this one will do. It is battery charged, and the batteries are easily replaced to keep you mowing hours on end. The spool also feeds the string automatically. Better yet, you can adjust the shaft's length to make it more comfortable.
Why we like it
It has a light design and adjustable shaft
It's Amazon's choice for the best budget.
Long run time.
What we don't like
The automatic feed spool malfunctions frequently.
Our Verdict
The batteries are easy to change, making it possible to use continuously. The length of the shaft can be adjusted to make it more comfortable. Despite the automatic spool feed having some issues, it still works fine when you follow the instructions on the manual.
Key Features
Brushless motor that is more efficient and durable.
Dual line with a 13-inch cutting swath.
Variable speed control.
20 volts 5.0 AH battery and a charger.
This one made the list of the best wed eaters for being simple. Slightly curved shafts are considered more efficient, but they make the weed eater heavier and less efficient for edging. The DEWALT DCST920P1 Brushless Trimmer has a straight shaft that is lighter and more efficient. This trimmer is powered by electricity and you can control the speed/torque with the hi/lo button.
Why we like it
Variable speed control.
Straight adjustable shaft that's light and more efficient.
High capacity battery.
What we don't like
There are complaints about the stringer head being different from the one shown in the manual.
Our Verdict
You can control the sped at different textures of grass using the hi/lo button.
5. BLACK+DECKER BESTA510 String Trimmer
Key Features
14 inches cutting swath
Powered by corded electricity.
Automatic spool
Weighs 3.9 pounds
120 volts electricity.
This is an electric string trimmer/edger made with grass and other forms of undergrowth in mind.Why we like it
It's well priced
High quality
What we don't like
Its use is limited to smaller lawns.
Our Verdict
This is a heavy-duty weed eater with 120 volts electricity sand 6.5 amps. It can cut through tough grass. It also has a guard to protect you from debris.
Key Features
Gear-drive design.
15 inches cutting swath.
Efficient brushless motor.
The Dewalt 60V is designed for extensive outdoor mowing. The brushless motor makes it stronger, efficient, and resilient. It's also in a light, ergonomic design, making it easy to use without straining your arms.Why we like it
It has a light design to minimize the stress on your arms.
The motor is powerful enough to go through tough vegetation.
Variable speed.
What we don't like
Dewalt's warranty procedure is quite hectic.
Our Verdict
This weed eater displays strength and efficiency due to the brushless motor. The ergonomic design will enable you to use it for hours without straining your arms.
Key Features
3-in-1. It can work as a trimmer, an edger, and a mini-mower.
Adjustable shaft.
2 20-volt batteries that can be shared with other WORXdevices.
Adjustable guard to protect areas that you don't want to trim.
Advanced spool holder. You also control the release of the string.
The WORX Revolution allows you to trim even the most hidden areas, or areas very close to barriers. You get to trim a wider area in less time thanks to the 12-inch cutting swath. It also comes with two 20-volt batteries for increased run time and maximum power.
Why we like it
On command string release, it's better than the automatic line feed.
The shaft is longer than most weed eaters to accommodate taller people.
Wheeled edger for better performance.
It has a light and ergonomic design.
What we don't like
There are cases where the batteries don't last as long as advertised.
It can be quite overwhelming to use compared to other simpler brands.
Our Verdict
The twin-wheeled edger makes it easier to trim the pavements like a professional. The 12-inch cutting swath also enables one to trim a wide area in less time, and without straining.
Key Features
Adjustable telescopic shaft.
The battery and charger are sold separately.
Ergonomic light design.
7800 RPM motor for enhanced speed and performance.
Cordless weed eaters still offer much benefits such as; being environmentally friendly, and being easy to use and maintain. The Makita XRU02Z allows you to trim for more than 40 minutes non-stop. Weighing 6.4lbs, it's easy to use this weed eater for a long time.
Why we like it
The head can be adjusted into five different positions.
The lithium-ion batteries offer more than 40 minutes run time.
It is well priced.
Light, ergonomic design
What we don't like
The bumping feed fails to work when edging.
Our Verdict
When working on smaller lawns, this weed eater's battery power is more than enough. It s also well built into a compact size, ideal for edging and trimming.
How to Choose a Weed Eater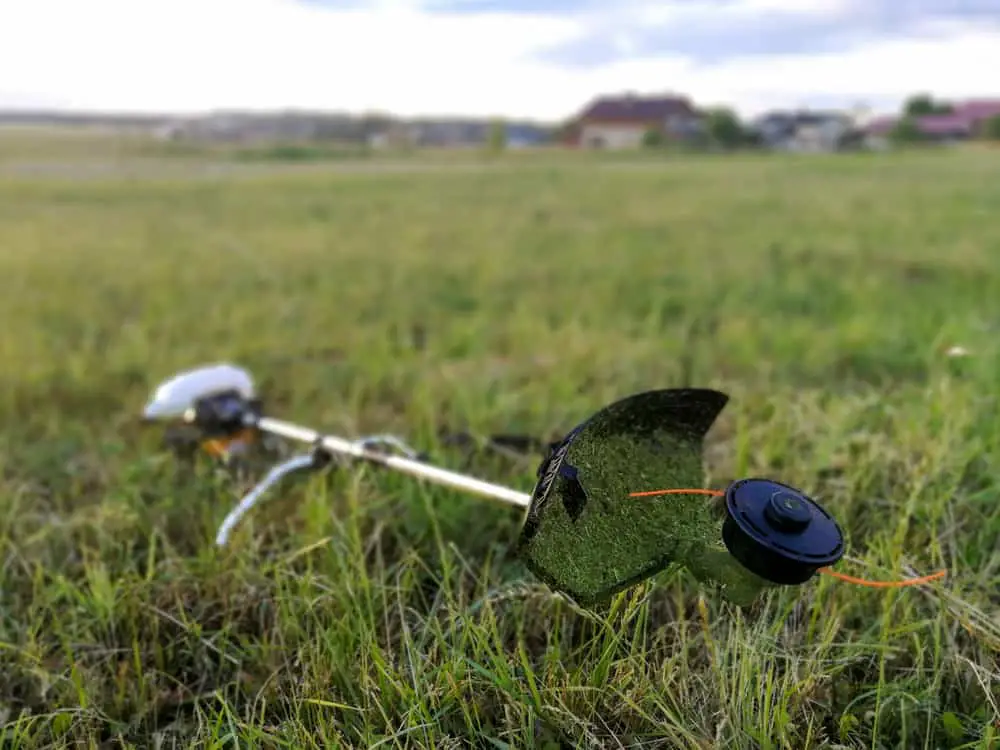 The following are the basic features you should look for in weed eater;
Additional features such as an edger – Most of the wood eaters can convert to an edger. This allows you to trim when you get to the pavement and then continue trimming other parts of the lawn. Other wed eaters can even function as a blower, or even as a cultivator.
Automatic spool feed – The weed eater should be able to feed the string automatically. It should also be easy to load a new string when the older one is worn out. Unfortunately, this feature tends to malfunction, look for weed eaters with a more reliable automatic feed line.
Below are some factors that you need to consider when getting your weed eater.
Cutting swath – This is the radius of the lawn that the trimmer can mow at a given time. These vary based on the power and size of the strings. If you have a small area, you can go for weed eaters with a smaller swath. Also, with larger swaths, you'll take less time and less time to mow your lawn.
Power – Wed eaters are either powered by a battery, corded electricity, or a gas engine. Each of these power sources has varying strengths. The power you need should be determined by the density of the vegetation in your lawn.
Starting gas weed eaters – You need to get the mixture of gas and oil right to start a gas weed eater. However, some are still hard to start even after you've ensured everything is inline. Read reviews, and also test before buying to spare yourself frustrations when mowing.
Cost – Based on the weed eaters reviewed above, the price range is quite high. More expensive ones come with more advanced features. Cheaper weed eaters are limited in some way, but some still perform quite well. The basic principle is to buy the best item your budget can allow. You also need to understand the maintenance costs. Corded motors will raise your electricity bill, gas weed eaters need gas and oil, and cordless weed eaters need battery replacements.
Weight – You have to make sure that the weight is bearable for a long time.
Safety – The trimmer head could hurt you or throw debris when left running. You need to get a weed eater with a locking trigger. Some come in the form of a clutch. Just ensure that the safety measure is convenient. Gas weed eaters should also be equipped with eyeglasses, gloves, ear mugs, and other protective gear.
Frequently Asked Questions (FAQs)
How Do I Choose Between an Electric and a Gas Weed Eater?
This depends on where you want to use the trimmer. If you want to trim a field that is quite large, go for the gas weed eater. It will be easier to move around with. Gas weed eaters are also ideal for tough vegetation.
Why Will My Gas Weed Eater Not Start?
First, check whether the on/off button is switched on. Secondly, make sure that the gas and oil have been mixed at a 40:1 ratio. Thirdly, make sure the air filter is clean, the fuel filter should be clean too, and the engine should not be flooded. If it's flooded, you'll feel the smell of the gas. Set it aside for some time to allow it to vaporize.
My Weed Eater Keeps Throwing Debris at My Feet; What Do I Do?
You should always purchase weed eaters that have a guard. Also, wear protective gear as you go to mow your lawn. The debris may not always harm you, but if the string happens to break and hit your feet, it will leave some very painful wounds.
Final Thoughts
After carefully reviewing all other weed eaters, the Greenworks 13 inch Weed Whacker wins the show. We did mention another weed eater that's best overall, but it's quite expensive compared to the Black Decker, but it is advisable to choose it if you are not working on a tight budget.

It offers a PowerDrive transmission system, 12 inches swath, automatic line feed, adjustable shaft, and it's affordable to a wide number of households. This weed eater is quite light, making it comfortable to use for a long time. The batteries are easily swapped to make it easy to use it for a long time.