Best Lightweight Weed Eaters
Looking for a weed eater that is both lightweight and high quality? A good weed eater should be both easy to use and get the job done.
Our team has carried out hours of in-depth research to find the best lightweight weed eaters on the market right now. So without further ado, lets get into it…
Our Top Picks at a Glance:
The Best Lightweight Weed Eaters
1. BLACK+DECKER LST300 String Trimmer
Great quality at a low price
Durable design helps it last longer
Wide cutting swath helps get the job done faster
Edger conversion is quick and easy
Very lightweight in spite of its power
Long Lasting Battery
This is our best lightweight weed eater. Not only does it offer high quality, but it comes at a reasonable price. This makes it an extremely cost-effective choice.
It has a powerful battery that provides about 33% more running time than the average weed-eater. The battery is small and light, adding very little to the overall weight of the machine.
This weed eater also doubles as an edger, the conversion is extremely quick and convenient. The battery is interchangeable with many other Black & Decker cordless tools, so it shouldn't be hard to find some extra batteries.
2. Makita XRU02Z Cordless String Trimmer
Great quality at a low price
Durable design helps it last longer
Wide cutting swath helps get the job done faster
Edger conversion is quick and easy
Very lightweight in spite of its power
Long-Lasting Battery
Makita is known for high-quality tools, and this one is no exception. This one is designed for maximum comfort, which is good for a lightweight weed eater.
If you weren't concerned with the comfort factor, you would probably be looking at full-size weed-eaters instead. At the same time, this powerful tool can whack the largest of weeds and edge without any conversion step, making it one of the most versatile weed-eaters on our list.
3. WORX WG160 GT 2.0 Weed Eater
Extremely versatile- does 3 different jobs
The wheel provides a more leveled, even cut
Function conversion is made to be easy
No need for bumping the head against the ground
The battery provides excellent run time
This is a truly unique string trimmer that serves many functions at once. This fact alone is reason enough to consider buying it, as it will certainly be cheaper than buying a weed-eater, mower, and edger separately.
You can use it like a normal weed eater, or you can turn it to the other side and use the wheeled leg on its bottom as a guide. This effectively turns it into a mini-mower, but you can also turn the whole head to the side so that it can be used as a wheeled edger.
4. BLACK+DECKER String Trimmer Kit
This is a great budget option
Extremely lightweight: ideal for older or smaller people
Uses the same well-designed battery system as our first option
Very comfortable and not very bulky
No annoying bump-feed feature

This is the smallest and lightest weed eater on our list, making it a perfect choice for those who need a lightweight tool. Like most other battery-powered Black & Decker weed-eaters, this one uses the 20V MAX battery. As we described earlier, this battery has many advantages. Overall, this one provides a great mix of value and comfort.
5. BLACK+DECKER LSTE525 String Trimmer
Comfortable, rubberized grip
Top-mounted wheel for edging
Lots of torque to get the job done
2-speed control allows you to choose between longer battery life and more power
Lightweight
This is another great weed eater from Black & Decker, and it doubles as a wheeled edger. The wheel is located on the top, which keeps it conveniently out of the way during normal use.
This one gives you precise control over how much power the machine is using, making it easy to get the most out of your battery. This one offers power, long battery life, versatility, and many other perks.
What to Look for in a Lightweight Weed Eater
When buying a lightweight weed eater, there are several things to remember. 
First, you want to make sure that you don't accidentally buy a commercial weed eater or a gas-powered model. Because they have to include a gas tank, these will always be heavier than their electric counterparts.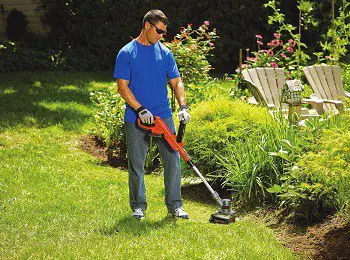 If you are looking for gas model, you might want to consider a 4 cycle weed eater.

You should make sure to get a battery-powered weed eater instead of a weed eater that plugs into an extension cord.
Otherwise, you will be sacrificing range and freedom of movement for only a little less cost and weight.
You should always make sure the product has some kind of warranty. If not, you should probably steer clear. Any company that won't stand behind their work is not worth your time.

With a machine like this, you want to look at two components above all: The motor and the battery. These are the two most important working parts, so make sure they are high-quality. 20V batteries are probably the best you will find, so try to stay around that range.

You can get an idea of how strong the motor is by looking at the RPM numbers, which should be on the package. If not, get online and look up the manual for the product, where you will certainly find the information you need.
6 Factors to Consider When Buying a Lightweight Weed Eater
To make your search easier, we've compiled a list of the seven most important factors to consider when buying a lightweight weed eater. This list will have everything you need to help you make the right decision and make your trimming job much easier and more enjoyable.
1. Power:
Today's modern weed eaters come in gas, electric, and cordless options that are capable of producing high torque to allow for efficient cutting. But battery-powered weed eaters definitely have the best balance between power and versatility. Boasting brushless motors and lithium-ion batteries, these handheld electric devices offer all the power you need.
Torque:
Torque is a measure of force, as measured by Newton Meters. A weed eater needs to have sufficient torque so that you can easily cut your way through dense grass and weeds. Gas-powered weed eaters are much more powerful and potent than their electric counterparts, but they also tend to be uncomfortably heavy. 
On the other hand, electric weed eaters have been getting more powerful and now come with brushless motors known for their high torque. Capable of trimming through even the thickest grass, electric models can make things a lot easier.
Maintenance:
While weeding, you will have to stop your gardening activity from time to time to clean out the machine and refuel the engine. This can slow down your pace and also distract you from your work. The brushless motors featured in electric weed eaters are known for their longevity and durability.
They also have no carbon brushes that require cleaning or maintenance. This means that you can focus on your gardening without having to worry about stopping every now and then to deal with any repairs or cleaning.
Blade Speed:
Brushless motors can attain blade speeds that are up to four times faster than the standard models. They also boast a constant speed even when the battery voltage drops.
On top of that, they are usually lighter than their standard counterparts and can work for longer hours without any strain or reduction in performance.
Energy Efficiency
We all know how harmful fossil fuels can be to the environment. And it is best to choose a greener alternative over the traditional gas-powered weed eaters. 
Fortunately, cordless electric weed eaters are now available on the market and can help you weed in an efficient and eco-friendly way. With a battery-powered weed eater, you don't have to worry about the quality of fuel or excessive maintenance. 
You just have to plug your device into an electric socket, and once the battery is charged, it is ready to go!
Weed eaters with brushless motors, unlike their gas-powered counterparts, don't have pistons and carburetors that make loud noises when working. So for all those who have a passion for gardening but also want to focus on some leisurely activities, electric weed eaters can be a great choice to go with.
2. Battery Life:
When you are in the market for a powerful, convenient, and lightweight electric weed eater, you must keep in mind the battery life as well. Because as it is, a device with a short battery life can be a source of frustration rather than convenience. 
Usually powered by Lithium-ion batteries, a cordless weed eater should have at least 45 to 60 minutes of runtime before needing to be recharged. And if you need to use it at its full capacity all day, then a 3 to 6-hour recharging period would be ideal.
3. Power Rating:
Is your weed eater rated at 20V or 40V? It is important to consider the power rating of your weed eater because that determines its true power and capabilities. 
For example, a 20V weed eater may have the same design and look as a 40V model, but it is not as powerful. However, it may be more energy-efficient and cost-effective. 
On the other hand, a 40V weed eater has the power and torque to perform heavy-duty tasks without putting you out of breath. So, the choice is ultimately up to you as to which is more important, power or efficient.
4. Cutting Width:
Just as there are different types of weed eaters, there are also different cutting widths for weed eaters. You have weed eaters with a 12-inch cutting path and also 18-inch, 20 inch, and 24-inch models. 
However, keep in mind that as the cutting width increases, so does the overall weight of the machine. So, if you want a lighter weed eater, then opt for a 12-inch model. If you want to be able to take on bigger tasks, then go for an 18-inch model.
5. Feed Loading Mechanism:
If you plan to use a stringed or filament line on your weed eater, you want to make sure that the feed mechanism is easy to use and an automatic loading system. 
A feed mechanism that comes apart and requires the operator to reload the string every time manually can get frustrating after a while. So, make sure to go for a feed mechanism that is as convenient and seamless as possible. 
6. Spacer Guard Quality & Shaft Attributes:
One of the most overlooked parts of a weed eater is the shaft. And this is a huge mistake. It needs to be of good quality and sturdy enough to handle the vibrations and shocks that come with trimming. Also, the shaft needs to be able to hold up to wear and tear. In fact, many manufacturers today make shafts from tough steel and durable plastic alloys. 
But there are also manufacturers that have turned to composite materials like fiberglass and carbon fiber to make the sturdiest shafts for their weed eaters.
Consider Your Individual Needs….
Why Are Your Getting Weed Eater?
Is it for commercial purposes? Or is it for your garden? This one decision can make all the difference to your choice of weed eater. Because depending on why you are getting a weed eater, you might want something different. 
And not to worry, we've got you covered here. For commercial purposes, higher-powered gas weed eaters are the way to go. However, for home use, even 20V cordless weed eaters should be sufficient.
How Big is Your Yard?
How much weed eating and cutting do you have to do? Depending on the size of your yard, you might need a powerful cordless or gas-powered weed eater. 
Corded electric weed eaters are usually recommended for smaller-sized yards as their wires often have limited reach. And yes, you can use extensions, but we wouldn't recommend it for safety reasons. 
Another option would be to get a cordless weed eater that runs on batteries. They can often be suitable for smaller to medium-sized yards. However, for larger yards, you should opt for gas-powered weed eaters.
How Long Do You Need the Battery to Run for?
If you have to weed-eat or cut for hours on end, then having a powerful battery-powered weed eater is the way to go. But if you are just looking for something to be able to do a little weeding in your backyard, then even 4000mAh weed eaters should work well.
How to Use a Weed Eater Safely
Always Wear PPE
Before using any power tool, you must ensure that you are wearing the right PPE to keep yourself safe. 
To start, you must wear the proper safety goggles or a full-face shield. Not only will these protect your eyes, but they will also keep you from getting hit in the face if anything accidentally flies off your weed eater. 
From there, it is best to wear a proper long-sleeved shirt and pants made from natural fiber such as cotton. These materials are much less likely to catch fire than synthetic fabrics are.
Take Care of Cables
If you are using a corded electric weed eater, you must be aware of the hazards posed by the power cords. This is why it is important to ensure that your cord is always tied up with a proper electrical tie and is well away from the running area. 
It's also one reasonable excuse to invest in lightweight, battery-operated weed eaters that bring you complete freedom and portability.
Watch Out for Bystanders
When you are using a weed eater in your yard, make sure that you are aware of everyone else in the area. If there are children, it is always best to watch out for them and make sure that you aren't running directly towards them. It would be best if you also kept an eye out for pets that might come too close or wander into your yard. And even if you don't have any kids or pets, still keep an eye out for any bystanders that might get hurt by your weed eater.
Avoid Windows and Cars
If you live in an urban area, then you must always be mindful of your surroundings. Weed eaters often throw debris outwards, so be sure always to keep the weed eater away from windows, doors, and cars. 
The high speed of the weed eater and its straight-line cutting can easily shatter glass or leave tiny shards of debris that may damage windows, chip away paint, or even cause injury to pedestrians.
FAQs
Should I Get a 20v or 40v String Trimmer?
The difference between a 20v and 40v trimmer lies in the voltage and the power of the motor. A 40v trimmer is stronger and can cut through tougher weeds and grass. However, for most homeowners, a 20v trimmer will work just fine. In fact, most manufacturers suggest using a 20v string trimmer for they are more energy-efficient and they last longer.
Is a Straight or Curved Weed Eater Better?
Straight weed eaters are easier to use and offer better control and more stability. Also, they are designed for homeowners who have smaller yards. 
Curved weed eaters are meant for more intensive uses and are more powerful than straight weed eaters. They also are a better option for large yards and areas with a lot of vegetation. 
However, curved weed eaters are more expensive than straight weed eaters.
Are Weed Eater Attachments Universal?
Not all weed eater attachments are universal. Some brands have attachments that are unique to their products only, and while brands that are compatible with multiple weed eaters exist, they are few and far between. However, for best results, choose attachments from the same brand as your weed eater.
Conclusion
A lightweight weed eater can be a great friend when it's time for that summer yard maintenance. Even if you are strong and healthy enough to lug around heavy yard tools, why would you want to do so? Tools like these offer the same functionality with a lot less strain on your body and a lot less fatigue.

That brings us to our recommendation. While all the weed eaters on our list are very nice, our first choice is probably the best lightweight weed eater. It offers all the advantages that you would expect from a more expensive model, but its price is much lower than average. Anytime we see a bargain that good, we have to put in a good recommendation.