Hoss Garden Seeder Review
Garden Seeders are convenient tools for they help farmers control the seed depth, spacing, and even the row arrangement at a standing position. You don't have to worry about bending or dropping too many seeds in one hole. There several types of garden seeders, including push behind seeders and the jab seeders.
I have had the chance to try out most of these garden seeders, and I fell in love with the push-behind garden seeders. One that I regularly use is the Hoss Garden Seeder, for it is well built and can be used with a wide variety of seeds. I took the time to write this Hoss Garden Seeder review for anyone looking for a garden seeder for medium to extensive gardens.
Product Presentation
Hoss Garden Seeder is a two-wheeled push seeder from Hoss Tools. It appears to be their latest model as afar as garden seeders are concerned, but they also have a wide range of other gardening tools. They promise that it's the most durable and versatile, but we will discuss how exactly it functions.
It features two 15-inch steel wheels, a powder-coated steel frame, and Amish-crafted handles. To plant different types of seeds, you can choose one of the six plates, or create a custom plate for commercial gardening.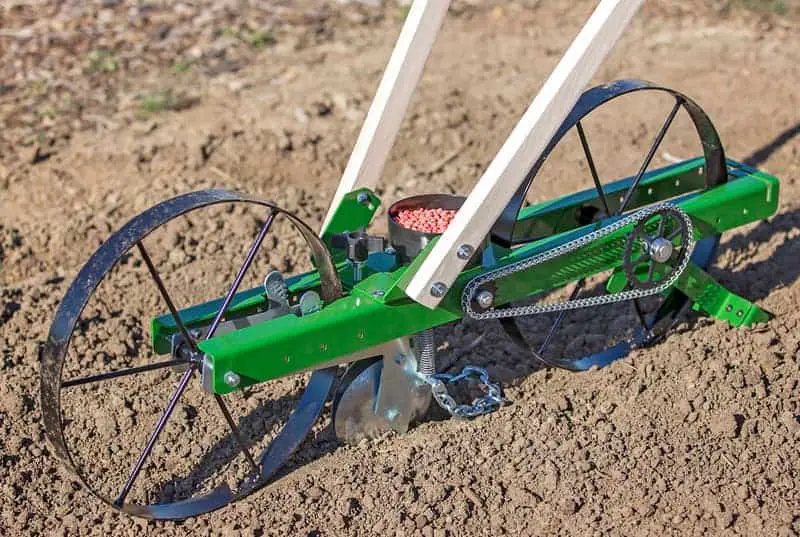 When you're not using it, you can let it stand alone with the back stand. It also features a drag chain, a disc, and a row marker. Below is a description of how it works.
Features and Benefits
Versatility
The fact that you can plant more than twenty types of seeds with the available six seed plates shows that this tool is applicable in a wide range of farms. You can also purchase the combo that comes with ten plates, blank plates, and a row marker.
The row marker marks the next row as you plant on one row. Commercial gardeners will love the blank plates and create a unique spacing based on the type of seeds. What's more is that Hoss Tools also provides the seeder as an attachment to the wheel hoe where you can cultivate, weed, and plant. Think of all you could accomplish with just a few tools.
It's very Durable
The Hoss Garden Seeder features Amish crafted wooden handles. Amish Crafted wood is known to last long since it is handcrafted and doesn't have any additives. This wood is also environmentally friendly since no machines are used, and no chemicals that may later leach into your farm.
Most importantly, it ensures that the seeder is not too heavy. The powder-coated steel frame also lasts longer, and the paint doesn't quickly fade. This tool is designed to last a lifetime.
Excellent Functionality
It is designed to create furrows, drop the seeds, cover them, compact the soil, and mark the next row, all in one passing. You can easily plant a massive piece of land. Another reason why I love this seeder is the rotating discs that make the furrows.
Most seeders use a wedge, but I found the disc more effective, especially in a garden with undecomposed manure and debris such as sticks and stones. The spacing ranges from 1.2 inches to 19 inches.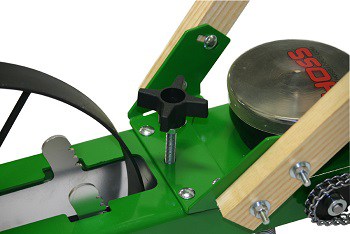 How Does the Hoss Garden Seeder Work?
The back wheel is connected to the seed plates by gears and a chain, just like you'll find in a bicycle. So every time the wheel turns, the plates rotate. The hopper, where the plates are loaded, has an opening, and the seed plates have some holes too. So every time the plate's hole aligns with the hole on the hopper, it drops a seed. The spacing will depend on the type of seed you're using.
At the bottom of the seeder, there's a disc that makes furrows where the seeds will be dropped. The drag chain behind the coulter covers the seed after planting, and the back wheel compacts the soil after covering the seed. Behind the front wheel, there's a knob that allows you to control the depth of the farrows by raising or lowering the disc. The plates available include;
Plate 1 – cabbage, rutabaga, broccoli, cauliflower, mustards, turnips, and other small seeds.
Plate 2 – Onions and small coated seeds.
Plate 3 – Pelleted seeds such as beets, carrots, Swiss chard, and Okra.
Plate 4 – Popcorn and small sweet corn.
Plate 5 – It's suitable for small beans and small peas.
Plate 6 – It's best for larger seeds such as medium beans, large corn, medium beans, and field corn.
Why we like it
It is easy to assemble and maintain. It arrives in a box, but there are clear instructions on where each part fits. When it comes to maintenance, the Amish wood is easy to clean, and it's appealing as it is. It doesn't need any repainting.
It's very durable, thanks to the high-quality steel frame.
The ten plates and the customizable blank plates can accommodate a wide range of seeds.
The manufacturer also offers a one-year warranty on their products. Besides the warranty, they offer to repair defective tools. If it isn't repairable, they can replace it or refund it. However, the user should prevent discolouration by sunlight and chemicals since the warranty doesn't cover these damages.
The hopper and the plates are at a horizontal position, preventing the seeds from being stuck and preventing seed wastage. Seeders where the plates are in a vertical position always have this problem.
It's designed to make life easier for you. For instance, the kickstand is convenient since you can let the tool rest on the farm. The row marker also allows you to maintain straight rows throughout the farm. The hopper is easily removable to load the seed plates without dismantling the whole tool.
You can easily adjust the planting depth to suit different types of seeds.
What we don't like
It might be overwhelming, especially for beginners.
The kickstand is not always functional. When on uneven ground, or when it's too windy, it easily falls off.
It may be hard to achieve a consistent depth for the seeds, especially on clay soils. However, this happens in most seeders, and I must admit that the Hoss Garden Seeder does a better job.
Some users had an issue adjusting the spacing beyond the provided spacing. This can easily be fixed by blocking some of the holes.
It may still get stuck in thick soil, so you may need to till and ensure that it is as loose as possible.
General User Impressions
Most users agree that this latest model is sturdier and more effective than the previous models. Most seeders seem to have a challenge with planting in clay soil, but Hoss Tools does its best to maintain an ideal depth. Thanks to the Amish wood and steel construction, users admitted that it lasts several years.
Some users had an issue with seed plates jamming, but they may have been using the wrong seed plates. More experienced users advised that you have to make sure you have the right seed plate for the seeds you're planting for efficient planting.
They also agree that your land needs to be "fluffy" before using the seeder. Even though the rotating discs may be better than the wedge, it may still get stuck in lumps of soil.
Some users did find it overwhelming at first. They found it hard to assemble, adjust the seed planting depth, changing the seed plates, and adjusting the handles. But with time, they got the hang of it.
Some users also complained that it was cumbersome. You may have to take two trips to carry the tool and the seeds.
Below are some videos of the Hoss Garden Seeder in action;
Final Thoughts
If you have a medium to a large piece of land that you'd love to plant, it may be hard to do it manually. Consider that you have to make furrows, make another pass to plant the seeds, and finally cover the seeds. The good thing is that garden seeders make this process easier since you can simultaneously accomplish all these activities. But not all seeders are perfect.
After trying most of them, I believe that the Hoss Garden Seeder stands out. This is because it has a robust construction. The steel and Amish construction ensure that it can withstand rigorous gardening activities. It also uses a disc to make the furrows, and discs appear to be more effective than wedges. Also, it comes with at least six plates to accommodate different types of seeds, and you can purchase blank plates and customize them. There's also an attachment option if you're looking for more than just a seeder.
I believe I have exhausted every detail about this tool, and I think it's worth your consideration. If you'd love to check the seeder or the attachment option, please check it out below;