Best Brush Cutters for Small Trees & Brambles
Brush cutters allow us to trim and clear vegetation that lawnmowers and weed eaters can't cut such as brambles, thick grass and even small trees.
Don't worry about choosing the right one, for we have reviewed some of the best brush cutters for small trees based on functionality, safety, customer reviews, and budget.
Our Top Picks at a Glance:
5 Best Brush Cutter Reviews
1. Husqvarna 336FR 966604702 Bike Handle Pro
Key Features
A 34.66 cc engine powers this tool.
It features x-Torq technology, which delivers enough power and saves on fuel.
The x-Torq technology also minimizes the gas emissions experienced in most gas-powered tools.
It features a line trimmer, a saw blade, and a grass blade.
Our second entry is a premium version from Husqvarna. It features a powerful engine, x-Torq technology for fuel-saving, and it's a 3-in-1 tool. It comes with a line, a saw blade, and a grass blade. These blades allow you to cut through undergrowth and trees within your yard. By tilting the trimmer, you can use it as an edger along driveways and pavements.
Why we like it
It's a multipurpose lawn maintenance tool.
The saw blade allows you to cut down small trees within your yard.
It features a powerful engine that is environmentally friendly thanks to the X-Torq technology.
This tool also comes with a harness and shoulder straps that make it comfortable and safer to use.
What we don't like
Assembling this tool is not that straightforward. The manual doesn't help that much.
Our Verdict
If you have a wooded yard, this would be a great choice. The saw blade and grass blade are strong enough to cut through small trees and severe overgrowth. Better yet, Husqvarna has included safety mechanisms and gear to make it more comfortable amid the vibration.
---
2. Iglobalbuy 52cc Multifunction Brush Cutter
Key Features
It's a 5-in-1 tool brush cutter, pruner, pole saw, chainsaw, and string trimmer).
It features a 52 cc engine.
It also comes with a 3-tooth brush cutting blade which is very sturdy.
The manufacturer does offer a 2-years warranty.
Iglobalbuy is one of the most potent landscaping tools. It has a 52 cc engine that allows it to effectively work as a grass trimmer, brush cutter, pole saw, chainsaw and hedge trimmer. It delivers high-quality performance while ensuring the safety of the user.
Why we like it
The manufacturer includes safety gear such as earmuffs and gloves.
It's easy to assemble and use.
It has a powerful engine, and the brush cutting blade can cut through any type of trees and weeds.
What we don't like
This tool is quite heavy, making it difficult to use for physically limited people.
It also vibrates a lot, causing fatigue when you use it for extended periods.
Our Verdict
We recommend this tool for it has excellent functionality, at a very affordable price. It's also a 5-in-1 powerful tool, making it an ultimate yard maintenance tool.
---
3. Husqvarna 129R Brush Cutter
Key Features
A 27 cc 2-stroke engine powers this cutter.
Smart Start and Stop Switch technology for easy starting.
It also features an air purge that flushes air through the engine. This also helps in starting.
This cutter cuts at a horizontal position.
It features a straight shaft bicycle-handle for ease of use.
It features a bevel-gear mechanism that delivers high torque.
The Husqvarna 129R is yet another heavy-duty cutter for a wide variety of tough weeds. It features a 27 cc 2-stroke engine, which is on the robust end in its price range. It also has a unique stop switch that makes it easier to start.
Why we like it
Thanks to the bevel gear and 27cc engine, this cutter is powerful enough to cut through the thickest types of weeds.
It also comes with a sturdy blade and a string. These features allow you to use it both as a trimmer and as a cutter.
It's easy to start.
It has shoulder straps for balancing the weight as you handle it.
It has a wide cutting swath (17 inches).
What we don't like
It's not that durable. Most parts are composed of plastic, which wears out quickly and is easily damaged.
Our Verdict
This cutter is still capable of clearing thick weed overgrowth. With proper maintenance, you can bypass the cheap chassis issue. It's also effortless to start, making it favorable for new users.
---
4. Makita EM2650UH Brush Cutter
Key Features
It features a 9-inch cutting width.
A 25 cc MM4 stroke engine powers it.
It features bicycle-like handles and a straight shaft making it easier to maneuver.
The shaft is composed of steel. This material enables it to minimize vibration and last longer.
Weight 12 pounds.
It also features a dual-stage filter that enables the engine to last longer.
It comes with a harness and shoulder straps to make it easier for you to handle.
Warranty – 2 years.
It features multi-position lubrication which allows you to work at different angles without the engine shutting off.
The Makita EM2650UH may be on the lower side when it comes to power, but it has some advanced features that set it apart from the rest. One of them is the Automatic Engine Decompression, which makes it easy to start. Others have been listed below.
Why we like it
Thanks to the engine advancements, this cutter consumes less fuel.
It's easy to start and use thanks.
The bicycle handles offer more stability when compared to the J-handle.
What we don't like
Makita's blade is not sturdy enough. You may have to replace it with blades from other manufacturers.
The 9-inch cutting swath is also quite small.
Our Verdict
Due to the limited cutting width, this may not be the best cutter for larger yards. Since it's easy to attach other blades, it's still great for cutting all types of undergrowth, including small trees around your home, or on smaller yards.
---
5. Remington RM2700 Ranchero Brush Cutter
Key Features
It features a J-shape handle.
A 27 cc engine powers it.
It also offers attachment provisions for other tools such as pruners, and cultivators.
It features an 8-inch cutting width.
It also has a straight shaft, and shoulder straps, making it easy to maneuver.
It also features the Quickstart technology for trouble-free starting.
The manufacturer also offers a two years warranty.
For its price range, the Remington RM2700 Ranchero exceeds our expectations. With the 27 cc engine full-crank engine, you can go through saplings, wildflowers, and any other thick weeds on your farm.
Why we like it
It's easy to use and maneuver.
It's very affordable.
It's a versatile landscaping tool, thanks to the attachment capability.
What we don't like
The 8-inch cutting swath is small. If you're working on a larger yard, you may have to make several trips.
Its original blade is also dull; you have to purchase a secondary blade.
Our Verdict
We would recommend this tool for small scale to medium-scale lawn maintenance activities. Since it's cheap, it may not last long when used for heavy-duty tasks such as cutting down trees.
---
Safety Precautions to Observe When Using a Brush Cutter
Before using a brush cutter, make sure that you read and understand the manual. Manufacturers include relevant information on how to start, assemble, and use the tool. If there's no manual or they didn't cover some aspects, you can call them, or research on reputable sites.
Ensure that the cutter you purchase has anti-vibration mechanisms. This helps reduce potential fatigue that you'd experience after using this tool for a very long time.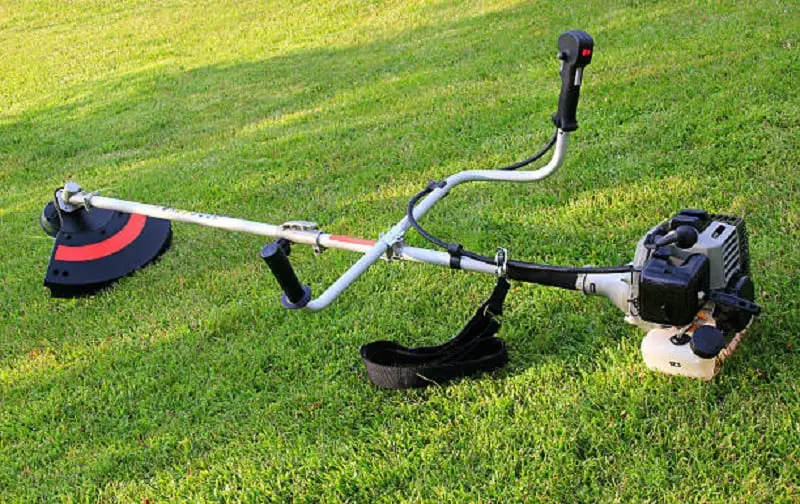 You should ensure that the cutting tool, whether a blade or a string, is firmly attached. If the line is about to die, you can install another line. Some cutters come with dull blades. So make sure you look for a blade that is compatible with your model. You can also sharpen it regularly. A sharp edge ensures that grass doesn't die after you cut.
You should always wear protective gear when operating this tool. Preferably, purchase the item from a dealer that includes protective clothes as part of the package. Some of this gear includes eyeglasses to protect your eyes, non-slip boots, ear-mugs to protect you from the noise, and overalls. DO NOT operate this machine on barefoot, or when wearing a short.
Ensure that the area you're working on is free from twigs, stones, glass, or any other debris. This debris could damage the tool or be thrown at you, leading to severe injuries.
It is vital to maintain a distance of at least 15 meters from other people within the yard.
A brushcutter is more of a heavy-duty tool. Therefore, it needs resilient guards. Ensure that these guards are fastened and tight to prevent them from coming off as you work.
Most of the cutters come with shoulder straps, and other mechanisms to distribute the weight. Weight distribution ensures that you're comfortable when using the tool, and it saves you from fatigue and soreness by the end of the day.
After using the tool, clean the blade and place it back in a casing, if it has one.
Brush Cutter FAQs
What is a Brush Cutter Used for?
A brushcutter helps in cutting large weeds, overgrown grass, and small trees. It comes in handy when you can't use a lawnmower or a grass trimmer.
How Can You Keep the Brush From Growing?
The weed killer is effective in killing brush for good. When using the cutter, cut as low as you can, then apply the weed killer on the fresh (wound), or the stamp.
What's the Best Engine for a Brush Cutter?
This depends on your needs. 2-stroke engines are cheaper but could be unstable if you're not familiar with them. They also involve mixing oil with gas. 4-stroke engines, on the other hand, are less noisy, easier to maintain, and more expensive.
Final Thoughts
We believe that the Husqvarna 336FR is the best brush cutter for small trees and weeds,. It features a 28cc engine and a 17-inch cutting width. It's also a 4-in-1 tool that allows you to convert it to a trimmer, cutter, edger, and cultivator. Husqvarna also offers a 2-year warranty and safety gear. They also offer a lot of technical support and how to safely use their products. It's affordable, easy to use, and maintain. The Smartstart technology saves you from starting frustrations.