Guard gutters are another method of home improvement. It is vital to keep your home's drainage system of twigs, clogs, and leaves that forces water to flow over the gutters. It damages foundation plantings and comprises the foundation. You don't have to teeter on the ladder every time to clean your gutters.
Installing gutter guards can help to prevent debris from entering your gutters. Most people want guards that are durable, effective, high quality, and easy to install to keep the gutter system well protected. When gutters are clogged and dirty can end up housing pesky insects, rodents, and birds.
Best Gutter Guard Reviews
Key Features
It is made of stainless steel for durability.
It comes with a transferable lifetime warranty.
It is an entirely enclosed system.
It is installed professionally.
It features a low profile construction.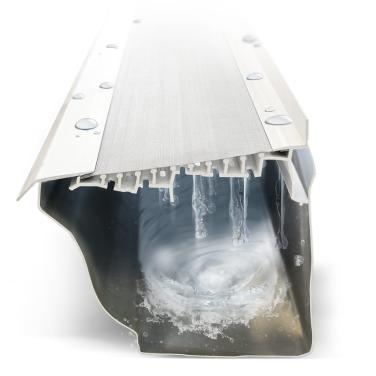 This is one of the best gutter guards for not only pine needles but for every other purpose. LeafFilter has professional installers who align and clean your gutters before the installation. This is very vital for the guard to last.
Why we like it
It works with your existing gutters.
It is designed with long-lasting and durable materials.
It protects the gutters against pests and insects.
It eliminates the need to clean the gutter permanently.
It is also effective in harsh weather.
It leaves the roof undisturbed.
What we don't like
It is very costly.
Satisfaction guarantee isn't included in the warranty.
Our Verdict
We recommend this, as it outperforms all the other leaf gutter guards in the market. It allows as much water as an open gutter. Its installation follows three proven steps, combined with a super design that provides unparalleled protection for your gutters.
2. Raptor Gutter Guard
Key Features
The micro-mesh is made of stainless steel.
It works for 5 inches wide or smaller gutters.
It is backed by a 25 years warranty.
It comes with a magnetic hex-head driver and corrosion-resistant screws.
It has a V-bend mesh profile design.
Raptor gutter guard is constructed using heavy-duty materials that withstand all weather elements and can't warp or rust. It doesn't allow anything past it, whether insects, rodents, roof grit, seed pods, pine needles, or leaves.
Why we like it
It is easy to install.
The mesh design adds rigidity and prevents sagging.
It doesn't promote the growth of molds, collapse, crack, or warp.
It works with most types of roofs.
Raptor is adaptable, fast, and flexible.
It comes with all hardware needed.
It allows water through.
It doesn't let anything through the mesh, whether it crawls, flies, or falls.
What we don't like
During heavy rain, water may drip via the edges.
Our Verdict
This gutter guard is efficient in keeping leaves, pine needles, rodents, and insects out of your gutter. It is made of high-quality and durable material, which makes it withstand harsh weather conditions.
Key Features
It comes with installation fasteners made of stainless steel.
It handles 4-foot sections easily.
It is backed with a 30 years performance and defect warranty.
This is a premium and heat-treated aluminum gutter cover available in thermal Thaw black, Matte aluminum, and White color. It is mounted securely and permanently to the front lip of your gutter system.
Why we like it
It is easy to install.
It doesn't void your roof warranty.
It has already been installed in over 25,000 homes.
It can block all types of leaves and debris.
It allows a high volume of water to pass through.
It is clog-free.
The 3-point design prevents water from overflowing.
It protects the foundation from potential damage as it acts as a dam and slows water flow to allow full drainage into the gutters.
Its design allows air circulation by elevating debris and wet leaves to prevent them from sticking on the cover.
What we don't like
It requires tools for installation.
Our Verdict
We recommend the FlexxPoint, for it eliminates the need for gutter cleaners. It prevents any debris or leaves from getting into the gutter, and with time, the dirt is blown away by wind and other natural elements.
Key Features
It features 10 four-feet sections.
It works only with a 5-inch K-style residential gutter.
It has a tight mesh that keeps debris and leaves out.
The gutter guard is engineered to stay in place even under rough weather.
The whole box covers 40ft.
E-Z is designed to cover the entire guttle system to ensure all forms of debris are kept away. This is suitable for residential gutter bearing a maximum width of five inches.
Why we like it
It is reliable and efficient.
It is super easy to install.
It doesn't need extra tools for installation.
It is made of painted heavy-duty aluminum.
It is highly resistant to nature's elements.
Its surface won't collapse due to pressure.
It allows a vast amount of rainwater to rush through.
Its black color visually blends with your roofline.
What we don't like
Small debris and pine needles can pass through the screen.
It is not ideal for plastic gutters.
Our Verdict
E-Z has an innovative design that ensures easy installation. We recommend this for it is constructed with heavy-duty aluminum that won't rot or rust.
Key Features
It is compatible with 4-inch, 5-inch, and 6-inch aluminum or steel K-style gutters.
It is constructed using powder-coated steel.
Its neutral color blends well with your roofline.
It includes 10 years limited warranty.
The carton has 25 pieces.
This is a good mesh-type that works perfectly with 4-inch, 5-inch, and 6-inch K-style gutters. The tight expanded mesh pattern will keep out, to keep water flowing freely.
Why we like it
Its design allows a high volume of water to flow.
It can withstand both cold and heat better than the vinyl gutters.
It is easy to install.
It is made of durable material.
It has a pre-notched design that allows overlapping to eliminate gaps between these guards.
What we don't like
It is only compatible with some gutters.
Our Verdict
This USA made product is of high quality and helps to protect gutters from being filled with debris. It has a durable construction and can eliminate the need for gutter cleaners for a long time.
Buying Guide
Everyone wants a guard that provides excellent airflow and water score. For instance, moist environments favor the breeding of mosquitoes, insects, and rodents. They crawl in places with lots of humidity and start breeding and nesting. Without proper ventilation, your gutters can also begin to stink.
Types of Gutter Guards
Mesh Screens – Fine mesh screens are created to respond to the drawbacks of perforated metal covers. The main difference between super fine mesh and regular screen, is that fine mesh are the best for filtering small debris and pine needles. The screen metals are made of either plastic or metal. These mesh screen guards are affordable and widely available. This type is also easy to install. However, some users have reported that screens don't handle huge volumes of water well, so rainwater may simply wash over the guards rather than flowing through the gutters, which leads to damage to the surrounding concrete and landscaping.
Foam – Foam gutter guards are quick and easy to install and fit perfectly in the gutters. They are designed to block all kinds of debris from getting through into the gutters. These models are inexpensive. Foam guards are made of polyurethane or polyether foam, and they have pores to allow volumes of water to pass through. The best thing is that you can install it on your own. Unfortunately, some users complain that foam gutter guards become brittle and tend to deteriorate after two years only.
Brush – Brush gutter guards come in a cylindrical shape, and they look similar to wire cleaning brushes. They are less expensive and easier to install than most. This is a perfect choice for homeowners looking for a DIY solution. When inserted in your gutters, the bristles prevent debris and leaves from accumulating on them. They feature spikes that allow air circulation for the gutters to dry out quickly. Remember, the gutters should be cleaned before the installation of this type of guard. Its mechanism also helps to prevent rust, and you only need to clean the brushes once a year, which is easy to clean.
Reverse Curve – These are one of the oldest gutter guards in the market for over a hundred years. Over the years, changes have been made to improve the functioning of these reverse curve guards. The advanced solid design has enhanced its durability and performance. It allows water to flow into the gutter through the nose edge. It prevents debris from falling, leaves and pine needles and let them fall over the curved edge. It has a system that stops rodents and birds from getting into the gutter.
Benefits of using Gutter Guards
Gutter guards are created using different materials, and their capacity to stop smaller or larger debris from entering the gutters is also different. They are designed to reduce or eliminate the effort or time spent in cleaning gutters and increasing their lifespan.
Prevents Freeze – When gutters are not protected, water freezes quickly inside them. This can create gutter dams, which becomes the blockages that prevent melted ice from draining down. Although gutter guards can't block winter frost or water permanently, they reduce it significantly. Moreover, when water freezes in the gutters, it exerts more pressure on them, which can pull away from the gutters from the walls or result in dents in the surface of the gutters.
Prevents Rust – Gutters without guards are highly exposed to leaves and debris that pile inside them. When it drizzles, the leaves retain moisture that leads to corrosion and rust of the gutters. The gutter guard's construction prevents any debris or leaves from accumulating and attracting moisture inside the gutters, expanding their lifespan.
Avoiding Infestations – When your gutters are uncovered, there are high chances of insects or vermin finding their way. Anything can get in your gutters from mosquitoes to squirrels. Gutter guards reduce the volume of water sitting in your gutters. When water is trapped in your gutters, it attracts birds, insects, and rodents that look for moist areas to nest. They prevent pests from leaving inside your gutters, which stops any diseases and infestations that can result from these critters.
Frequently Asked Questions (FAQs)
1. Do Gutter Guards work in heavy Rain?
There are various types, including foam, screens, filters, brushes, and sponge-based guards. Some of these guards allow vast volumes of water to drain through them even during heavy rains, but others like foam don't allow water to move quickly. This can result in an overflow.
2. Do Gutter Guards really Work?
Yes, they protect your gutters against debris and leaves. It slows down the water flow to prevent overflows. When leaves have accumulated in your gutters, they attract moisture, which leads to rusting and infestation.
3. What is the best way to Keep Leaves Out of Gutters?
You can keep leaves out of your gutters by first cleaning the gutters and installing a high-quality leaf guard, which prevents leaves from getting into your gutters.
Final Thoughts
LeafFilter is the best gutter leaf guard for your home. We recommend the product for it expands your gutters' lifespan and can manage all types of debris out of your system. It is effortless to install and all any amount of water like it's an open gutter. LeafFilter guard doesn't interfere with your roof and performs even better in harsh weather. The package includes reinforcement, realignment, sealing and cleaning of your gutters before installing the gutter guard.