Best Raised Garden Bed Kits
Nothing is more painful than having your crops ravaged by pests, weeds, or even rodents. Even worse, your kids and pets accidentally trample over your garden, destroying months of your hard work. You don't have to go through this anymore, for you can get a raised garden bed.
Raised Planter boxes let you elevate your garden to a certain height so that you can control various aspects of your crops such as soils, drainage, and weeding. Cedar raised garden beds are the most common, but you'll find some made from metal and plastic. Raised garden bed kits vary in size, depths, construction materials, and other additional features. Below are some of the best in the market today. And a guide to help you get the most out of the bed you choose.
7 Best Raised Garden Bed Kits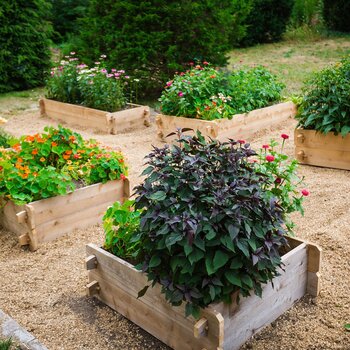 Key Features
It features a slot and peg design that ensures that the bed stands firm. You also don't need any tools to assemble it.
When assembled, this kit raises the garden 8 inches from the ground.
The Vermont white cedar is untreated, maintaining its natural look.
They come in different sizes, ranging from 2′ * 4′ to 4′ * 8′.
If you're looking for a combination of classic beauty and durability, this raised garden bed kit is an ideal choice. It features a 17th design, and the lumber is made of Vermont white cedar for durability.
Why we like it
It's safer for your crops since some chemicals used to treat wood may be harmful to your plants.
Cedar is known for its durability and rot-resistant features. You can rest assured that this kit will last long.
It's also easy to assemble. It comes with prepared lumber, and all you have to do is to align the mortise and tenon and slide in the peg. They have included an easy to follow instructional video.
Since one kit raises the bed 8 inches, you can stack several beds together to achieve 16 to 32 inches based on the type of crops you want to plant.
What we don't like
Untreated cedar is highly flammable.
Since gardens are usually moist, this dampness can discolour the cedar. Re-staining the wood comes at an extra cost.
Our Verdict
We would recommend the Farmstead Raised Garden Bed to those planning to grow vegetables, herbs, or flowers. The untreated cedar is durable, rot-resistant, and safe for your crops. The resulting soft, silver-grey shade, after withering, blends in perfectly with ornamental plants.
Key Features
It comes in pre-cut identical lumber that you connect with steel rods.
The wood is also sealed with a waterproof chemical that's not toxic to your plants or animals.
You can stack several boards on each other to raise the bed to your desired heights.
To prevent the beds from going out in the middle, the manufacturer provides aluminium cross ties.
The length of the rods based on the size of the bed you need.
Raised bed kits don't have to be very expensive. The elevated garden bed is made from Port Orford cedar which is equally durable, beautiful, and sweet-smelling.
Why we like it
Since it's made of cedar with a waterproof sealant, it lasts long without contaminating the soil.
The manufacturer offers a 5-year warranty.
It's easy to assemble, and you don't need any tools. Just align the boards and drive the steel rods through the holes.
What we don't like
Cedar wood is costly to maintenance due to discolouration.
Our Verdict
There's isn't much not to like about this raised bed. Besides being durable and easy to assemble, the manufacturer also provides excellent customer service, quick shipping services and a 10-years warranty when you purchase the trim kit of 5-years when you don't have the trim kit. It's also one of the most affordable options.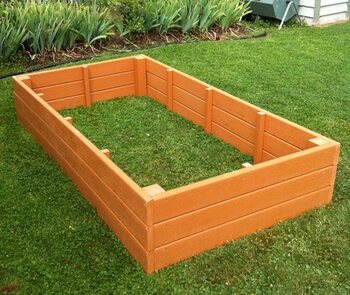 Key Features
These raised bed kits are made from recycled HDPE plastic that can withstand harsh weather conditions. This material also features anti-UV light colour additives.
To assure you of their quality, the manufacturer offers a 50-year warranty.
It comes in 3′ * 6′, 3′ * 8′, and 4'*8′ sizes.
Based on the root size of your crops, you can choose either the 11-inch depth or the 16.5-inch depth.
They also come in five different colors, (Cedar, white, redwood, forest green, weathered wood).
To hold it tight as it gets heavy, the manufacturer also includes aluminium cross-ties.
If you'd love to avoid the risks of rotting in a wooden bed or the rust and corrosion in metallic raised beds, you'll find a safe haven in raised planter boxes made of plastic. This specific model features high-quality PVC that will not leak any harmful chemicals into your soil.
Why we like it
The different colours allow you to beautify your garden.
The plastic material has been enhanced to ensure it withstands harsh weather conditions.
It also comes in different sizes and depths, accommodating a wide variety of crops.
What we don't like
It's quite heavy, and it requires at least two people to assemble it and move it around.
HDPE plastic is susceptible to cracking, bowing, and damage by high temperatures. Despite the rigging to make sure it lasts longer, you may find these damages from time to time.
Our Verdict
If you'd like to try out the raised planter boxes made of plastic, this would be a great choice. It's more expensive than the wood and metal ones, but it also comes in different colors, different sizes, and an easier way to maintain. Bear in mind that plastic poses a different set of challenges so exercise due diligence before purchasing it.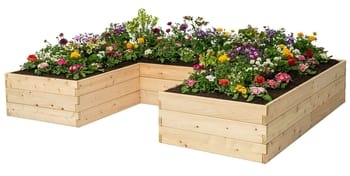 Key Features
It features Port Orford cedar, which has also been enhanced with a waterproof sealant.
The manufacturer also provides aluminum cross-ties to prevent it from bowing.
It also comes in depths ranging from 5.5 inches to 33 inches.
Assembly is required, but you don't need any tools, just slide the stainless steel rods in the holes at the corners.
The resulting structure is a U-shaped raised bed with a path in the middle that allows you to access the whole garden easily.
A long rectangle elevated garden bed is ideal, but you may have trouble reaching all the plants at a time, especially if it's long. The U-shaped design allows you to reach many plants at a time when watering, weeding, or when performing other farm activities.
Why we like it
It offers more farming ground at an affordable cost.
They come in different sizes allowing you to plant different types of crops based on the season.
The steel connectors and stainless-steel cross-ties strengthen the structure, and they're rust-free.
Besides the non-toxic waterproof sealant, the cedar wood doesn't feature any other chemicals that may leak into your garden.
What we don't like
The total expense of achieving a U-shape bed is quite high.
Our Verdict
The innovative design allows you to utilize a small space, and it makes it easier to access the crops. It also comes at a favourable cost making it ideal for those looking for small to medium raised garden bed kits.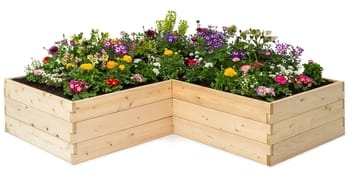 Key Features
The lumber is made of Port Orford cedar.
The connection is through holes at the corners, and a stainless steel rod that you'll drive through the mortises.
The manufacturer also provides steel cross ties that hold the structure upright. You can also stack several pieces together to achieve a 33-inch raised bed.
Just like the U-shaped above ground garden box, the L-shaped garden allows you to farm in smaller spaces.
Why we like it
It's straightforward to assemble.
Cedar is naturally very durable, but for this raised garden kit, they've enhanced it with wood-stabilizer for extended durability and resistance to rot.
The steel connectors and cross-ties ensure it maintains an upright position for a long time. It's also easy to disassemble, unlike those connected with screws.
What we don't like
The pegs are shorter; therefore, they don't offer much stability to the bed as they should.
Our Verdict
If you have sharp corners, like next to a wall, then you'll love this one. You can also connect it to the Natural Cedar Raised garden bed to create a large raised garden.
Key Features
When assembled, it raises the garden 15 inches from the ground.
It comes in pre-cut lumber that you'll connect with aluminum corners and screws.
If you're planning on planting deep-rooted crops, these Raised Beds maybe your best bet. Unlike the Farmstead Raised bed that raises the farm by 8 inches, this bed raises it by 15 inches. Below are some of its main features.
Why we like it
The boards are made of cedar, which is highly durable regardless of weather conditions.
It also adds to the aesthetics of your garden.
It's easy to assemble with simple tools such as a drill.
The aluminum corners ensure that the garden stands strong.
You're assured of fast shipping and excellent customer service.
What we don't like
It's quite expensive when compared to similar products. You also need to consider the amount of soil it needs to fill it. Since you may be from a region with poor soils, the extra soil comes at an additional cost to the already expensive structure.
The screws are on the inside. Replacing the boards becomes hectic since you'll have to remove the dirt to access them.
Our Verdict
The Deep Roots Raised Bed is quite expensive and requires a lot of soil to fill it. If you have deep roots and have the budget for it, it's worth consideration.
7. Modular Raised Bed
Key Features
It's made of enhanced steel that enables it to withstand harsh weather conditions.
It's also corrosives resistant.
It's also flexible, allowing you to adjust it to 9 different shapes.
It also comes in different sizes based on the plant size and root size.
Its edges are padded with PVC to prevent any injuries.
It features a 15-inch depth that accommodates a wide variety of crops.
Besides wooden beds, there are metallic above ground garden boxes. This Modular Raised features galvanized steel that's enhanced with Aluzinc to make it more resistant to corrosives and rust.
Why we like it
It's easy to assemble with simple tools like the wrench.
You can place it at any place you see fit thanks to the adjustable shape feature.
The enhanced steel is safe for edible vegetables, as well as decorative flowers.
It also features a gorgeous build and color, adding to the aesthetics of your farm.
What we don't like
You can't stack them together to achieve the desired height.
Some customers complained that it's easily scratched. There are occasions where customers receive it when it's already scratched.
Our Verdict
The best thing about this elevated garden bed is that you can adjust its configuration, unlike the rigid wooden beds. So if you have tight spaces, or would love to try out different crops every season, this would be an ideal choice.
How to Pick the Best Raised Garden Bed Kit for Your Needs
Should You Even Purchase a Raised Garden Bed Kit?
As much as the DIY project of building above ground planter box sounds fascinating, it may not be as effective as you'd expect. Also, purchasing raised garden bed kits is easier. For the wooden raised beds, the lumber is always pre-cut based on the size you want.
Some manufacturers also offer attachments that make it easy to attach a greenhouse, cross-ties to keep the structure tight, and in-built irrigation mechanisms. These extra features may be hard to build on your own, especially if you're new to woodworking.
Benefits of Using a Raised Garden Bed
These structures have a wide range of benefits when compared to farming conventional farms. They include;
It's easier to control the weeds, pests, and rodents from reaching your crops. When you use the appropriate bottom, you will ward off these harmful components, and still maintain good drainage for the soils.
They allow you to create a fertile garden, even in areas with terrible soils and harsh weather conditions. You can create compost, purchase soil, and contain it in the structure, allowing your crops to thrive. The greenhouse attachments also will enable you to create favorable temperatures when necessary.
They allow you to utilize small garden spaces effectively. The L-shaped raised garden bed can easily fit at the wall corners.
If you have back problems, you will not have to bend since you can purchase a taller planter box.
If you have young kids or pets, these structures can prevent them from trampling over your crops.
They also add to the aesthetics of your farm. Cedar wood is naturally gorgeous, and the metallic and plastic structures come in different colors allowing you to beautify your garden.
Factors to Consider
Size
These structures come in different sizes (length, width, and depth). Most of them have a standard length of three to four feet, to allow you to work on your farm without leaning on it. However, the depth should be determined by the crops you want to plant. Most vegetables have shallow roots, and you will get away with shorter garden beds. But for deep-rooted crops, go for deeper structures. Several of these beds allow you to stack them together to achieve the desired depth.
The shape of your farm
For tight spaces or wall corners, you can choose the U-shaped and L-shaped raised planter boxes. If you have tighter spaces like behind the house, you can go for the adjustable beds that have different configurations. For open spaces, you can install several rectangular beds.
Irrigation
If you plan on connecting the garden to your watering system, do so before filling it with soil.
Soil
The type of soils and amount you need should help you decide on which bed to choose. Buying soil is the best way to go, and the deeper the bed is, the more soil it will require. So if your crops don't have deep roots, you'll be wasting a lot of money when you purchase a deep bed since you'll have to fill it with soil.
Cost
Raised garden beds require some investment. You have to purchase the structure itself, the bottom, soil, and a Trim Kit for some models. If you're on a budget, there are several options, like the Natural Cedar Raised Garden Beds, that have minimal purchasing and maintenance costs.
Raised Garden Bed FAQs
How Deep Should a Raised Garden be?
Most garden beds range from 6 to 12 inches. But you'll find some that can go as deep as 33 inches. If you're planting on poor soils, you'll need a deeper garden to make more nutrients available to your roots.
What Do You Put in the Bottom of a Raised Garden Bed?
Placing a raised garden bed on grass is a bad idea since some of the grass and weeds may choke on your plants. The best items to place at the bottom include landscape fiber, newspaper, concrete, gopher wire, or cardboards.
Landscape fiber is good for drainage, and blocking weeds, but it may prevent some beneficial organisms in the soil from reaching your plants. Concrete does an excellent job of blocking terrible soils, but deep-rooted crops may not thrive well. Gopher wire is also good at preventing pests, but it does allow some weeds to reach the earth. The bottom material you choose depends on the type of ground and the crops you want to plant in the garden.
Which Wood is Best for Raised Beds?
Cedar is the best and most common wood used to make raised beds. This is because it's very durable, smells great, looks gorgeous. Other trees used include redwood, yew, black-locust, white oak, and juniper.
How High Should Planter Boxes be?
If you don't want to bend that far when farming, you can purchase planter boxes that are 3-feet, 5-feet, or higher based on your height.
Final Thoughts
If you're looking for an all-round cedar raised garden bed, Farmstead Raised Garden Bed is our winner. For starters, you don't have to worry about depths since they range from 8 to 32 inches based on the roots, or based on the height that's comfortable for you. It's also made of untreated cedar which doesn't leach any harmful chemicals. The Vermont White Cedar also weathers to a silver-grey color that gives your garden a traditional look. The manufacturer also offers a 5-year warranty, excellent customer service, and an easy-to-follow assembling tutorial. It's also an affordable option.