Best Weed Barriers for Landscaping
Getting your garden to look its best can be a rewarding experience. But fast forward a couple of weeks, and there will be weeds coming through and ruining the look that you tried so hard to create. The answer is to get a high-quality weed barrier, which will block any weeds from coming to the surface.
With many options out there, it can be hard to find the best weed barrier. That's where we can help as we've put in hours of research, so you don't have too. Once you've finished reading this guide, you'll know exactly what you need. Let's get started!
Our Top Picks at a Glance:
Top 5 Weed Barrier Reviews
1. ECOgardener Premium 5oz Pro Garden Weed Barrier
Why we like it:
Lightweight design
Heavy-duty fabric
Needle punched design
Thickness like a tarp
Cuts quite easily
Several sizing options
Easy to carry
Simple to install
Impressive durability
This weed barrier gives you a great range of sizes to choose from, allowing you to get the perfect solution.

The heavy-duty fabric will act as a great barrier, but some users have reported that some stubborn weeds can make it through.

It's easy to carry due to its lightweight design, but you shouldn't confuse that weight with a lack of durability. It's almost as thick as a tarp, but you'll still be able to cut it if needed. The needle-punched design will perfectly allow air and water to flow through
This our top pick for a reason. If you need a specific shape, you're probably going to find it here. The weed control is excellent, plus it is easy to cut & install. Most users reported this product to be very durable and long-lasting.
---
2. Dewitt P3 3-by-250-Foot 5-Ounce Pro 5 Weed Barrier
Incredibly strong: Woven needle punch polypropylene fabric
Hydrophilic treated
3 by 250 feet
Doesn't fray over time
Grips the dirt
If you're looking for a top of the range weed barrier, then this would be a perfect choice. It's made from woven needle punched fabric that will keep the weeds out but let air and water flow through it easily. It's also very strong, and you're not going to worry about it tearing.

A great feature of this fabric is that it grips into the dirt so you won't have to worry about it moving around constantly. It's going to be able to keep its look through repeated but with the heavy-grade fabric, which is easy to work with and does the job perfectly.
Our Verdict
This is a brilliant product that ticks all the right boxes. It may come at a premium price, but many gardeners will see it as a worthy investment. It allows you to plant with confidence, knowing that those weeds aren't going to be coming back.
---
3. GardenMate 6 x 33 feet Sheet Woven Weed Control Fabric
Key Features
UV stabilized
Breathable and water permeable
Premium polypropylene
6 x 33 feet sheets
Durable thickness
In terms of value for money, it doesn't get much better than this. It has all the features you'd expect with the high-quality polypropylene fabric. It's only available in 6 by 33-foot sheets, which is a little frustrating if you were looking to cover a large area.

The performance, however, can't be doubted. It'll work exactly as you need it too and keep your plants looking as you want them. The fabric is very easy to work with and easy to cut. That makes it ideal for anyone who plans on working in uniquely shaped spaces.
Pros
Easy to work with
Value for money
Cuts quite easily
Heavy-duty usability
For those who don't need to cover a larger area, this weed barrier is going to be ideal. We wish it came with more buying options, but the product itself is brilliant quality. The usability helps to make this an excellent barrier.
---
4. HOOPLE Premium Pro Garden Weed Barrier
Key Features
Thicker than most barriers
Rolls easily for quick installation
Environmentally friendly
High UV protection
Allows plant nourishment
Thickness is something that you want to see in a barrier as it will give you peace of mind that it's going to get the job done. That's exactly what you get here with excellent weed control, UV protection, and a barrier that can hold heavy loads such as large stones.

It helps you to be environmentally friendly by avoiding chemicals and allows plant nourishment for a healthy garden. It also rolls very quickly and isn't difficult to cut, allowing you to install and shape it without any worries. You'll have your areas covered in no time at all.
Pros:
Professional level quality
Dependable material
Very easy to use
Can handle heavy loads
Our Verdict
For the ultimate in durability, look no further than this. It's going to be the ideal choice for anyone looking to create rocky landscapes or heavy-traffic areas. It will take a lot of punishment without showing any wear.
---
5. Dewitt SBLT3300 Sunbelt Ground Cover Weed Barrier
Key Features
UV stabilized
High permeability
Guaranteed for 5 years
3.2 ounce polypropylene
Tear-resistant
If you're looking for something a little lighter and easy to work with, then this would be the ideal weed barrier for you. The barrier is highly resistant to any tears from stones, but it is still easy to cut when required, making it very easy to use.

The high level of permeability will ensure that any water quickly drains through to the roots. The only slight downside is that the ends can curl up when you're trying to lay it down, but this is easily resolved. Overall it's another brilliant barrier that will offer you sturdy ground cover.
Pros
Excellent value for money
Perfect weed control
Strong and durable
Sturdy ground cover
Our Verdict
While not having quite the same level of quality as the premium options, it is still able to hold its own against the heavyweights. It's very easy to work with, and you can have confidence that it'll stop any weeds from popping through.
---
What to Look for in a Weed Barrier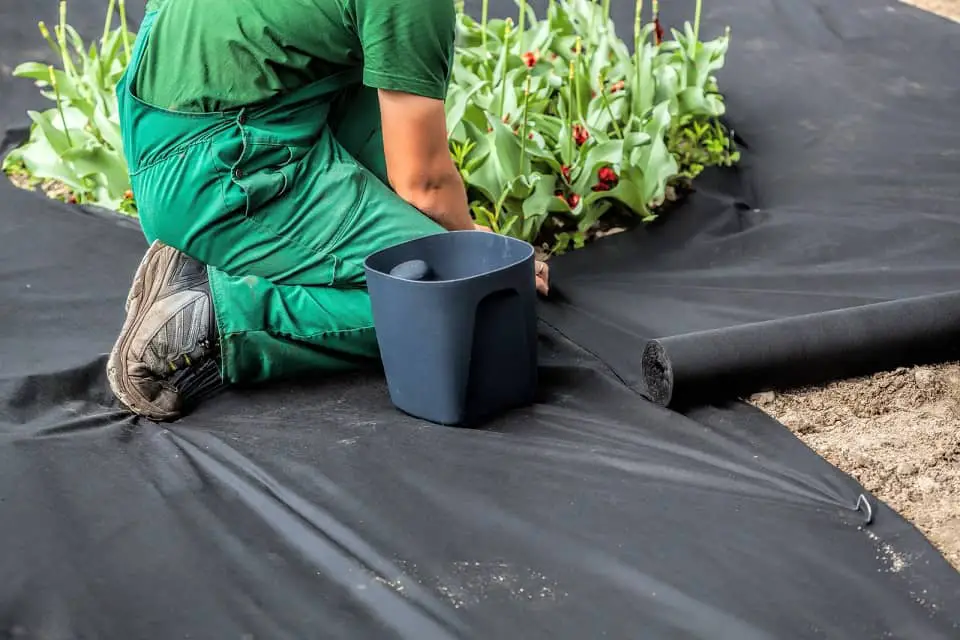 Weed Control
Weed control is going to be more important than anything, and these barriers work in two ways. Firstly they work as a physical barrier, and secondly, they will block out any sunlight, denying the weeds a chance to grow. Make sure that you're getting a thick barrier that will tick both boxes.
Permeability
As well as a strong barrier, the fabric has to be permeable as otherwise water and nutrients aren't going to be able to get to your plants. It will also prevent standing puddles of water after it has rained. That ability to let water in but keep weeds out is what makes a weed barrier high-quality.
Durability
There's little point in your barrier having the above qualities if it's going to disintegrate quickly. It needs to be tear-resistant, accept heavy loads, and not fray easily. The garden environment can be quite harsh and you need a weed barrier that can cope with that.
Usability
Laying down heavy weed barriers can be tough. They should be easy to work with to lay them down easily without much hassle. Even though tear-resistant, they should be easy enough to cut with scissors to shape them as you need.
Frequently Asked Questions (FAQs)
How Does a Weed Barrier Affect Watering?
A good weed barrier will be able to let water through, and therefore, you won't have to worry about your plants not getting their nutrients. In fact, you will likely need to do less watering. As the barrier will protect the ground underneath from less sunlight, there will be less evaporation.
How Do Weed Barriers Stop Weeds if They Let Through Water?
The holes in a weed barrier need to be very small but just large enough to let water pass through. These holes will then be too slow to allow weeds. Also, the blocking out of UV rays is going to deny weeds the sunlight that they need to grow.
Are Plastic Sheets Better Than Weed Barriers?
Plastic sheets may seem like a good idea, but they have some major drawbacks. They generally aren't as thick as purpose-made weed barriers, won't block out light in the same way, and also won't allow water through. Weed barriers are a much better choice.
Final Thoughts
All five weed barriers that we have looked at here are great, but the Dewitt P3 3 Pro 5  Fabric stands out above the rest. It's easy to work with, is a highly effective barrier, and will be able to stand the test of time.

If you're looking for something, a little different, any of the other four options would be a great choice. They will allow you to plant in confidence, knowing they won't be ruined by weeds. All that's left to do is choose the best weed barrier for you and enjoy a clean and beautiful garden.