Bootstrap Farmer Greenhouse Review
We've done quite a bit of research on Bootstrap Farmer's greenhouse kits. They are meant to make things a little easier for you, and we have a host of useful information on how they work and what they offer.
So, whether you're growing plants for fun or food, we can help you choose the right greenhouse, which means never having to leave growth patterns to chance again.
Overview of Bootstrap Farmer's Greenhouses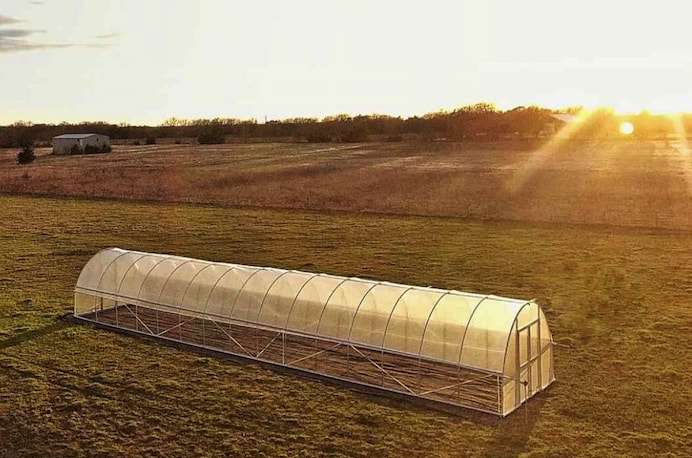 This all-metal greenhouse kit is USA-made and ready to stand up to whatever the elements may throw at it. Bootstrap Farmer uses LEED-certified, heavy-duty American steel with a clear organic seal, which means you have nothing to worry about as far as build quality is concerned.
End walls are included, and you can choose from multiple door options. If you need to change things up from the standard door placements, you are free to do so. 
We know that you probably dread the installation process, as worth it as it may be.
Thankfully, there is nothing for you to worry about with this greenhouse kit in the mix, as the integrated wind bracing and overlapping joints yield superior strength and a straightforward installation process. 
How long are you looking at for installation? You can purchase the greenhouse kit in numerous different sizes, depending on your needs. Regardless of the size choice you make, you should be able to completely get through the installation process in a weekend.
That's a small price to pay for a sturdy structure that achieves what it set out to in splendid fashion. 
The base kit includes greenhouse plastic (with the inclusion of a four-year warranty), an aluminum lock channel, PVC coated spring wire, a 36-inch door frame, galvanized hardware, ground posts, and a post driver, steel braces and end walls, and pre-bent 16 gauge hoops.
If you wish, you can add additional options, such as a double layer of plastic, insect netting, a shade cloth and ground cover, a passive sidewall roll-up bundle, and an inflation fan if you went for a double layer configuration. 
With the customization features available, you can adapt this greenhouse to just about any climate. 
Pros
Hoops are pre-bent, which saves you a lot of trouble
Instructions are precise and available online, so you technically always have a copy
Customization options mean great adaptability
Add-ons can be used to improve functionality
Cons
Ascertaining what the instructions mean by the "long side" is not the easiest task
More costly option
Summary and Overall Rating
The all-metal hoop greenhouse kit is a sturdy, done for you option that we think is perfect if you want to do nothing but installation.
Under normal circumstances, tasks, such as hoop bending would be left to you. The instructions are mostly clear, though specifying what the "long side" means would have been helpful.
Overall, we'd have to give this greenhouse kit a 4.8 out of five stars.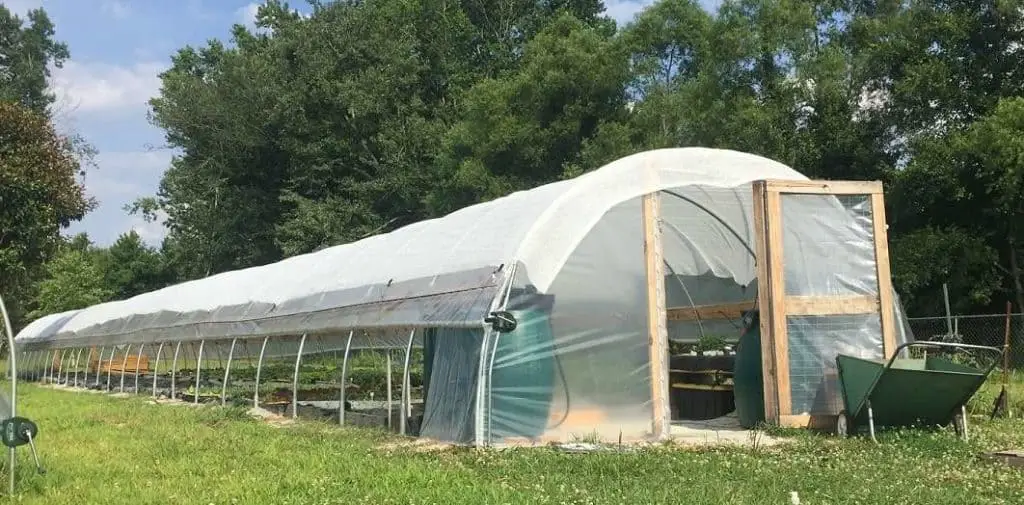 Like the all-metal alternative, the DIY kit is designed to stand up to a series of weather extremes, while still offering support and protection to its plants. We know that your crops are an investment, so we understand why protecting them is crucial. 
As the name implies, there's a bit more work for you to do if you opt for the DIY option. You do save, but things, such as pole bending, are now in your hands. 
Speaking of poles, both they and the wood that you are going to need to bring things together are not included in the package.
Instead, you must purchase these at your hardware store before you begin the assembly and installation process.
Not only does Bootstrap Farmer provide PDF instructions on how to bring it all together, but the company also has a video demonstration for those who lie along the line of visual learners.
In any case, you should have no trouble learning everything you need to complete this project. With two people in the mix, you can still get everything done in a single weekend. 
The base kit includes cross connectors, NRCS friendly 6mil plastic (four-year warranty included), spring wire and lock channel, a ground post driver, and bolts and screws. 
The pole bending process requires a pole bender, which you can purchase from Bootstrap Farmer as an add-on. However, if you already have one, feel free to use yours, which should yield some savings. 
You can also request other add-ons, such as a double layer poly or roll-up sidewalls, to customize things for your setup. 
Pros
You get greater control over the direction of the final product
Cost savings are great
Add-ons mean you can further customize your DIY design
Cons
There's more work for you to do
Some necessary components must still be purchased externally
A second person is required if you want to meet the single weekend timeline for installation
Summary and Overall Rating
This kit is an excellent DIY option, which provides a cost-saving alternative to the all metal-design. We like that Bootstrap Farmer goes the extra mile in helping its customers with all the information they need to put this one together.
Of course, there is the matter of the additional elements you're going to need to buy before you start. 
In our opinion, the DIY kit gets a 4.5 out of five stars. 
About Bootstrap Farmer
Bootstrap Farmer Emerged from a previous farm-to-table food truck model known as Veg2Bowl. At that time, high tunnel greenhouses were used to grow vegetables that would be picked and immediately used in a mobile kitchen.
It was a certified commercial kitchen space, which meant the ability to harvest crops, prepare meals, and serve customers on the same day. Nothing was stored, and waste was minimal, at worst. 
During the Veg2Bowl era, one of the founders became concerned with his farm's lack of efficiency. Research allowed him to ascertain the best way to build a high tunnel greenhouse. 
He knew he had to build it based on the savings he had from living with his parents.
At the same time, his seed trays would always break, so he got the idea of building a more sturdy alternative. The realization of the seed tree and his DIY greenhouse design formed a couple of the building blocks that would lead to what Bootstrap Farmer is now. 
Today, The company provides a host of different products to boost its customers' farming efforts. These include humidity domes, seed pots, hemp products, grow bags, etc. 
One of the things that stands out is the support aspect of the customer experience. Whether it comes from speaking to company representatives directly or looking through the host of text and video-based tutorials, information is always available to help you learn.
Additionally, you can always pop in on the company's site and view the FAQ section, which covers information on how to use and implement various products offered. You may be surprised to find your question already there and answered.
The company has made its mark on the farming industry by offering various supplies that serve as high-quality alternatives to existing items. It's a reflection of the company's origin that revolved around an existing product not being good enough. 
Amateur and professional farmers use Bootstrap Farmer products, and the experiences seem to be positive across the board. 
Final Thoughts
Bootstrap farmer has a targeted focus on offering its customers some of the best quality farming products on the market. We believe that the company shows this in the two greenhouse designs reviewed above. 
Whether you choose the pricier all-metal design or the DIY, the components you are provided with are built to last.
You can see the company's experience shine in the composition of the greenhouse kits and the comprehensive way they provide the instructional material necessary to get you through the installation process.
Bootstrap Farmer does have warranty policies in place, which offers consumers a layer of protection if anything goes wrong with the products because of an error on the manufacturer's part.
The said warranty applies in different ways to different products. For example, the plastic in the greenhouse DIY kit has a four-year warranty.
Of the two choices here, we must recommend the All-Metal Hoop Greenhouse Kit unless your operation is small, you want to save, or you want to get more involved in the assembly process.
With the all-metal kit, most heavy lifting is done by Bootstrap Farmer, and you need only put everything else together. There is no need for you to be thinking about acquiring additional products as a part of the preliminary phase.
You indeed have more wiggle room to make amendments to your DIY design, but the add-ons and customization options that the all-metal kit can use make up for it.