Greenhouses are the best ways to extend the growing seasons of certain crops when the climate isn't favorable. They enable you to do this by creating a "microclimate" where your plants will thrive. As much as taking on the DIY project to build one is fulfilling, it's time consuming, hectic, and may be expensive.
Thankfully, you can purchase a readymade greenhouse kit and assemble it in a few hours. With the many greenhouse kits for sale today, it may be hard to choose one that suits you. We have listed some of the best in the market and answered some of the pressing questions you may have about these handy structures.
You might like: Bootstrap Farmer Greenhouse Kit Reviews
Best Greenhouse Kits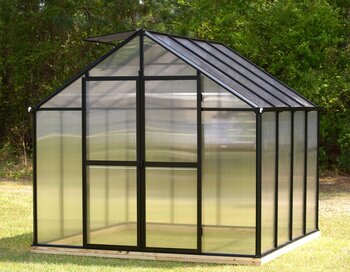 Key Features
It features an aluminum frame and twin-wall polycarbonate walls and roof.
The manufacturer offers a 10-year warranty.
It features a twist and lock mechanism for connecting the various parts during the assembly process.
The manufacturer also includes a convenient workstation to assist in assembling the greenhouse kit.
You can also install the Monticello shade cloth to regulate the temperatures within the kit.
It also features a customizable, in-built automatic watering system. You can adjust the watering schedule based on the plant's needs.
It also features a vent.
Its size ranges from 8 feet by 8 feet to 8 feet by 24 feet.
Riverstone Monticello is an excellent backyard greenhouse thanks to the robust aluminum built, and the durable polycarbonate panels. It can withstand harsh winds and maintain the ideal temperatures for your plants regardless of the season.
Why we like it
The insulated twin polycarbonate walls are effective in regulating temperatures within the kit.
It is customizable to meet various needs. For instance, you can adjust the height and the watering schedule.
It looks beautiful, adding to the aesthetics of your yard.
The aluminum built and the twist and lock mechanism ensure a very sturdy structure.
What we don't like
The assembly process is quite hectic since their instructions aren't comprehensive.
Our Verdict
This kit suits most farmers since it allows you to adjust the size. It also features advanced features like the automatically opening vent, automatic watering system. It's also a durable greenhouse, thanks to the twin polycarbonate walls and the aluminum frame.
Key Features
It features a powder-coated steel frame and a polypropylene cover.
It features some shelves where you can place seedlings, seed trays, and other forms of young plants.
It's 4.5 feet in width, 6 feet in length, and 6.1245 inches in height.
Each shelf can hold at least 22 pounds.
If the price tag on the Riverstone Monticello scared you, don't give up just yet. The Springfield is a budget-friendly hobby greenhouse. It may not have the bells and whistles that the more priced ones have, but it has the basic functionality for gardening enthusiasts.
Why we like it
It's small, allowing you to place in tight spaces without interfering with other operations in your yard.
The cover is made of polypropylene, which is pure, robust, and resistant to damage by chemicals. It also ensures the ideal amount of light and temperatures for your plants.
The powder-coated steel frame is environmentally friendly, corrosive resistant, rust-resistant, durable, and easier to maintain. It can resist even harsh winds.
Powder-coated steel also maintains a bright color for a long time, keeping your yard looking great while at it.
It's also easy to assemble.
What we don't like
The ventilation could be better. There is a window on one end, but for sufficient airflow, there should be a corresponding one close to the door. As a result, you may leave the door open to ensure airflow, allowing insects into the greenhouse.
Our Verdict
You don't have to break the bank if you're looking for a simple home greenhouse. If you love watching seedlings grow, and you don't want to invest in advanced features, you will like this kit.
Key Features
It features four trays where you can place your seedlings.
It features a powder-coated steel frame and a polypropylene cover.
It features a zipper opening and closing mechanism.
The shelves can hold at least 22 pounds.
Dimensions – 2.65 feet width, 1.47 feet in length, and 5 feet in height.
Third in the list is another cheaper and smaller greenhouse. Its build is strong enough to handle several seedlings at once. The manufacturer also provides mechanisms to ensure it withstands strong winds.
Why we like it
It's easy to set up; you don't need any sophisticated tools.
It's very durable, thanks to the powder-coated steel frame and the polypropylene cover.
You can also purchase ground staples to prevent it from being destroyed by wind.
What we don't like
It's very light and unstable. If you don't balance the weight, it may fall off.
Our Verdict
If you have limited space in your yard, you will appreciate the compact and ergonomic design of this backyard greenhouse. It allows you to take care of your seedlings through winter and summer, at a relatively low price. Remember to balance the weight across the trays and use the ground staples in the harsh winds.
Key Features
The wall panels are made from acrylic glass, also known as plexiglass, and have a thickness of 3mm.
It is made from resin.
It also features a hinged door and a roof vent.
They come in different sizes, ranging from 6 feet by 6 feet to 8 feet by 20 feet.
They also come in different colors, white and dark green.
The room also features 4 mm twin-wall polycarbonate panels.
If you have limited space in your yard or want to have a more stable greenhouse, this lean-to greenhouse kit can come in handy. It allows you to attach it to your house, garage, or any other structure.
Why we like it
It has enough air circulation thanks to the door and the vent.
The two colors to choose from and the transparent design are a way to beautify your deck while creating more greenhouse space.
It's clear as glass, allowing enough light while blocking UV rays.
What we don't like
Resin is flammable and could pose a health risk to the users.
The plastic build is no match for areas that receive a lot of snow.
Our Verdict
If you live in an urban area with limited gardening space or an area with strong winds, we think you will benefit from this innovative design. It has all the functionality of a greenhouse. Keep in mind that it may not hold large amounts of snow.
Key Features
Dimensions – 8 feet by 12 feet.
It features two vents that open automatically at 21 Degrees Celsius (70 Degrees Fahrenheit).
It features a western red cedar frame and twin wall polycarbonate walls.
Unlike plastic and metal, cedar may have a better chance of withstanding various weather conditions. It also has a natural brown color that blends in with your garden.
Why we like it
It features the brown cedar's color that adds to the aesthetics of your yard.
The automatic vent system ensures optimum growing conditions with minimal input from you.
It has enough space to work from and grow several plants.
It's easy to assemble, thanks to the detailed instructions.
It has additional vents at the wall for better air circulation.
Western red cedar is resistant to decay.
What we don't like
It's quite expensive considering the basic functionality.
Western cedar attracts some wild animals to your farm, and it's flammable.
Our Verdict
It may be the most expensive greenhouse kits in this list, but if you'd love to enjoy the benefits of cedar trees, it's worth it. Unlike the plastic structures that cave in when snow falls, this kit stands strong.
Key Features
It features 10 mm twin walls on the sides and the roof.
It has a thick aluminum frame.
It features inbuilt rain gutters.
It also features automatic opening vents, a louver window.
It has a steel base and an inbuilt anchoring system.
It also features plant hangers.
The manufacturer offers a 10-year warranty.
Palram has an excellent reputation for its high-quality polycarbonate walls. This specific model features one of the thickest walls, maintaining a higher temperature in the greenhouse and keeping UV lights at bay.
Why we like it
The extra thick roof and wall aren't easy to break, and they don't allow UV light to reach the plants.
The vent and side louver window ensure optimum ventilation.
It has one of the largest peak and eave heights, giving you enough room to not only work in but also to grow large and leafy plants.
The gutters also provide extra water for your plants.
You can also use the shelves from other models.
What we don't like
Some users found the instructions difficult to follow.
There are cases where snow easily damages it. It may not be the best for regions that experience extreme snowfalls.
Our Verdict
It is the ultimate heavy-duty backyard greenhouse. The thick roof and the thick walls provide optimum growing conditions and maintain a stable structure regardless of the weather conditions. The additional features like the louver window, automatic vent, and rain gutters, are more than you can ask for in a greenhouse kit.
7. Ohuhu Greenhouse Kit
Key Features
It features two Velcro side windows and a zipper roll-up door.
It has six shelves, and each shelf can hold at least 18 pounds.
Dimensions – 4.7 feet (length), by 2.4 feet (width), by 6.4 feet (height).
The manufacturer also offers a 1-year warranty.
The Ohuhu Greenhouse effectively extends the growing seasons for your crops thanks to the robust design, durable structure, and ample space for your plants and gardening tools. It can withstand and protect your plants from harsh weather conditions like wind and snow.
Why we like it
The reelable door makes the greenhouse easy to access.
The Velcro side windows have a seal that allows you to regulate the airflow within the greenhouse. They also allow you to view the plants without opening the door.
It features a rust-resistant and robust frame.
What we don't like
It can't hold larger plants due to the limited space.
The meshed trays are easily damaged, especially if you move it around a lot.
Our Verdict
Its lightweight design makes it easy to move around. You can easily place it in balconies, patios, and decks. We also recommend it to farmers with younger plants.
Key Features
It has two zippered roll-up doors.
It has six meshed exhaust vents.
It features a powder-coated steel frame.
It features a transparent cover that provides the plant protection against UV light.
The manufacturer offers a 1-year warranty on the frame and six months on the polyethylene cover.
It also has additional rails.
Dimensions – 12 feet, by 7 feet, by 7 feet.
This home greenhouse will surely give you value for your money. At a relatively low price, you will get high-quality ventilation, ample space, a durable structure, and one of the best ways to grow your favorite plants under the right conditions.
Why we like it
The extra rails ensure stability for the structure.
It's also quite large compared to most kits, allowing you to grow more plants or larger plants.
The vents ensure optimum air circulation while the mesh prevents insects from reaching your plants.
It also allows 85% of sunlight to go through. It's ideal for plants that need a lot of solar radiation.
The two doors provide ample working space and extra airflow.
What we don't like
Strong winds easily damage it, and the extra anchors come at additional cost.
Our Verdict
We recommend this greenhouse kit for plants that need a lot of sunlight during their growth process. Also, if you live in a very windy area, you may need to purchase more anchors to enhance its stability.
Key Features
It features a 4MM twin roof and sidewalls.
It features a powder-coated aluminum frame.
Unlike the zipping doors in other greenhouse kits, this one features a lockable sliding door.
It also features a steel base.
Dimensions – 6 feet by 8 feet by 7 feet.
It features vents that you can manually open, as well as inbuilt rain gutters.
The manufacturer offers a 5-year warranty.
If you're looking for a combination of aesthetics and excellent functionality, you will like this greenhouse kit. It allows your plants to receive as much sunlight while blocking out UV light.
Why we like it
Twin walls prevent the plants from scorching, especially when it's too hot.
The rain gutters also allow you to conserve water since you can use it to water the plants.
The sliding doors provide a tight seal that prevents the entry of insects and rodents.
What we don't like
The manual vent is quite flimsy. It may not withstand strong winds. Damages by weather are also not covered by the warranty.
The walls might leak rain into the greenhouse.
Our Verdict
The 4MM twin walls, steel base, and aluminum frame make this kit more stable than most in this list. It doesn't come with shelves, but you can purchase them separately. It also stands out thanks to the adjustable vent and rain gutters.
Key Features
It features a zipped roll-up door.
It has 12 shelves, six on each side.
The cover is made of polyethylene.
The frame is made from powder-coated metal.
Dimensions – 4.75 feet by 47 feet by 6.4 feet.
This Nova's walk-in greenhouse creates favorable growing conditions for the plants and enough working space.
Why we like it
The 12 shelves provide a lot of space to grow your crops.
The roll-up door provides enough ventilation and enough working space as you add more plants and tender to them in the greenhouse.
The polyethylene cover also ensures enough sunlight and protects your plants from UV rays.
It also features an anchoring system that can help set it up firmly on the ground.
What we don't like
It is cheaply made. For instance, the shelves can't handle a lot of weight.
The assembly instructions aren't very clear.
The cover may not fit the frame.
Our Verdict
It is a light-duty greenhouse kit and a cheaper way to extend your plants' growing seasons. It's ideal for planting flowers or temporary seedlings before transplanting them. But if you're looking for a heavy-duty kit, it's better to pay more for a higher quality backyard greenhouse.
Best Greenhouse Kit Buying Guide
Below are some of the factors you need to consider before purchasing a greenhouse kit.
Regulations – Setting a kit is a form of construction, and it needs to adhere to the local rules. You should research the requirements before making the purchase. For instance, regulations for a lean-to greenhouse may be different from the rules for a free-standing greenhouse.
Location – You need to consider where you will set it up. As mentioned earlier, a greenhouse should be exposed to direct sunlight for at least six hours. Some structures can't handle snow, so make sure you go for one that's suited for your climatic zone. You also need to consider connecting to accessories such as water taps and electricity sockets.
The size of your garden – You should choose a greenhouse that fits in your yard without interfering with your activities, or interfering with the neighbor's views. Based on the reviews, you can find a greenhouse as small as 4 feet and as large as 20 feet.
The types of plants you want to farm – The size of the plants and their growing seasons should guide you. If you're planting small seedlings that you'll then transplant to the garden, a smaller greenhouse will do. If you're planting leafy plants that will spend the whole season in the greenhouse, you should get a larger one.
Accessories – Besides the frame and the cover, or panels, there are other accessories that can enhance the functioning of a greenhouse. For instance, some of them feature
rain gutters that allow you to harvest rainwater. If your region experiences winter, you will need a heating system to grow plants during this season.
A ventilation system is also vital. As mentioned earlier, some of them feature automatically opening ventilation that regulates temperature when it gets too hot. If you have a pest problem, you may consider investing in a sulfur burner.
Winter seasons may also require an artificial lighting system.
Frequently Asked Questions (FAQs)
Is It Cheaper to Build or Buy a Greenhouse?
Well, the issue of whether to buy or build a kit depends on the following factors;
Cost – If you're looking for a basic greenhouse, you will be better off with a purchased kit since you can use it without additional features. But if you're looking for a customized one, it starts getting expensive. In this case, you may consider gathering the necessary materials and building it.
The flexibility of the design – Ready made kits are limited when it comes to changing the layouts. If you need a sophisticated design, building it will be a better option.
Construction regulations – In some states, for construction to begin, the plan must be stamped by the relevant regulatory body. If you're building the greenhouse, you can get the permit stamped. If the kit is shipped, you may find it difficult to get authorization to set up the greenhouse. You need to consult with the local authorities before choosing any of them.
Availability of the raw materials – As much as you would love to build from scratch, some materials may not be readily available. On the other hand, constructing allows you to recycle some materials around your home, or buy them at a lower price. Whatever the case, you need to weigh your options based on the availability of the materials.
Time – It takes longer to construct a greenhouse than it takes to assemble the kit.
Warranty – When you purchase a kit, you are entitled to a warranty in case of defective parts, or damage by several factors. If you'd love to enjoy the warranty, buying the kit will be the better option.
Is Glass or Plastic Better for a Greenhouse?
Both have their advantages and disadvantages. For instance, plastic is cheaper, easier to install, and effective at transmitting light to the plants. However, it yellows over time, and you have to replace it often. Glass, on the other hand, is more durable, more effective at transmitting light, and it offers more aesthetic value.
Plastic is the most common when it comes to greenhouse kits for sale. This is because, unlike glass, it's easier to ship. You can choose either of them based on your budget and your needs.
Should a Greenhouse Be in Full Sun?
A greenhouse should receive as much direct sunlight as possible, especially during winter. As a matter of fact, you should set it up away from shades. However, if you're in areas that experience very high temperatures, you can use a temporary shade.
Final Thoughts
The Riverstone Monticello is the ideal home greenhouse for several reasons. For starters, it ranges from 8 feet by 8 feet to 8 feet by 24 feet. This allows you to customize the size based on the size of your land. The vent and lockable door provide enough air circulation and temperature regulation. It features twin wall polycarbonate walls, which are effective in transmitting solar radiation while blocking UV light. It also features a shade for when it gets too hot and an inbuilt watering system. Even though the assembly process may be overwhelming, the resulting structure is both beautiful and functional.