Fresh produce is always nice. But when buying from the store, there is a period between the farm to the table. What if you could grow fresh veggies in your home without having to set up a time and labor-intensive garden?
Click and Grow is a personal indoor smart herb-growing kit that lets you grow small herbs and vegetables right in your own house. The result is that you can have fresh herbs and veggies for cooking, directly from the bounty of nature herself. 
Click and Grow prides itself on making healthy fresh eating feasible and cheap. So let's find out whether this indoor garden can live up to the hype in our Click and Grow review.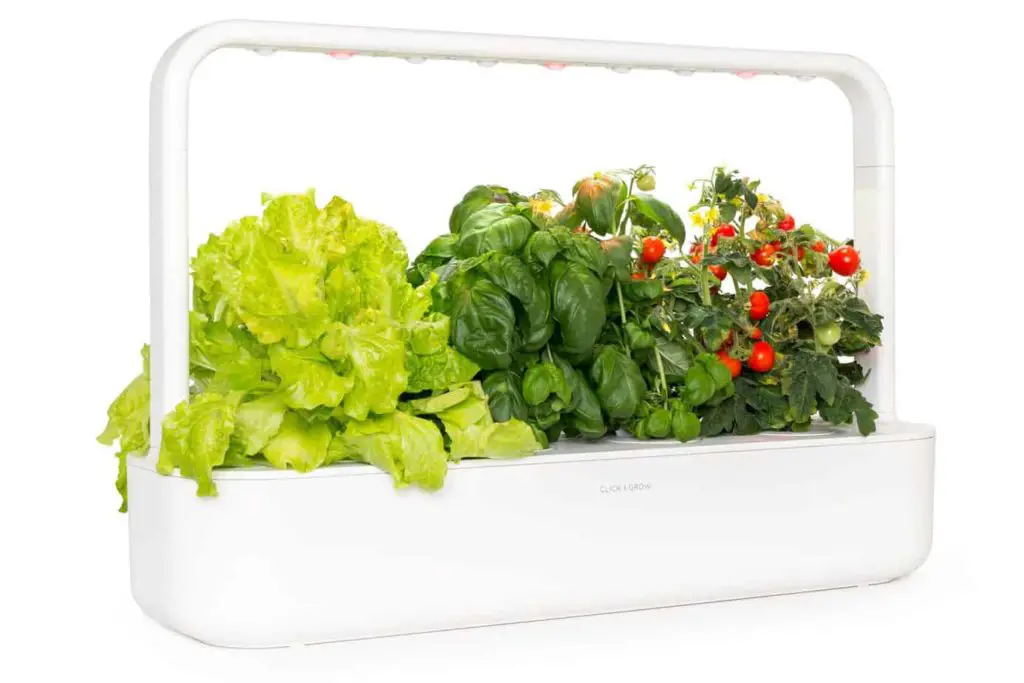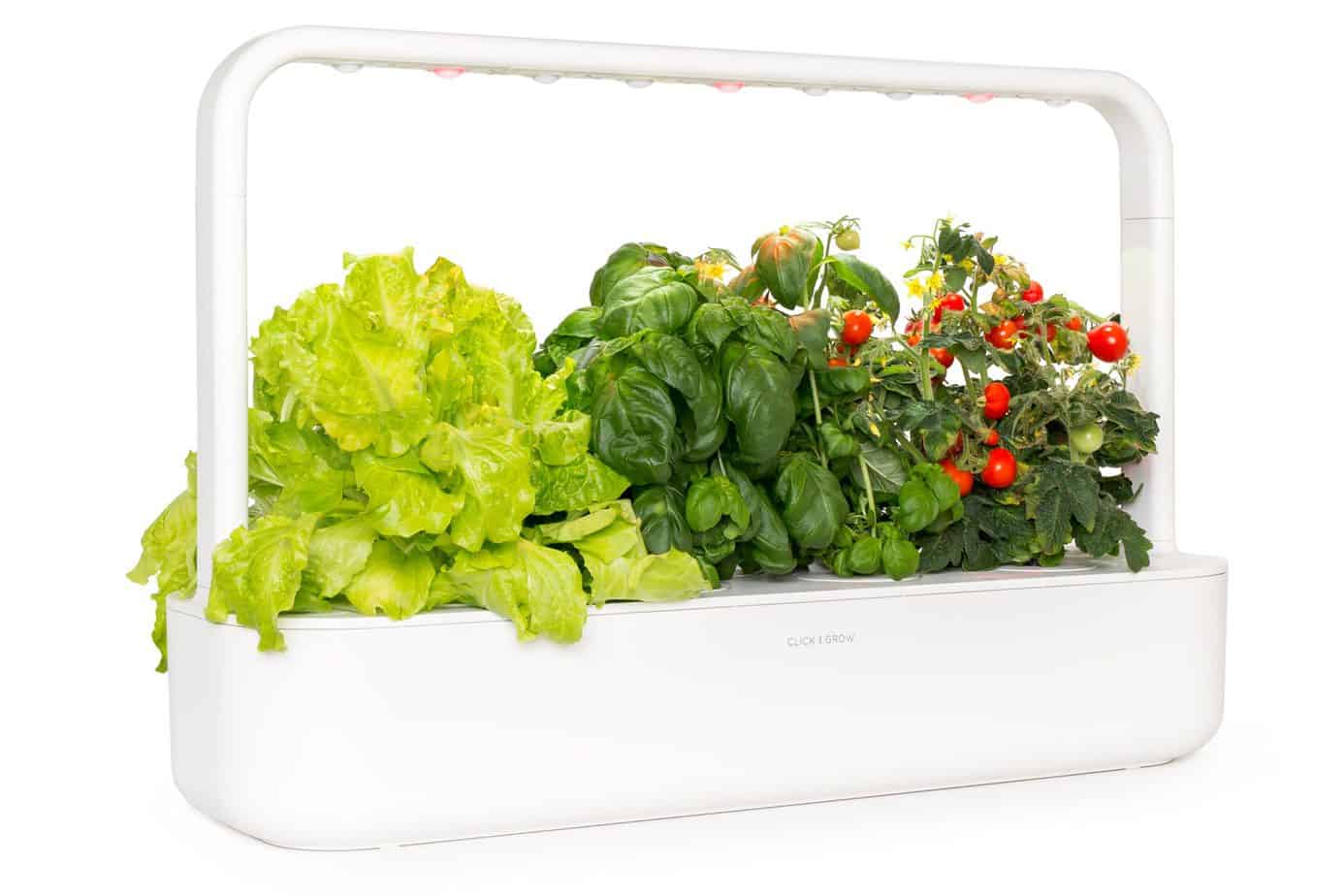 Click and Grow Smart Garden Reviews
There are multiple types of Click and Grow Smart Garden sets.
– Click and Grow Smart Garden 3
– Click and Grow Smart Garden 9
– Click and Grow Smart Garden 9 Pro
– Click and Grow Smart Garden 27
We will talk a bit about each and see what benefits and advantages they have. 
Click and Grow Smart Garden 3
The Click and Grow Smart Garden 3 can be considered the "basic" model of the smart garden and has enough space to fit 3 of the compatible seed pods. Using the 3, you can grow fresh herbs right in your kitchen with zero effort on your part. 
In fact, the Click and Grow system creates a sustainable and self-contained indoor garden that grows without any effort on your part. Automated watering, lighting, and nutrients let plants grow by themselves. It's a good setup for those of us who might not have been born with a green thumb.
The Click and Grow Smart Garden 3 also comes with the companion app for smartphones and a set of complementary basil pods. Click and Grow has over 50 types of seeds to choose from, so you can get a wide range of herbs and plants. 
The Smart Garden 3 would be helpful for anyone, but it's probably best for a single person who wants some periodic fresh herbs and vegetables to add to their meals. 
Click and Grow Smart Garden 9 
The Smart Garden 9 is built with the same basic design principles as the 3 but contains enough potting space for up to nine plant pods. It also comes with 0 complimentary seed pods: 3 for tomato, 3 for basil, and 3 for lettuce. 
It is larger than the 3 but still light, coming in at just under 5 ½ lbs. With an average power consumption of 13W, it is energy-efficient and won't tax your power bill or electrical circuit. 
is large and can produce enough fresh vegetables for a couple of people. You can also have more variety in what you choose to grow. It also holds up to 4 liters of water, which lasts about 2-3 weeks under normal conditions. 
We would recommend this model for a small family who wants occasional fresh herbs and veggies. 
Click and Grow Smart Garden 9 Pro
The Pro is an updated version of the 9 and shares many of the same specs, including garden size, water capacity, and power ratings. However, it can be controlled entirely by the companion app.
That means you can set custom light features and light schedules to test out different methods of growing. You can experiment with the app to become a gardening master. It also comes with 9 complimentary capsules, so you can get started as soon as you set it up. 
The Pro is probably best for someone who wants a good range of variety in what they grow and who also wants to experiment with different growing styles.
Click and Grow Smart Garden 27
The Smart Garden 27 is the biggest offering of the Click and Grow family and has enough potting space for up to 27 distinct herbs and vegetables. The 27 consists of 3 Smart Garden 9's along with a special Click & Grow plant stand for a max total of 27. 
The Smart Garden 27 is basically a full-sized in-home garden and makes enough herbs for an entire family with some to spare. The entire structure is freestanding, but you can mount them all to the wall to have a walled garden. All tools for assembly are included. 
The real benefit of the Smart Garden 27 is the savings. You save about $300 buying the Smart Garden 27 over buying 3 separate 9s. You also get that free, nifty plant stand, which you could use for other plants too. 
The Smart Garden 27 is great for anyone who has a hankering for fresh produce with every meal or someone who wants to eat more fresh veggies with their family. With enough plant pods, you can have a good selection of herbs and veggies in your diet with the Smart Garden 27. 
See Also: Best Smart Gardens
Click and Grow Pods
The real magic that makes Click and Grow Smart Garden work is the special plant pods. Each plant pod contains a bundle of seeds of a specific type. Simply place them in the pods, add water, and let the Smart Garden do its magic. You'll have fresh produce in just a few weeks. 
Click and Grow currently offers over 60 different types of pods, so you can have a diverse sampling of produce. Popular options include basil, mint, arugula, chili pepper, Italian herbs, tomatoes, sweet peppers, strawberries, lettuce, lavender, and many more. 
Suffice to say, with the number of available; you will always have a variety of options to plant and grow. Click and Grow also has a special program where you subscribe and receive pods delivered right to your door. 
The subscription service costs $7.95 a month or $94.95 a year and includes a year's supply of plants pods delivered right to your door. Every 12 months, you will get your next yearly shipment.
Also, you can completely customize your plant pod orders so you can get exactly what you want every time. Buying pods through the subscription plan is not only more convenient than buying separate pods but also cheaper. You save up to 50% on individual pods over a year. 
In many ways, the Click and Grow pods are like instant-coffee, except for plants. Each pod is specially engineered with a type of soil inspired by NASA technology. Smart soil is specially designed to evenly distribute water through the layers and give optimal nutrients at all times. 
Also, all Click and Grow pods are made without pesticides, growth hormones, or synthetic substances. They are all-natural, organic plants, grown right in the comfort of your own home. 
The Main Benefits of Click and Grow
Convenience
Now instead of having to go down to the local farmer's market to get fresh produce, you have a continuous source from an indoor garden right in your kitchen. It's also much more convenient than having a full garden as you don't have to worry about soil, water, or lighting. 
Each pod is specially engineered to grow without your input, so if you are like me and do not have good luck with plants, Click and Grow is a convenient way to get fresh organic produce right to your table with no interruptions. 
Healthy food
Even the "organic" produce you buy at the store might have pesticides or other additives in them. With Click and Grow, you are sure that you have 100% organic food with no additives or harmful substances. 
Moreover, Click and Grow is a convenient way to get more fresh produce in your diet. According to the CDC, only about 1 in 10 adults get enough fruits or vegetables in their diets. Click and Grow makes it easy to incorporate healthy, organic produce into your diet without work on your part. 
Cost & Labor
Building your own garden is difficult and time-consuming. It also costs a lot for raw materials such as soil and fertilizer. Most people do not have the time to put into caring for a garden. The Click and Grow system simplifies everything, so you only have to deal with the end product. 
Given the costs of running a garden, we estimate that Click and Grow can start saving people money after just a few months of use. You can have a continuous stream of fresh produce day in and day out.
By our estimation, a single plant from the Click and Grow ends up costing about $3.33 on average. That is close to what you would pay at a place like Whole Foods or something similar. The pods produce less food, true. But they are fresher and have better nutrient levels. 
Main Disadvantages of Click and Grow
Size
Each pod produces less food than other plants of the same type of produce. However, the upshot is that you grow these foods directly in your kitchen, and there is a shorter time from the farm to the table, so to speak. 
Unfortunately, this means that the more vegetables you eat, the more you will end up spending on pods. Refill pods are less expensive if you buy them through the subscription service. The subscription service for seeds ends up costing about $95 a year. 
Variety of plants
Click and Grow currently offers about 60 different types of plants, including long-time staples like basil, cilantro, arugula, peppers, tomatoes, kale, spinach, and more. Notably absent, though, are some popular produce options like cucumbers, broccoli, and other large, tuberous plants. 
The size restriction makes sense, of course. Some vegetables take a lot of space to grow, so it's unreasonable to expect Click and Grow to include things like squash or zucchini in their offering. 
Of course, there is always the option of using your seeds for plants. That does mean you will have to use your soil, though the Smart Garden device can take care of watering and lighting for you. You may have to experiment a bit to get settings right with custom seeds, though. 
Time to grow
Unlike getting veggies at the store, you have to wait for the Smart Garden pods to grow. It takes anywhere between 2-3 weeks for the pods to finish growing, so you'll have to wait a bit before you can enjoy the fruits of your labor (pun intended). 
However, once you finish the first batch of plants, you can more or less continuously grow stuff. The larger models like the 9, 9 Pro and the 27 are great for rotating our plant selection through the year, so you always have something to try.
General User Impressions
The Click and Grow system does have mixed reviews online, however. The vast majority of people claim that it works and your plants will grow, but there can be variations in the size of the plants. Many people also complain about the company's shipping and return policies. 
So while the garden works fine, you may have to be prepared to deal with annoying customer service problems. 
Click and Grow FAQ
How long do Click and Grow plants last?
Click and Grow plant pods can last up to two years in a dark, cool environment. 
Can you grow your own seeds in Click and Grow?
Yes, you can grow your own seeds. 
What can you grow in a Click and Grow?
You can grow any of the 60 plants they have on offer and your own seed blends. 
How does Click and Grow work?
Click and Grow uses smart tech to automatically water and give plants sunlight to grow them without your input. 
How much energy does Click and Grow Use?
A Smart Garden uses about 6.2 kWh of electricity per month. 
How do you add water to Click and Grow?
You can fill the Click and Grow garden by pouring water into the tank slot on the side of the enclosure. 
How long does it take Click and Grow plants to grow?
It normally takes about 2-3 weeks for plants to grow. 
Final Words
We hope you enjoyed our Click and Grow review. Overall, this indoor smart garden is a unique take on the home garden idea with some nice tech features to make gardening more convenient. The ability to make healthy food and the convenience of having a garden in your kitchen are all reasons to check out the Click and Grow.