Having an indoor garden can be a fun and fulfilling hobby. But for the plants to thrive, you need to make sure that you have the right tools in place.  Luckily, we've researched and reviewed the best smart gardens for your consideration, whatever your needs and budget might be. Read on to learn more.
The 5 Best Smart Gardens Reviewed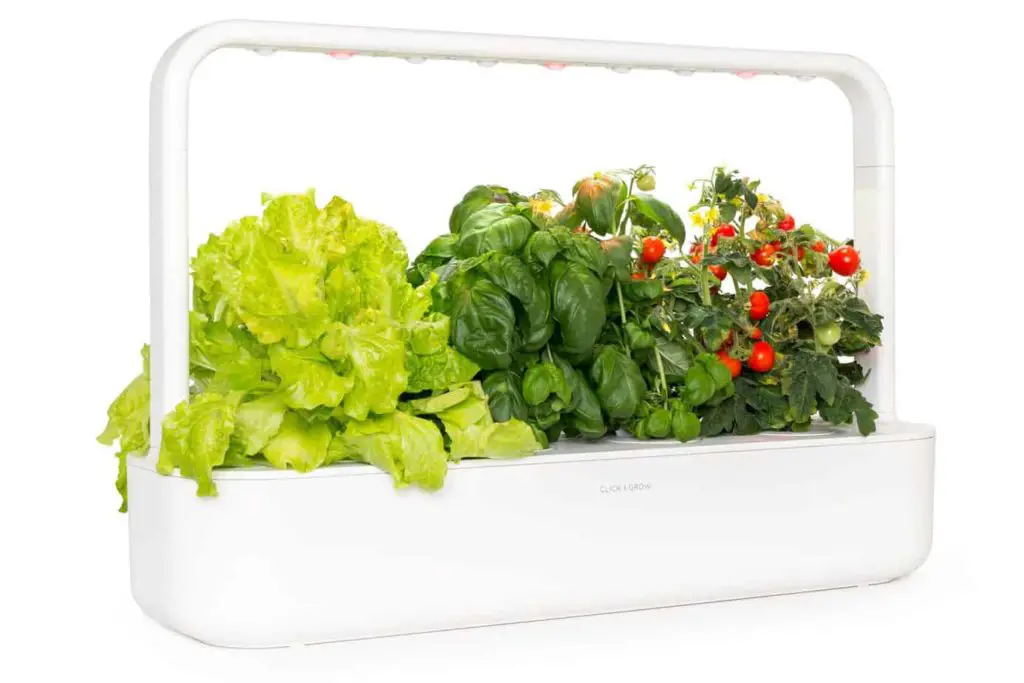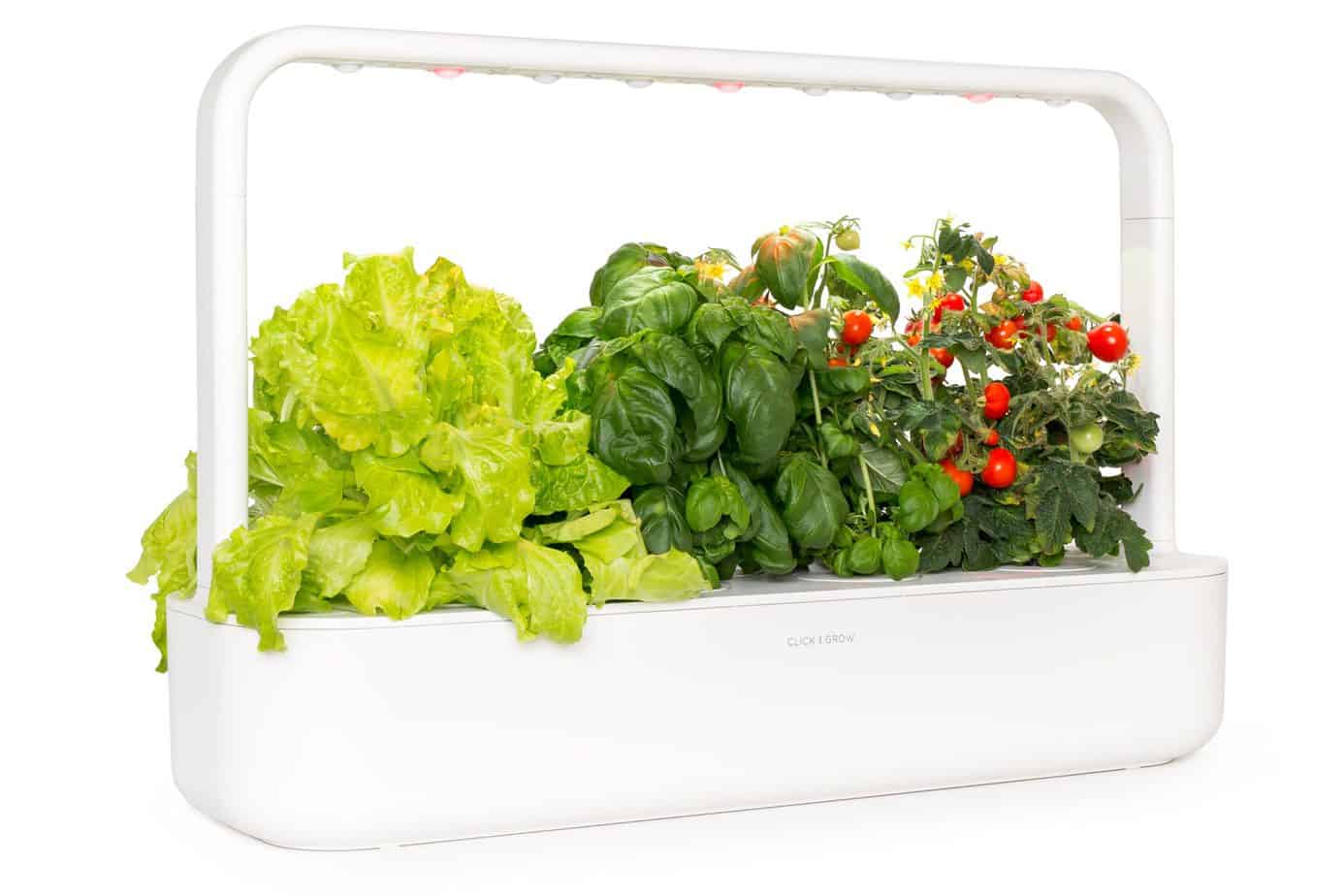 As with other smart gardens, Click and Grow lets you grow plants in the confines of your home all year-round. If you want to enjoy the advantages of tending to your own garden, then Click and Grow is right up your alley.
First, it's important to consider your experience with gardening. Is it something that you enjoy and have a lot of experience in, or is this your first time growing plants?
The great thing about Click and Grow Smart Garden systems is that they cater to both beginners and seasoned green thumbs. So if you're just getting started with gardening, you're going to appreciate the clever design of the Click and Grow. And if you know your way around a garden, you're going to feel right at home using the Click and Grow system. You can find a couple of different models of Click and Grow, depending on your needs.
The Click and Grow 3, for example, is designed to accommodate the growth of three small plants, whereas the Click and Grow 9—you guessed it—grows up to nine plants. 
Regardless of which model best fulfills your indoor gardening needs, you can look forward to investing in a reliable product. Click and Grow has really simplified the gardening process. Even if you've never seen a plant seed up close, these smart gardens are virtually foolproof.
What's more, they serve as a great introduction to the world of gardening. You get to see just what goes into growing plants. As the name suggests, the Click and Grow Smart Garden has you "click" your seed pods into the unit. You then add water to a special reservoir, and the Click and Grow takes care of the rest, and gradually nurtures your seeds into fully-grown plant life.
Each Click and Grow is equipped with an LED light for each plant; the CaG3 has three LEDs, while the CaG9 has nine. You can adjust the light sources on these units to ensure that your plants get optimal lighting at all times.
Click and Grow also sells its own proprietary pods, which contain smart soil and seeds. The convenience of these pods makes Click and Grow so successful. If you prefer, you can use your own smart soil and seeds in the tiny pods to grow plants. But if you don't have experience with gardening and prefer that your Click and Grow handle most of the work, then you're going to want to stick with the pod packs.
Granted, you're going to spend about $3.32 per pod. But if you don't want to get your hands dirty, they are definitely the way to go. Click and Grow also sells a ton of different seed types for growing. Just a few of the offerings include:
Red sweet pepper
Romaine lettuce
Black pansy
Mini tomato
Dwarf pea
Red kale
Arugula
Petunia
Parsley
Basil
Choi
To get you started, Click and Grow includes seed pods with both models. They're also both compact and streamlined, so they don't take up a lot of real estate in your home. The CaG3, for example, measures just 9 x 4.9 x 12.5 inches and weighs 3.52 pounds.
The CaG9, on the other hand, measures 23.82 x 7.29 x 15.75 inches and weighs 7.96 pounds. These units are also incredibly quiet, so you don't need to worry about noise keeping you up at night or interfering with your daily routine. Best of all, both Click and Grow models are relatively inexpensive. Sure, the pods can add up quickly if you want to grow a variety of plant types. But smart gardens are ideal for anyone trying to grow plants in their home on the cheap.
That said, if you think you're going to grow several plant types at once, you're better off investing in the Click and Grow 9. Regardless of which unit you choose, you can look forward to growing plants indoors hassle-free.
Pros:
User-friendly
Affordable
Compact
Cons:
Pods can get pricey over time
2. AeroGarden Bounty Elite
The AeroGarden Bounty Elite is full of features that are designed to make your life easier. If you prefer to live on the cutting edge of technological advancements, this might be the perfect smart garden for you.
The AeroGarden Bounty Elite lets you grow up to nine plants at any given time, just like the Click and Grow 9. But where the Bounty Elite differs is in its robust options. You certainly get a lot more to play with here—just be prepared to spend more.
Thanks to the clever design and functionality of the Bounty Elite, you don't need to know a thing about gardening to get started. It helps if you have some experience with electronics, but it's not a requirement.
Following some simple instructions is all that's needed to put the Bounty Elite to use. Once it does what it's designed to do, this smart garden will be a joy to have in your home.  If you are typically on the go or work from home, you're going to appreciate the integrated Wi-Fi. With it, the AeroGarden Bounty Elite can send you alerts directly to your smartphone, informing you whether your plants need food or water.
The Bounty Elite is also compatible with Amazon's Alexa. So if you have an Echo device, you can control specific features with your voice. Alternatively, you can download the AeroGarden app to your smart device to control additional features.
The Bounty Elite measures 16 x 6 x 8 inches and weighs just a fuzz under 12 pounds—no bigger than most desktop printers. It also blends in well with other electronics and appliances, so you shouldn't have a problem finding a place for it in your home. 
The AeroGarden Bounty Elite includes a bottle of plant food and your choice of seeds (you get nine pods of either heirloom salad, gourmet herbs, cascading petunias, or red heirloom cherry tomatoes). Of course, you're not limited to growing just the above plants. On the contrary, you can order a vast array of different plant types, including:
Jalapeno peppers
Mixed romaine
Rouge d'Hiver 
Italian parsley
Curly parsley
Pizza herbs
Pesto basil
Thai basil
Red Sails
Thyme
Kale
Mint
Dill
And that's only a few of what's offered by AeroGarden. Once you have your seed pods in hand, you can turn to the Bounty Elite to give you gardening tips from the touchscreen interface. The setup is simple and straightforward, but you still have plenty of options and features to adjust your indoor gardening experience. 
Pros:
Grows plants up to 2 feet tall
Touchscreen interface
Feature-rich
Cons:
While the LeGrow can accommodate some vegetables, The device suits ornamental plants better. So the LeGrow still serves you well if you're looking to grow your own variety of flowers and the like.
You don't necessarily need a bunch of high-tech gadgets to enjoy a smart garden in your home, and the LeGrow Smart Indoor Planter is proof of that. Its design and function are simple and focuses on basic growing fundamentals. LeGrow's system is also meant to act as its own display to show off your favorite plants. This is an ideal smart garden for kids to learn the ropes of gardening. 
The Smart Indoor Planter is comprised of 10 stackable cubes—this allows you to display your plants in unique ways around your home. If you're looking for absolute simplicity, this is the smart garden for you. All that you need to do is add water to the Water-Holding Base Trays and stack the cubes.
If you want additional lighting for your cubes, LeGrow offers upgraded kits to complement the Smart Indoor Planter. As one of the most affordable smart gardens you can get for your home, LeGrow is the way to go if you're on a budget. 
Pros:
Perfect for learning
Minimalist design
Budget-friendly
Cons:
The French-made Veritable Indoor Smart Garden allows you to grow four plants at once. In what looks like a cross between a toaster and the Click and Grow, this smart garden takes up minimal space but delivers a quality growing experience.
The tool has a lighting system that keeps your plants fed. The LEDs are designed to imitate the natural rising and setting of the sun, which means you don't have to bother with shutting them off every night. 
You don't have to water either, as the Indoor Smart Garden takes care of that for you. It's equipped with an automatic irrigation system that keeps your plants watered for three to four weeks at a time. A visual alarm will alert you when the reservoir needs to be refilled. 
The light poles that come with Veritable's smart garden are adjustable, which allows you to grow a variety of different plant types. Doing so couldn't be easier. All you have to do is plug in the unit, fill the water reservoir, and insert the Lingots (Veritable's plant trays). After three to four weeks, simply proceed with harvesting and repeat with another type of plant.
The Indoor Smart Garden is more expensive than the Click and Grow 3, yet they are very similar in design and function. You can grow more plant life with Veritable's system.
Pros:
Excellent lighting system
Automated watering
User-friendly
Cons:
AeroGarden's Farm system is truly the pinnacle of indoor gardening. If you want a smart garden that you can use to provide a significant amount of crops, then is the system to do it. 
That said, you'll have to spend a handsome sum of money if you want to bring the AeroGarden Farm into your home. You will have substantial growing space—you can grow up to 24 plants simultaneously.
You will, however, need to make sure that you have the space to accommodate the Farm. As its name implies, you're essentially placing a small farm in your home. It measures 14 x 36 x 45.5 inches and weighs 56.9 pounds (without plants). 
A robust user interface comes equipped at the top of the unit, just like the touchscreen on the AeroGarden Bounty Elite. However, this touchscreen display is much bigger.
Pros:
Intuitive touchscreen controls
Lots of growing space
Feeds a family
Cons:
How to Choose the Best Smart Garden
The great thing about smart gardens is that they take care of most of the gardening on their own. The only thing you really need to consider is how many plants you want to grow. 
If you have many mouths to feed and are looking for a sustainable option, you're better off investing in a smart garden that accommodates the largest number of crops. But if you just want something that will provide a few plants every month or so, there's no need to spend the extra money on a larger unit.
FAQ
Which is better: Click and Grow or AeroGarden?
It really comes down to what you want in a smart garden. The AeroGarden is more robust, giving you a greater number of features, while the Click and Grow is designed for simplicity and ease-of-use. 
Are indoor gardens safe?
Although your smart garden may attract insects, indoor gardening is otherwise safe. Thanks to the technological advancements of these systems, water and lighting are all that they involve.
Final Thoughts
When it comes to getting the best indoor gardening experience for your money, Click and Grow's Smart Garden comes out on top. It allows for anyone to pick up and learn gardening. And best of all, it won't break the bank.